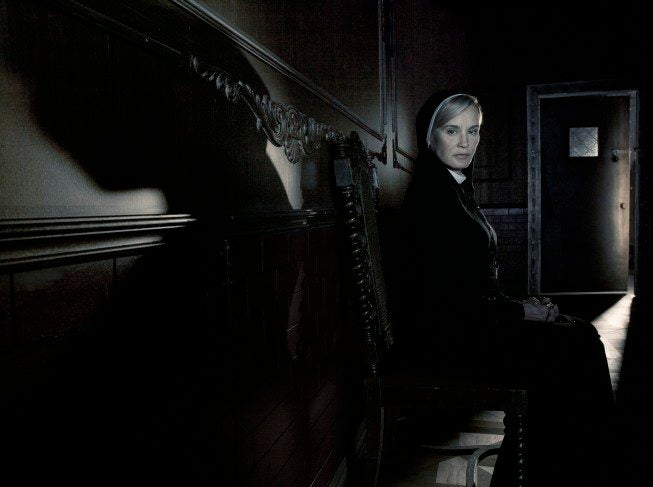 When one thinks of Ryan Murphy's "American Horror Story," many words come to mind -- but "funny" and "romantic" probably aren't among them. Yet when the twisted drama returns to FX for Season 3, that's apparently what viewers are going to get.
"I love this season and I think it was successful, but I want to do something next season that's funnier," Murphy told reporters after a preview screening of the "American Horror Story: Asylum" finale. "I'm also interested in getting to a horror romance. I think that's really interesting, that's certainly something that's bound to be [in] Season 3 ... There's going to be a definite return to the youth element which I certainly liked in Season 1, but I like the star-crossed lovers from different tracks thing."
Murphy revealed that he is still in the process of talking to actors, so declined to comment on specific casting decisions, except to confirm that Jessica Lange, Sarah Paulson and Evan Peters would all be back for a third round.
"I really miss that Jessica Lange as Constance stuff and I know she missed it too," Murphy said. "So the only thing I'll say about [Season 3] is it is a mixture of several cities, and it's really about female power and I got Jessica to do it because I did everything she asked, which was the location [and] I told her that she will have complete hair and makeup and the best designer gowns. She said 'please don't put me in a wimple again,' so she's going to play a really glamour-cat sort of lady in Season 3. I'm just now meeting up with a lot of actors so I don't want to say too much, actors that Jessica wants to work with. So she's become the uncredited producer of Season 3."
The process of crafting characters each season sounds like a collaborative effort between Murphy and his cast, and the multi-hyphenate creator plans to continue reusing some of his favorite actors next year.
"I will say that for Season 3 we are going to have some actors who were in Season 1 who will return. I like that idea and I know that the actors are interested in that … I know who Sarah Paulson's playing. She does not," Murphy admitted with a laugh.
He added, "At the end of last season, Evan said to me, 'I cannot sob anymore, I can't do it, please don't make me do it, I want to play somebody more buttoned-down and less emotional.' So that was in the back of my head, certainly, when we were coming up with Kit Walker, which was a very different character for him. But next year he'll probably go back to being a sobbing psychopath ... The actors like playing the opposite of what they've done, I think it's fun for them."
Aside from being "more historical in nature" and once again visiting different time periods, Murphy admitted that his major goal in Season 3 is to "embrace something a little more fun," to counteract the unrelenting bleakness of "Asylum." Lange's story will be "modern-day," according to Murphy, and the producer admitted that he's already come up with a Bloody Face-esque icon for the next season, but would only reveal that it's a woman.
Another bonus? "I think I'm done with aliens," Murphy insisted.
The "American Horror Story: Asylum" season finale airs Wednesday, January 23 at 10 p.m. EST on FX.
PHOTO GALLERY
"American Horror Story"
REAL LIFE. REAL NEWS. REAL VOICES.
Help us tell more of the stories that matter from voices that too often remain unheard.
BEFORE YOU GO