(Spoiler alert! If you haven't seen the "Coven" season finale episode "The Seven Wonders," stop reading now.)
We made our predictions (all of which came true!), and Cordelia was revealed as the next Supreme (which Sarah Paulson leaked a bit early), leading to the death of the previous Supreme, her mother Fiona. But with death comes life, and with the end of "Coven" comes the best news yet from Ryan Murphy: "American Horror Story" is getting a fifth season!
While we had our issues with "Coven" as a whole, which was definitely the most disappointing and shallow "American Horror Story" season yet, we won't deny our excitement for Season 4, and now Season 5. Murphy told Entertainment Weekly, "I have the next two seasons plotted out," and while Season 5 is far away, he did gift us with a few additional details on the coming fourth season.
This is what we know about Season 4 so far:
"It's a combination of two time periods, with the main one being the 1950s." Murphy previously revealed Season 4 was set in the 1950s, but now he's told EW that there's another era thrown in the mix.
It will have the same comedic elements as "Coven." When asked how dark the next season will be, Murphy said he hasn't decided on the tone yet, but that "it has the same sort of comedic tone" as "Coven." "My feeling is, if you loved this season, you'll love next season."
But it will still be crazy. "Next year will be equally as challenging," Murphy said "because so much of it is period and bizarre and crazy and gothic."
And about that "American Horror Story: Circus" rumor ... The fan-made posters and trailers for this crazy amazing idea surfaced online earlier this month, and Wednesday, following the "Coven" finale, Twitter blew up with the rumors. Some overly zealous fans even claimed the unofficial "Circus" was really happening. But sadly, Murphy confirmed that they're just rumors saying, "I don't know where people came up with that idea."
And what we know about Season 5:
Jessica Lange won't be returning. Lange previously spoke to EW, saying that the fourth season will be her last since she wants to have more time to herself. We'll definitely miss Lange's amazing "American Horror Story" characters, but at least we'll get her one last time.
Murphy has a plan, but it's very different. The co-creator told EW that he knows what the fifth season will be about "because it's a radically different idea from the stuff we've been doing and it will take a lot of playing." Could he be any more vague?
We may not know much, but we're still super excited.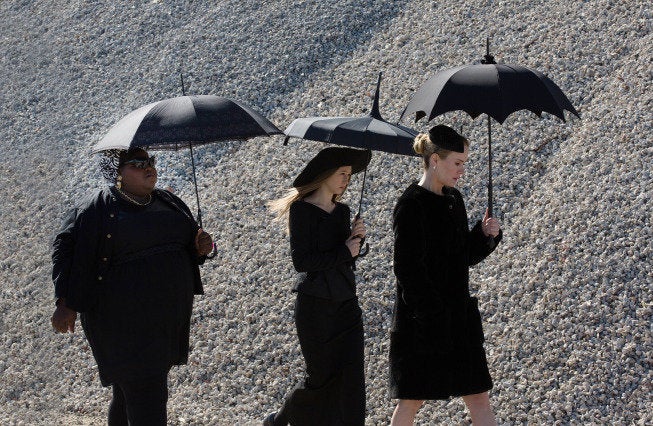 'American Horror Story: Coven' Season Finale Sneak Peek
Popular in the Community