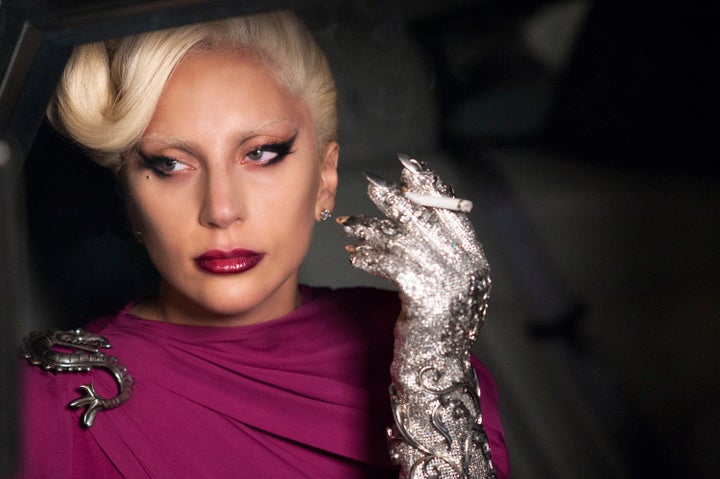 UPDATE: According to E! News, the sixth season of "American Horror Story" will not be about the Slender Man. Kristin Dos Santos reports that the rumors are false. We'll have to wait until March to find out the theme of the new season, which Santos says has been referenced in previous seasons. 
PREVIOUSLY: After the Murder House, an alien-infested asylum, a coven, a freak show and a vampiric hotel, "American Horror Story" must truly outdo itself if it wants to build off the momentum of Season 5's critical acclaim. 
Although many have long hoped that the horror series would go to summer camp or space, it looks like Season 6 is set to explore one of the most terrifying creatures of the modern age: Slender Man. 
According to Us Weekly, a source close to the show revealed that the creators are in talks to adapt the supernatural character, which was created as an Internet meme in 2009, to make it work for the "AHS" universe. ("American Horror Story: Memes" should definitely be Season 7.)
Slender Man, a figure who has gone by many names, including "Fear Dubh (or, The Dark Man) in Scotland, the Dutch Takkenmann (Branch Man), and the German legend of Der Grosse Mann (the Tall Man)," can best be described as a faceless and freakishly tall man who terrorizes and psychologically traumatizes his victims, often children.
Making the potential story that much more unsettling, in 2014, two 12-year-olds claimed that they stabbed their friend 19 times to "please" Slender Man after discovering the meme online. According to the criminal complaint, the two girls planned to "run away to the demon's forest mansion after the slaying."
One of the girls even revealed that Slender Man infiltrated her dreams and had the ability to read minds and teleport, according to The Associated Press. 
"AHS" has always been attracted to horror stories based in reality -- think the Black Dahlia in Season 1 or the Anne Frank storyline in Season 2 -- so taking on the Slender Man myth actually makes perfect sense.
It's unlikely that Lady Gaga, who received top billing in the series' fifth season, will be playing the fictitious character, but the same Slender Man source told Us Weekly that producers are also trying to coax the superstar into returning for another season. 
We reached out to FX for a comment and will update the post accordingly. 
PHOTO GALLERY
"American Horror Story"

Calling all HuffPost superfans!
Sign up for membership to become a founding member and help shape HuffPost's next chapter