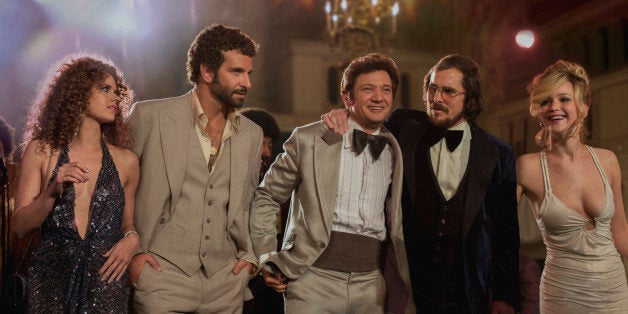 "American Hustle" is the one movie you should see this holiday season. The film, directed by David O. Russell, centers around a 1978 con-couple who are forced to join forces with the FBI and of course, hilarity, really bad hair and a whole lot of cleavage ensues.
The film hits theaters in New York and Los Angeles on Dec. 13 and is already being heralded by critics as one the best movies of the year. If the A-list cast (Amy Adams, Christian Bale, Bradley Cooper and Jennifer Lawrence) doesn't convince you that this is a must-see movie, then the costumes should.
Costume designer Michael Wilkinson creates a world filled with vintage Halston, bespoke metallic dresses and a lot of DVF wrap dresses -- and that is only the beginning. Lucky for us, we had a chance to chat with Wilkinson and grill him on Christian Bale's jewelry and Amy Adams' lack of a bra. Here's what we learned:
On Amy Adams' sexy, designer-filled wardrobe:
Amy Adams' character goes on this amazing visual journey in the film, from a woman arriving from a small town in American to Manhattan. She is trying to escape from her dubious past and she falls in love and gets the confidence and the resources to really use clothes to transform the way she is seen in the world. So she explores fashion designers from the late 1970's. We use lots of Diane von Fürstenberg, [like the] iconic wrap dresses; we collaborated with Halston and I accessed their archives and pulled some great pieces to use for Amy. Amy and I just explored the way that clothes made her feel for certain scenes -- the effect of the soft fabrics, the very dramatic silhouettes, the plummeting necklines and the close-fitting clothes. That really changed the way that she moved... from supreme confidence to extreme fragility and vulnerability in the blink of the eye. So a lot of fabrics we chose were soft, they were sensual, they had the sophistication and also a fragility and a preciousness.
On Jennifer Lawrence's flashy, "dressed to kill" look:
Her character was fascinating because we see her [having] such wild mood swings. You know, she's either depressed and schlumping around the house in oversized printed muumuus and slippers and sweat suits, velour sweat suits, or she's headed out on the town dressed to kill, trying to make her husband jealous. She's grappling to get attention so she wears some very eye-catching evening wear. We had her in a printed leopard chiffon halter-neck jumpsuit, and we had her in a very slinky, tight-fitting jersey white metallic evening gown for the casino scene. That dress has an interesting history: We tried on on lots of dresses from the period and there was nothing that really felt exactly right for Jennifer, so we ended up making that dress especially for her. What we were trying to capture was more of a suburban kind of evening wear. Amy Adams' character has a naturally sophisticated and fashion-forward approach to clothes, and with Jennifer's costumes, it was more of a woman who was flipping through magazines in her Long Island suburban home.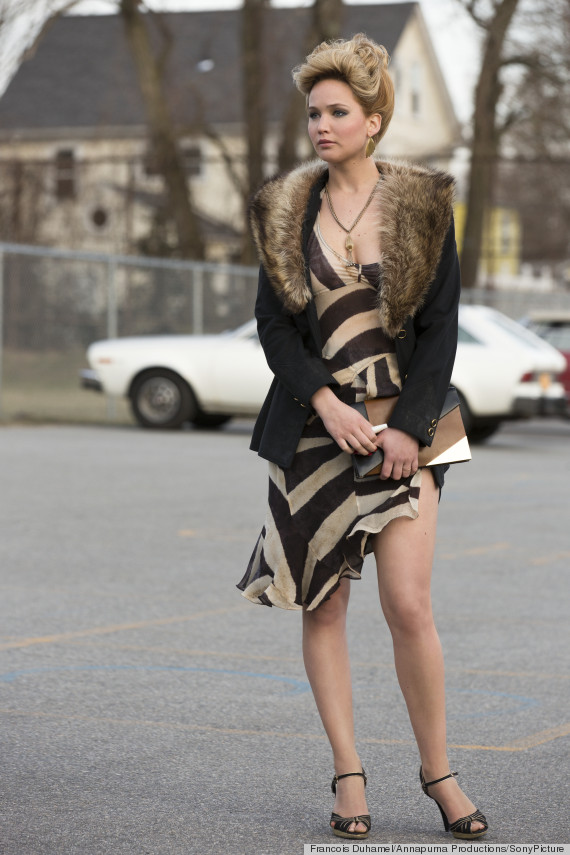 On Christian Bale's ascots:
It's funny -- the women's clothes are perhaps more eye-catching, but I'm really proud of the men's clothes because it's such an expressive time for clothes in the late '70s. There are so many interesting decisions that men can make, from choices of fabrics to silhouettes and colors. With Christian's character, he's projecting himself as a man of the world, someone to be trusted, someone who has exquisite taste in art and financial dealings. So what he does with his clothes is combine stripes and patterns and paisleys and dots, and he combines them in interesting, expressive ways. He has his signature look of ascots and contrasting vests that he wears with his suits.
On making Bradley Cooper look sophisticated:
With Bradley's character, it's equally fascinating because here's a guy who works at the FBI, he lives in a black and white moral universe of right and wrong and he doesn't care so much about clothes at the beginning of the film. He wears ill-fitting polyester suits and garish ties. But he is introduced to this seductive world of Amy and Christian's characters, a more sophisticated and expensive world, and he really wants a part of it. So we see him suddenly wearing three-piece suits, he's wearing silk shirts, he's wearing leather jackets to work at the FBI (even though that's strictly against dress code), he's wearing cool sunglasses and a fur coat that has John Travolta, Western styling to it. All of these things help the audience understand how he is trying to project authority and sophistication.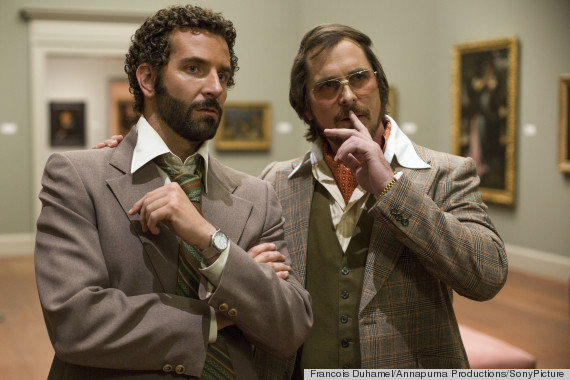 On staying true to the 1970s era:
We did lots of research into the period. We looked at photographs of people from the period, we looked at cheesy magazine shoots and advertising and high fashion. We really wanted to cast a wide net with a full spectrum of pop culture references that the cast would have been influenced by. But at the same time, when you're working with David O. Russell, there's this encouragement to be wholly unique and to avoid clichés and to create a cinematic universe which is original -- as original as the characters that he's writing. So, at a certain point, I think I cut myself free of the absolute need to be 100 percent authentic and it was more about telling the story using the clothes. Although we wanted to use as many clothes from the actual period, I ended up making quite a few clothes for the film that were, of course, correct for the period but had a freshness that was necessary.
Men of the seventies wore a lot more jewelry than today. It was essentially an era where ideas were big and people lived large and took risks and didn't give a damn, and I like the way that people really use clothes to express themselves. So as far as men's jewelry goes, we see multiple necklaces, we see bracelets, we see rings, we see tie pins. It's all really a part of the effect to really express yourself with clothes.
We wanted our film to really capture the period. And it was a period where clothes were much less structured than clothes from previous decades. It was the sense of liberation and clothes that relied less on underpinnings and foundation garments. [There was] a much more simple, modern and streamlined approach to clothes. And I felt that through this really expressive, liberal film that David O. Russell had created, where characters were not giving a damn, they certainly weren't stitched up. They were all larger than life and bursting at the seams. So this ease of dress also seemed to be very appropriate for the story we were telling. [As for keeping Adams from falling out of her dresses,] she just owned those clothes and those necklines, and she just walked on to set with supreme confidence. There wasn't really a need for many "wardrobe secrets."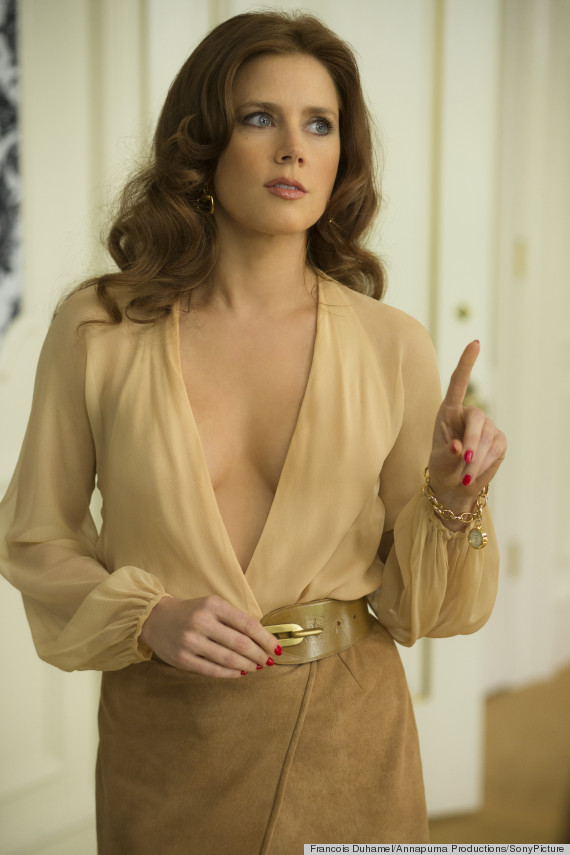 On the hardest scene of all:
I think the casino scene in the middle of the film was really fascinating to me and challenging. It's a scene where the world of New Jersey is really explored. It's a working class, blue-collar world, which is very ethnically diverse and vibrant. I enjoyed paying homage to that whole world and all of the beauty involved in that. It was a world that was perhaps set more in the early seventies of bigger colors and lots of polyester and platform shoes and flared pants. I feel like doing that scene without being cheesy or cliché, but actually paying homage to those people and the vibrancy of that world, is something I really enjoyed.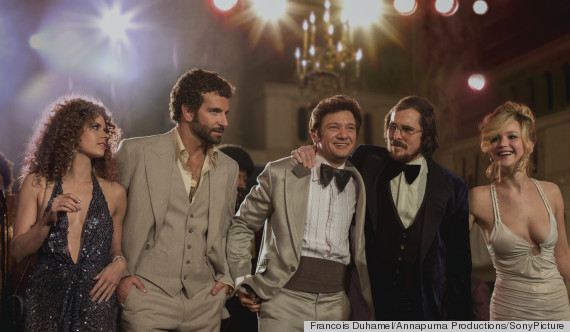 More photos of the "American Hustle" costumes: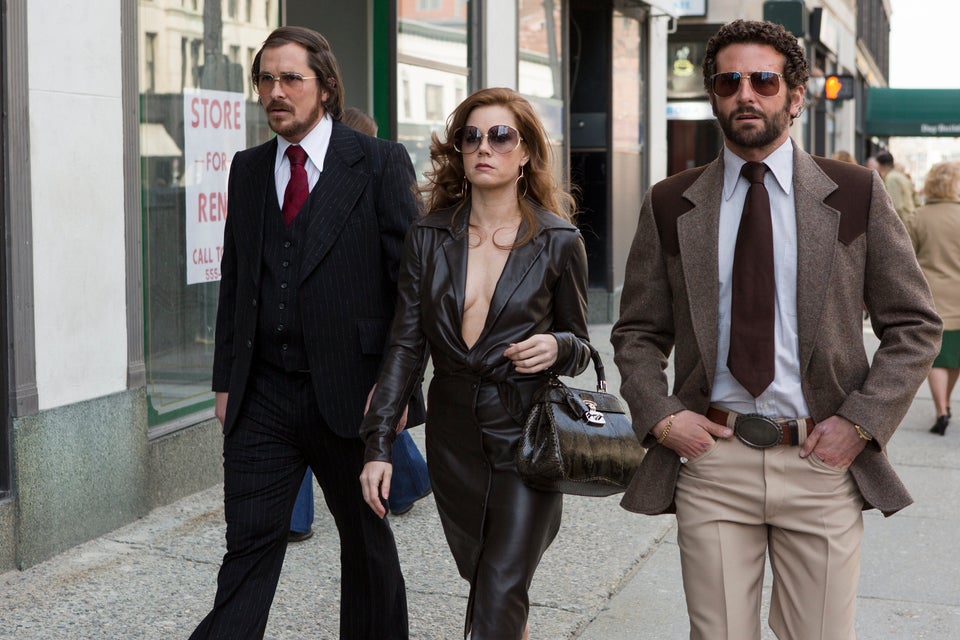 American Hustle Costumes
Related