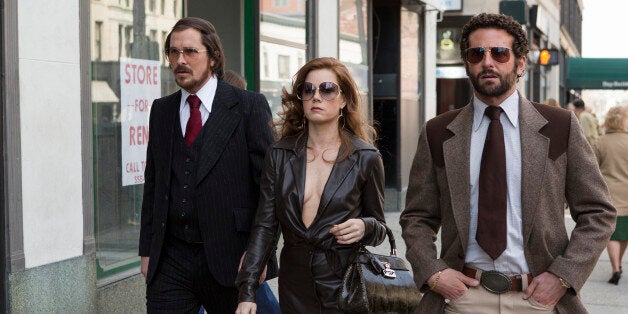 "Jeep's Blues" by Duke Ellington
"Jeep's Blues" is the unofficial theme song to "American Hustle," playing three times over the course of the film. The Duke Ellington track is used as the focal point of an early scene between the feature's lead character, Irving (Bale) and Sydney (Adams).
Jacobs: That one really came at script level. David used to work at a music magazine that reviewed jazz. His knowledge of jazz is really big. I think it was that crazy opening of the song, and just how eccentric it is [that made it work]. The dialogue in the scene with Christian and Amy was really written to that piece. The song took on a much bigger role, too. Initially, I was going, "Oh, we'll use 10 to 30 seconds of that. No more than that." But it evolved into a much more important piece.
Jacobs: David works very differently than other directors. I'm in the edit room with him the whole time. Most people don't do that. We're side by side, all the way through the six months of editing. When we change picture, he'll go, "OK, this song isn't working, now what are you going to do?" Sometimes, I'll say, "You're going to put that picture back" [laughs]. It's a very fluid process with him. ELO was really put in early; David likes to work with music early, for temp score. I was just throwing things in there with the music editor, Phil Tallman, and that ELO track was cut into the airport scene really early on in the process. That just became something David fell madly in love with. [ELO lead singer] Jeff Lynne came to see the film, and he was excited because no one ever uses that song. He came to see the movie, then opened up his drawers and said, "Here's a bunch of other stuff you might like." We got a lot of Jeff Lynne in this movie and a lot of it had never been heard before. For us that was really exciting, especially when you find something that gives you the feeling of the movie.
"Long Black Road" by Jeff Lynne
In addition to "10538 Overture" and "Long Black Road," Jeff Lynne contributed an unreleased song, "Stream of Stars," to the film.
Jacobs: Jeff Lynne sort of captured everything. What David likes in music, and what he responds to also in dialogue, is contrast. All those songs have a lot of contrast: very beautiful, very edgy, a lot of tempo, a lot of heart. Jeff Lynne and ELO's music, especially the earlier stuff, really had contrasts. With "Long Black Road," what's so interesting is that it goes into this piano thing in the middle. People will think it's manipulative, but that's the piece! It's this hard rock percussive thing and then it goes into classical piano in the middle of it. That's so much David's brain. He loves when it's like, "This is crazy that this piece takes a 180-degree turn in the middle." His dialogue is like that, and he and Jeff are real soul mates, creatively.
"Dirty Work" by Steely Dan"
An early scene in "American Hustle" shows Irving, Sydney and Richie (Cooper) walking into a meeting while this song plays on the soundtrack.
Jacobs: I was on set and David was shooting that scene. He was sitting there with his iPod, which he has all the time. He listens to a lot of music. We started listening to "Dirty Work" right on location. He played it out of his Jambox speaker right as they were walking. We always thought that would be an original song place, and we really tried for that with some great ideas. Steely Dan even considered that they would try to write something original, but we couldn't beat it. When it works, it works. It was one of those things that was married in the movie really early on.
"White Rabbit" by Mayssa Karaa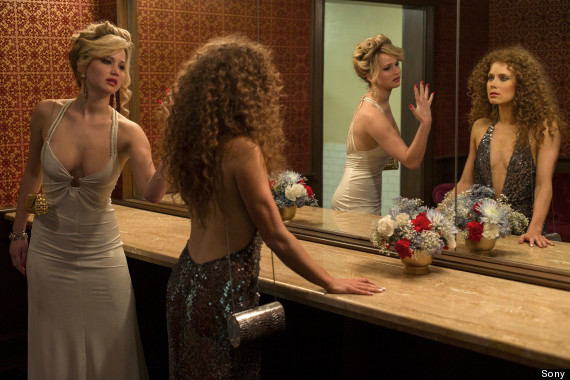 Russell and Jacobs went the anachronistic route for this track, an original Arabic cover recorded expressly for the film. "We're going to have some fun with that on the marketing side: remixes, a hip-hop version," Jacobs said of the song.
Jacobs: I put "White Rabbit" in there very early with one of the editors. Sometimes they'll call me in and say, "Hey, Sue, what can you do with this scene?" David is not around at that point, and we're just playing around. [Editor] Crispin Struthers and I tried "White Rabbit" together. We were like, "Wow." When David came in and saw it, he was like, "How are you going to get that out of the movie now?" We all knew that it was really good, but because the song was from the 1960s, it was the wrong time period. David also thought it was overused, which it is. It kind of just sat there.
We all thought of making something because we couldn't quite get it. [Composer] Danny Elfman was, rightfully, like, "I don't want to score that. It's a rock thing." Mark Batson, the producer, he looked at the scene and I said, "Anything come to mind?" Mark said something really funny to me, which was like: "You're not going to top that. Not in English, anyway." He meant that I would have to look outside of the English language to find something that might have that arc. I thought that was really interesting, and that became the story of how it evolved into covering "White Rabbit" in Arabic. We made that track. We made it literally, probably, a week before print master. It's a miracle to me that the track made it into the movie. It was a concept. It was one of those lucky things that came together. I call it the Reese's Peanut Butter Cup: one person said one thing, someone said something else, and this thing came out of the misunderstanding.
"Live and Let Die" by Wings
The famous James Bond theme gets new life in "American Hustle" thanks to Jennifer Lawrence, who sings the song in character as Irving's jilted wife, Rosalyn.
Jacobs: It's the idea that gives music supervisors heart attacks. David is a very spontaneous guy. He and Jennifer were talking about something for her to do, and this idea of her singing the song came up. They shot a couple things for that scene, just in case. They called me at 4 a.m., like, "Hey, what if we put these songs in?" "When are you shooting?" "Tomorrow morning." "Oh, OK."
Negotiating to get that song was like a peace treaty at the U.N. "Live and Let Die" really doesn't get used in films very much, because it belongs to the Bond company. Colleen Camp is in "American Hustle," though, and a dear friend of David's, and she's friends with [Bond producer] Barbara Broccoli. I have good connections with Paul McCartney's people. It took great effort from everyone. Barbara loves David's work, so she was really supportive. She loved it. Paul McCartney's company was thrilled, too, because it doesn't get licensed a lot.
Carmine (Renner) and Irving duet on this song during a moment of drunken revelry.
Jacobs: "Delilah" was the same thing as "Live and Let Die." That's a testament to the director that David is. It was not in the script; it was something that came about from talking with the actors. It sort of deepened the friendship and relationship between Carmine and Irving. This movie is a collaboration of artists coming together. We're not a $700 million movie, and it's an amazing thing when artists share. Tom Jones was really supportive of that.
"Don't Leave Me This Way" by Harold Melvin and the Blue Notes
Jacobs and Russell use the original Harold Melvin version of "Don't Leave Me This Way" during a key club scene as opposed to the more recognizable disco cover by Thelma Houston.
Jacobs: Harold Melvin has been kind of a favorite of ours for a while. He's been temped in a lot -- not that track, but he's on the playlist that we've had. Those scenes didn't change from early on either. Those were very subtle. Donna Summer's "I Feel Love" going into "Don't Leave Me This Way" going into "Delilah": Crispin cut that whole thing together. We all thought that was one of the greatest trilogies of music, it made a big difference when Amy screams. It's fantastic.
"Goodbye Yellow Brick Road" by Elton John
Jacobs: That was a late addition. We had many things in that scene. That scene -- when they're all arriving in the casino -- had some hard tonality. "Yellow Brick Road" was in there very early on, then it went away for a long time because there was a feeling that we needed more energy there. We had some uptempo things, we had some ELO there. We had a lot of things.
"Good Times, Bad Times" by Led Zeppelin
"Good Times Bad Times" was used in the film's first trailer, but despite their best intentions, Jacobs and Russell couldn't fit a Led Zeppelin song into the finished product. They had previously used "What Is And What Should Never Be" to great effect in "Silver Linings Playbook."
Jacobs: We had Led Zeppelin in there for a while. We thought even from script level that "Heartbreaker" was going to be in the movie. It was just one of those things, though. It wasn't the way we used Led Zeppelin in the last couple of films. It was functioning, but not at the level we wanted it to. I think if you're going to use Led Zeppelin, you want to look at it, and the band wants to look at it, and go, "Wow, this is great." The trailer had sort of done that for us, in a way. We've obviously had a long relationship with the band. They loved the trailer. That was our Led Zeppelin moment. We just didn't have that moment like we did in "Silver Linings," which was spectacular. I love it, though, when you get those marriages. We have that here with Jeff Lynne.
"American Hustle" is out now.
Before You Go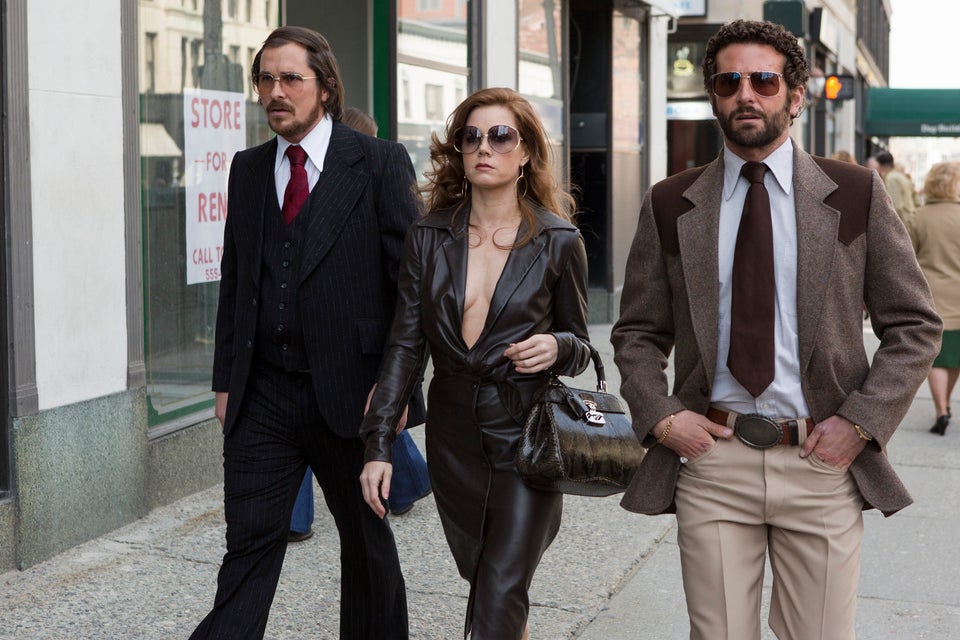 "American Hustle" Photos
Popular in the Community