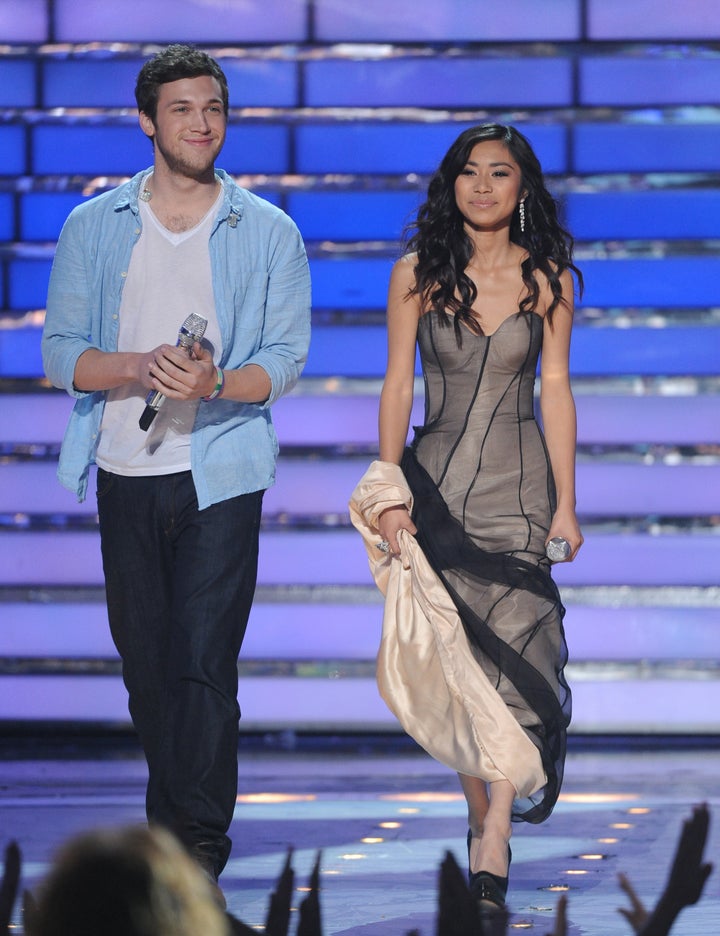 The end is nigh! After Tuesday's (blissfully truncated) one-hour performance show, a night of furious vote-casting from people who still think that such things make a difference to a potential "American Idol" winner's career, and a fluff-stuffed, two-hour results show on Wednesday night, we will finally have our next champion. Will it be Jessica Sanchez, the 16-year-old prodigy from San Diego, or Phillip Phillips, the 21-year-old pawn shop worker from Leesburg? Or have you given up caring, because your favorite was already eliminated?
The final performance show of the season was staged in three rounds, with the two finalists each performing a song of producer Simon Fuller's choice; their favorite song of the season; and the song they'll release as their first single if they win the show. The judges waited to weigh in until the end of each round, and kept standing ovations to a minimum, for once.
Logic dictates that the show is Phillip's to lose, since he fits into the coveted "Idol" niche of Cute White Guy With A Guitar, the same as the show's last four winners. But he's also divisive, because he doesn't have a whole lot of range and his performances -- while far more distinctive than Jessica's -- have never been all that spectacular. He seems to have coasted through this season by being attractive, musically gifted, and possessing that bluesy, soft-rock, Dave Matthews style that plays very well on the radio. Will that be enough to earn him the title of Idol? That's debatable.
Jessica, on the other hand, has an impressive vocal range, a belting, powerhouse style comparable to any diva, and at 16, she's malleable but still marketable. But is she too malleable? While Phillip undeniably has his own identity as an artist, Jessica relies too much on imitating the artists she's covering. She rarely puts her own unique spin on a song or arrangement, and can manage to sound uncannily like Whitney Houston or Jennifer Hudson during her performances; but is imitation worthy of the top prize? Also debatable.
So, without further ado, let's get to the performances.
Jessica Sanchez
Simon Fuller's Choice: "I Have Nothing"
Given some of Jimmy Iovine's odd choices last week, I expected Simon Fuller to push the contestants out of their comfort zones this week, but a Whitney Houston number is firmly in Jessica's wheelhouse, and at this point, after weeks of returning to the Whitney well, we know she can do these big numbers in her sleep. Was it too much imitation and not enough personality? That's been a concern all season; no matter how beautiful her voice is, what is her first album going to sound like when she's not allowed to rely on what more experienced artists have already done? It was still flawless, just not unique, and I wish we'd had something with a bigger bang to open the show.
Phillip Phillips
Simon Fuller's Choice: "Stand By Me"
Phil-Phil is back behind his guitar, and this was another very comfortable choice. It's nice, easy listening, but it's surprisingly chill for a finale. He sounded pleasant, but I wouldn't buy his album. He seemed comfortable on stage, but his limited range just means it doesn't even feel like a competition at this point. But he's still the Cute White Guy With A Guitar, so I remain convinced he'll win, judging by the shallow voting patterns of the audience for the past few years. He did a good job, graveled and soulful, but if the first round is any indication, neither of the finalists have any intention of trying anything risky or bold this week -- they're clearly both relying on their established fanbases to bring them home.
The Judges: Jennifer Lopez pointed out that it's "a battle of the opposites, how do you compare?" Randy Jackson decided that Round One probably went to Jessica.
Jessica Sanchez
Artist's Choice: "The Prayer"
I won't lie, I had goosebumps from the opening notes. Jessica went a little overboard on the vibrato, as she's wont to do, but the tenderness in her voice was poignant and hauntingly beautiful. I liked it less once she hit the bridge and the musical accompaniment kicked up, but only marginally. The opening verse and chorus were gorgeously understated and really allowed her to showcase her range and impeccable control, and I think that a stripped-down arrangement would've served her better; but it was hard to find fault with any part of the performance. She had time to belt and hit some truly phenomenal grace notes, and in terms of technical ability, she can wipe the floor with Phillip. But as Jennifer pointed out, it's impossible to compare the two when their styles are so different; at this point, it will all come down to personal taste. I also appreciated that she was obviously emotionally affected by the song, with visible tears in her eyes as she ended, since that visceral connection is something that's been lacking in many of her performances.
Phillip Phillips
Artist's Choice: "Movin' Out"
Phillip made a few subtle changes to his earlier Billy Joel performance -- presumably to shift the focus toward his guitar playing -- which illustrates his admirable thoughtfulness when it comes to his craft, even if it failed to up the ante in terms of a powerhouse vocal. Despite his reported health issues, he seemed entirely comfortable on stage (although no more willing to move around than Jessica is), and the audience certainly seemed engaged. I'll admit, I didn't find "Movin' Out" all that electrifying the first time around, so it's probably not the repeat performance I'd have picked, but he sounded good on it, with no real surprises.
The Judges: Steven Tyler gave the second round to Jessica, while Jennifer gave it to Phillip. (I disagree.) Randy called it a draw, just to be diplomatic.
Jessica Sanchez
Potential Winning Single: "Change Nothing"
Good god, what an awful song (as the winner's singles generally are). It further proves that Jessica will likely struggle far more than Phillip if she wins, at least in terms of finding her niche in the industry and material worthy of her gigantic range. She doesn't appear to be a natural songwriter, so she'll be relying on the Jimmy Iovine brain-trust, and since he clearly screwed her with "Change Nothing," I'm dubious that her debut album as a whole would be much better. Still, she did the best with what she was given, and despite a few sharp notes here and there, she once again demonstrated her ability and confidence, blasting out the high notes just like Jennifer Hudson would.
The Judges: Thankfully, none of them liked the song either; Randy praised Jessica for bringing the track to life, but lamented that she wasn't given something more urban that showed her "Beyoncé swagger." Jennifer agreed, noting that Jessica "sang the song really well" but wished it had more of a soul and blues influence than a plain pop ballad. She also (wisely) urged Jessica to make sure that she asserts herself when the 16-year-old records her first album: "Everything has to be you, Jessica." Steven didn't think it was "the proper song for [Jessica] to sing with the voice and the places [Jessica has] taken the world before this." So thanks for nothing, Jimmy.
Phillip Phillips
Potential Winning Single: "Home"
I didn't love the beginning; Phillip was a little pitchy in the first verse, but the song was much more suited for his voice and identity than Jessica's was. He hit his stride by the chorus -- aside from the bizarre marching band wandering across the stage behind him -- and Phillip seemed totally comfortable with the number, unlike Jessica. His song was immediately radio-worthy. It's entirely possible that P.P. won the entire contest on the strength of that one track, while Jessica was stuck with (deliberate?) mediocrity, which is kind of appalling, isn't it?
The Judges: All three were on their feet, making the night's only standing ovation, so, there's that. Randy was in full-on gush mode, bellowing, "I loved the song, I loved you, I loved the production -- everything about that was perfect." Jennifer insisted, "It was so different ... It's a Phillip Phillips song and there's nothing on the radio that sounds like that." Steven was excited enough to wander off into incoherence again: "By virtue of your vulnerability and style, you have made the world your home. You were perfect tonight and I think you are the man." Round Three to Phil-Phil, then.
Who was your favorite performer of the night, and did Jessica's lackluster final song have you calling foul when compared with Phillip's home run? Weigh in with your predictions for tomorrow's results show below!
The winner of "American Idol" Season 11 will be revealed in the results finale show on Wednesday, May 23 at 8 p.m. ET on Fox.