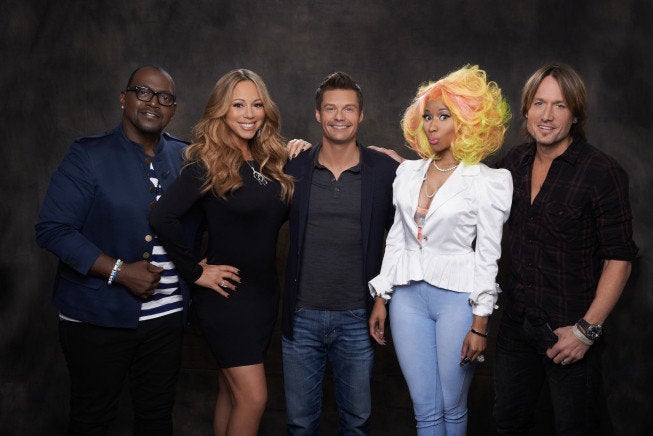 Though executive producer Nigel Lythgoe attempted to deflect a question about the singers' relationship by insisting that "whatever feuds there have been, they haven't just been between Nicki and Mariah; Randy [Jackson] and Keith [Urban] have their say too," there seemed to be a marked tension between new "American Idol" judges Carey and Minaj (who were seated with Urban between them).
"This is a very passionate panel -- I think there are a lot of strong personalities," Carey said. "Starting this process, I thought there could be a possibility that there could be differences of opinion ... I think the fighting is what it is. It's 'American Idol' -- it's bigger than all that. It's bigger than some stupid trumped up thing -- it's about the next talent superstar."
A reporter later asked Minaj and Carey to offer something about each other they admire, and the responses were somewhat tepid.
"I say nice things about Mariah all the time. I tell Mariah all the time how much of a fan I am of her," Minaj insisted. "She's one of my favorite artists of all time ... She's shaped a generation of singers. It's kind of crazy to be on a panel with her ... I feel excited to see [the contestants] see someone they look up to so much ... [and] hear her critique."
"And that was obviously a very sweet thing to say," Carey said. "Nicki and I worked together very early on in her career and did a song from an album I'd done called 'Memoirs of an Imperfect Angel,' called 'Up Out My Face,' ironically ... it was one of my favorite videos and songs and I did feel that she was going to go very far, and still have that feeling and am grateful for anything nice that she and anyone else have to say about me."
When asked how the pair had overcome their differences (if they indeed had), Carey said, "The whole thing is convoluted ... It's a distraction from the show, and it's a distraction from the contestants and it's unfair to them. It shouldn't be about us."
Minaj agreed, "I've heard people say, 'Are these shows turning into all about the judges?' and then we have to field questions about [feuds]."
As for the specific "how" they reached a "reconciliation," the artists were oblique. "Time sorts everything -- time heals all wounds," Carey said, before adding, "I did nothing and here we are."
The panel then bizarrely devolved into all of the judges talking over each other while Carey drew attention to her shoes as something "we can all agree on," before Minaj insisted, "We're professionals ... This is what America wants, they want drama!"
Drama aside, the panel offered a few interesting revelations about "Idol's" twelfth season, namely Minaj's opinion on rappers as contestants.
"I definitely don't think a rapper should be in this competition," she said. "Rap and hip hop is completely different from 'American Idol.' It's a different situation ... I would never go on a show like this as a rapper and I would never encourage anyone who's a rapper to go on a show like this. It's an honest singing competition and I'm not here to change that."
Likewise, Carey admitted she "would never have wanted to go on a show like this" at the beginning of her career. "I did have my struggles that I went through as a singer and a songwriter ... I had to learn in front of the world how to be and how to be on TV and sing ... It was very tough, especially when I see these kids and I'm totally relating to them because I was basically their age when I was starting out."
"These shows are not necessarily for everyone," Jackson said. "You have to have nerves of steel. You have to have the confidence that you can get up in front of us."
Conversely, Urban admitted that he'd been on three reality singing competitions when he was younger, meaning that "to a large degree, I know how these guys feel ... I got crucified by judges when I was nine years old."
Though some have argued that "American Idol's" influence is waning, Mike Darnell (Fox's President of Alternative Entertainment) argued that the show is "reaching a renewal every couple of years. This panel has reinvigorated the show. It's exciting. The talent's great, but the energy on this panel ... There are too many of these shows on the air probably and they are taking each other down a bit ... [but] this is the show. This is the only one that makes stars. Period."
And though Lythgoe acknowledged "Idol's" penchant for the "white boy with guitar" contestants, he insisted, "This year, we can honestly say the girls are stronger."
We'll see whether that proves true when "American Idol" returns on Wednesday January 16 at 8 p.m. EST on Fox.
PHOTO GALLERY
Best Musical Moments of 2012
Calling all HuffPost superfans!
Sign up for membership to become a founding member and help shape HuffPost's next chapter
BEFORE YOU GO