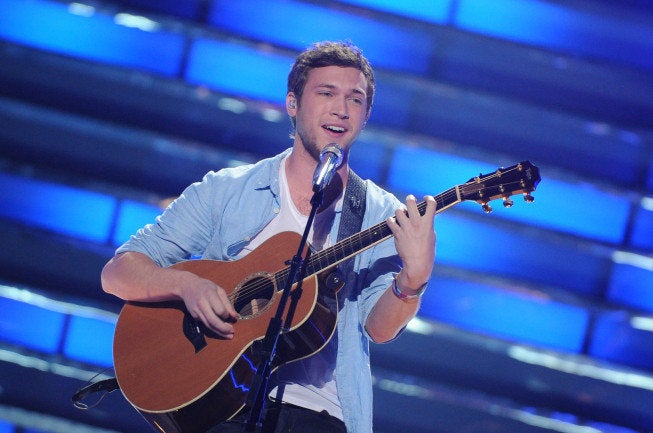 This should've come as a surprise to exactly no one, given that Phillip is now the fifth in an uninterrupted line of "White Guys With Guitars" who have snagged the coveted crown over the past few seasons. I was noting the bias towards "WGWG" way back in my recap of the Top 24 -- although in those halcyon days, I was foolishly giving the edge to Colton, just because he was more conventionally attractive (and more annoying), even going so far as to note: "He's white, male and can play an instrument, so he'll probably win." Close enough, right?
Clearly, I was discounting the sympathy votes Phil-Phil would earn for his kidney problems, but I did note that he had one of the stand-out performances in the first live round. I've enjoyed a number of his renditions over the course of the competition, but I haven't had a horse in this race since Elise Testone was eliminated, so I've been watching the season progress with an air of detached interest, wondering if Jessica might be the one to break the cycle. This show has always been a popularity contest more than a talent contest, with the attractive, marketable guys given an edge, even over superior voices. David Cook versus David Archuleta; Kris Allen versus Adam Lambert; Lee DeWyze versus Crystal Bowersox; Scotty McCreery versus Lauren Alaina, and now Phillip Phillips versus Jessica Sanchez; in most, if not all cases, the artists with superior range or technical ability lost out to an army of increasingly indistinguishable White Guys With Guitars, each (with the exception of country crooner Scotty McCreery) trading in the same inoffensive soft/alt-rock melodies that can easily get lost in an already crowded male marketplace.
Why is this an issue, you may ask? Why not let the excitable teenage girls (and the older women who should probably know better) have their fun and flood the phone lines with votes for these attractive, guitar-plucking fellas? Simply put, because those attractive, guitar-plucking fellas don't actually do that well once they've ventured out of "Idol's" protective embrace and are expected to sell albums under their own steam -- and that's a problem for "Idol" as much as for the winners themselves.
Not since Season 6's Jordin Sparks (the last female winner) has an "American Idol" champion won an American Music Award; not since Season 5's fourth-placed Chris Daughtry has an "Idol" contestant scored a Billboard Music Award; and not since Season 4's Carrie Underwood has an "Idol" won a Grammy. Scotty's doing well on the country side, with ACM and ACA wins, but the rest are lucky to have scraped up a Teen Choice surfboard on their way up the ladder. And while industry recognition isn't everything, it's getting a little pathetic to see "Idol" still trumpeting the achievements of Carrie Underwood and "Oscar winner Jennifer Hudson" because they haven't had a more recent homegrown star.
Last year, Season 9 winner Lee DeWyze was dropped from RCA records, which, until Season 9, had an exclusive option on the show's music releases, and is still home to a number of "Idol" winners and runners-up. The season before Lee's, Kris Allen was the first "Idol" winner who failed to achieve gold album status -- as of December 2011, his self-titled debut had only sold 329,000 copies -- while runner-up Adam Lambert's has sold 838,000 albums to date..
Not only are the show's winners losing their impact, "Idol" itself has seen its ratings slowly eroding over the past few seasons. As The New York Times noted on May 22:
"Idol" lost nearly a quarter of its audience this season (it is still huge), dipping below 20 million viewers for the first time since 2003, when a ratings surge made it the No. 1 entertainment program on American television. The drop-off was even more steep among viewers ages 18 to 49, the demographic mostly highly sought by the networks ... Last year, when "Idol" rebounded slightly from lows that were a record in 2010, a typical episode garnered 24.7 million viewers, excluding the finale week. Of those viewers, 10.8 million were between the ages of 18 and 49. Compare that with this year, when a typical episode has attracted about 19.2 million viewers, 7.5 million of whom are in that same demographic.
According to the Los Angeles Times, Tuesday's performance show was the "lowest-rated and least-watched performance finale ever," and while considering 14.4 million viewers "low" is a high-class problem for Fox to have, the overall trend signals trouble, if not imminent disaster.
We can't lay the blame solely at the feet of those innocuous WGWGs, since the primetime landscape has become increasingly littered with rivals. From NBC's Super Bowl-powered "The Voice," to ABC's newest offering, "Duets" (ironically starring "Idol's" first winner, Kelly Clarkson) one has to wonder if we've finally reached critical mass when it comes to talent competitions. Viewer fatigue aside, I still wonder whether those eyeballs would be less inclined to stray if every season of "Idol" wasn't so predictable. What will it take to dethrone the White Guys and their instrument of choice? Individuality and originality didn't help Crystal Bowersox, and powerhouse vocals didn't sway voters towards Jessica Sanchez, so what does a woman (or gay man, or person of color) have to do to wrest the title away from the crooning pretty boys?
It is perhaps more telling that "Idol's" nearest rivals, Simon Cowell's "The X Factor" and NBC's "Voice," don't seem to have the WGWG problem. "X Factor's" first winner, Melanie Amaro, was female, black and not insistent on strumming a guitar in every performance -- she shared far more vocal similarities with Jessica Sanchez (who is of Mexican-American and Filipino descent), preferring belting ballads over up-tempo numbers. "The Voice's" two winners, Javier Colon and Jermaine Paul, while comfortable with instruments, are both over 30 and non-white. Is it "Idol's" core demo -- those oft-derided teens and tweens who vote en-masse via text or online, but no longer buy CDs (and probably know all the tricks to illegally download music, if they're not already on Spotify) -- who are responsible for the show's obvious whitewashing and the contestants' subsequent chart failures?
The prejudice hasn't gone unnoticed across the blogosphere; a cursory search of HuffPost's archives immediately pulled up three posts on the subject, one for Lee DeWyze, one for Scotty McCreery and one for Phillip Phillips. What started out as a running joke has now grown legs and sprouted into a fully-fledged pattern of gender and racial bias, and since the other talent contests don't have the same issue, the onus is wholly on "Idol" to break the cycle.
But how? Last season, producers were reportedly considering "tweaking" the voting system to combat the favoritism towards the boys, after yet another female vocal powerhouse, Pia Toscano, was unexpectedly eliminated. Lest we forget, Jessica Sanchez only made it into the finals because of the Judges' Save -- she got the lowest number of votes on the April 12 results show, below Joshua Ledet and perennial Bottom Three fixture Elise Testone, and would've been chilling at home for the next month, were it not for Randy, Jennifer and Steven.
But tampering with the votes is hardly an ethical or effective solution; why allow viewers to vote at all unless you're going to heed their voices? "The X Factor" certainly courted controversy by allowing the judge-mentors to eliminate or save contestants every week after the public vote, but that system apparently works, since the judges had no input into the final results, and Melanie Amaro still wound up beating two WGWGs, Chris Rene and Josh Krajcik.
Regardless of how telegraphed last night's result might have been (down to the way runner-up Jessica Sanchez seemed to be handicapped out of the gate with her abysmal "winner's song"), it's still disappointing that talent continues to play second-fiddle to a pretty face or what color that pretty face happens to be. Surely teen girls should want to support one of their own: an untested 16-year-old who has dreamed of being an "Idol" contestant since she was 5 years old; someone who could serve as a role model, a potent reminder that youth and inexperience don't necessarily mean that you can't make your dreams a reality? But female empowerment falls by the wayside when there's eye-candy to admire, apparently.
It's common knowledge that "Idol" voters only have themselves to blame for their baffling (and sometimes tone-deaf) voting habits, but what sort of messages are we, as a society, sending to that core demographic to have these patterns so deeply embedded? Do we need to stop humming "Man in the Mirror" and switch to Hollie Cavanagh's "Reflection" instead? One way or another, we've got to make a change -- for our sake as much as "American Idol's."
Related
Popular in the Community