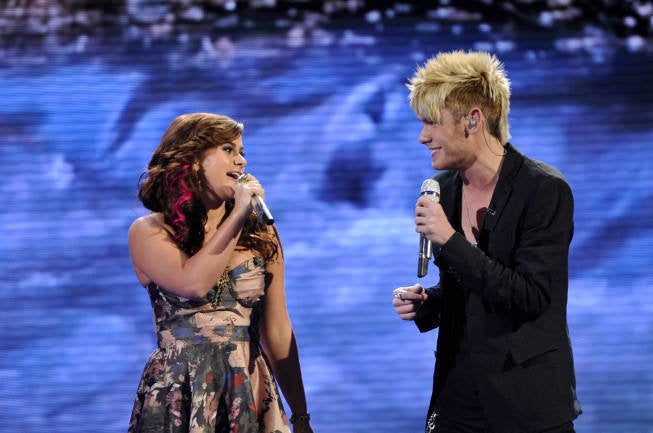 After last week's brief, shining moment of contemporary musical relevance, "American Idol" returned to its supply of outdated themes, saddling the Top 8 with songs from the '80s (a.k.a. the decade before half of these contestants were born). Still, the overused song selection didn't preclude the potential Idols from pulling out two particular powerhouse performances, both in their solos, and in the four duets that the producers used to pad the hour.
The show featured mentoring by Gwen Stefani (who hasn't released a new single since, what, 2008?) and her No Doubt (which hasn't released a new -- not previously unreleased/compilation -- album since 2001) bandmate Tony Kanal, who is apparently a man of few words. Who'd have thunk that Stevie Nicks would be one of the most current mentors "Idol" could dig up to coach their kids? In that regard, I think "The Voice" definitely has "Idol" on the ropes. Regardless, here's our rundown of the 12 numbers from 80s week -- the good, the bad and the pitchy.
DeAndre Brackensick: "I Like It" by DeBarge
At this point, when it comes to DeAndre's samey performances, you either like it or you don't. He makes more of a performance out of tossing his hair than he actually does of singing, which mostly makes him look like a headbanging lion rocking out at a Queen concert. Until we make a drinking game out of it, it's just distracting, not alluring. Although he's getting better at utilizing his modal register and relying less on his falsetto, his lower range isn't all that spectacular, especially stacked up against Joshua or Colton. Not helping matters, his falsetto actually sounded a little flat to me this week, and though the judges praised him for looking comfortable on stage, I felt the opposite -- like he was ambling aimlessly around, trying to hit his marks and failing to make eye-contact with the cameras to actually engage the viewers at home. I know he has his niche, and if fans dig it, that's their prerogative, but I'm counting the days until someone sends Simba back to the zoo.
The judges were apparently hypnotized by DeAndre's flowing mane, with Jennifer praising how natural his performance was, Steven calling it "totally captivating," and Randy dubbing it "one of the best performances from you," which isn't saying much.
Elise Testone: "I Want To Know What Love Is" by Foreigner
If there's one artist who seems perfectly suited to the power ballads and rock anthems of the '80s, it's Elise, and thus, this week's performance was the biggest disappointment. Elise absolutely has the chops to nail this song, but for some reason, she couldn't keep control. Her timing was off in the verses, leaving her either ahead of the backing track or rushing to catch up, and she knocked into some noticeable flat notes, which seemed to shake her confidence. The random criss-crossing backing vocalists didn't do much to improve matters, and though she made some beautiful choices in terms of runs and ad-libbing, it all felt a little off. As soon as the song ended, it was clear from the look on Elise's face that she knew she'd missed the mark.
"I love your style, I love your voice -- I'm not sure that song was the right song for you tonight," Steven observed, while Jennifer delivered the kiss of death: "You look beautiful tonight." She did praise Elise's emotion, but Randy didn't sugarcoat it, pointing out, "You never quite hit the pitch right, It was out of tune everywhere for me."
Skylar Laine and Colton Dixon Duet: "Islands In The Stream" by Dolly Parton and Kenny Rogers
The first duet of the night was just plain uncomfortable to watch. The pair seemed allergic to maintaining eye contact, with Colton wandering away to serenade the camera instead of acknowledging his partner. Skylar sounded nasal on her solo, while Colton was just bland in his own, and though they harmonized fairly well, there was no chemistry or enjoyment in the performance. The two were the antithesis of the lyric, "We rely on each other," both seeming like they were competing for dominance.
Naturally, the judges gushed all over it, with Randy insisting they did a "really good job" and that it was "very sweet and very nice." Jennifer thought it was the perfect song for Skylar and that Colton was the perfect partner, while Steven praised the "beautiful harmony."
Phillip Phillips: "That's All" by Genesis
My biggest problem with Phillip -- a shallow problem, admittedly -- is that he has the tendency to look like he's possessed when he's singing (either that, or auditioning for the role of the Hunchback of Notre Dame). His incessant twitching and gurning is endlessly distracting, and it sometimes makes him a little uncomfortable to watch. But that's just me. In terms of the vocals, I enjoyed the verses -- he seemed confident and had some great flavors in his voice. I wasn't sure if he seemed to be forgetting the lyrics or getting lost in the arrangement a couple of times, because he seemed to be distracted, but this was quintessential Phillip. While he can go over-the-top on the growling, I found it among the more enjoyable of his performances to date.
"I love your individuality," Steven praised, while Jennifer called it "pretty great," but noted that he didn't always seem to be in his comfort zone. Randy thought it was a great song choice for him.
Hollie Cavanagh and DeAndre Brackensick Duet: "So Excited" by The Pointer Sisters
Hollie looked like Peggy Olson on top and Sandy at the end of "Grease" on the bottom, and she seemed just as uncomfortable about it as I was, tottering around like a drunken giraffe on five inch stilettos. Thankfully, she sounded great, which I wasn't expecting, given that she usually sticks to ballads instead of up-tempo numbers. Their voices didn't blend perfectly, but they were nice on the bridge and the pair were perky. The staging was awkward overall, and neither was good at moving naturally, especially while their partner was singing, but it wasn't quite the train wreck it could've been.
Steven dubbed it a "beautiful duet," and noted that he liked seeing Hollie let go, urging her to "get excited" more often. Jennifer urged her to "find the soul in everything you do" so that her stage presence could match her vocals, while Randy praised DeAndre's ad-libs at the end, and called it "very, very, very, very nice."
Joshua Ledet: "If You Don't Know Me By Now" by Simply Red
While Joshua has a tendency to over-sing, he's also very meticulous in his choices, and allowed this rendition to grow and flourish instead of pulling out wild runs from the start. He's still a little too enamored of his vibrato -- which tends to put me off in all singers, since not every song needs to be flashy -- but it was a technically impressive vocal. If you dig that church vibe, he probably took you to heaven and back. I am growing a little tired of all of his songs sounding the same, though -- we know he can nail the dramatic, belting ballads, but why is Jessica continually pushed out of her comfort zone when Joshua isn't?
The judges, naturally, gave him a standing ovation. "We asked for a powerhouse performance and that's what we got," Jennifer enthused. "How can someone sing like you at your age?" Steven marveled. "It's very rare that I wanna stand up from beginning to end ... you were so in your zone," Randy agreed.
Jessica Sanchez: "How Will I Know" by Whitney Houston
The Whitney catalog is serving Jessica well, and though her experiment with "Turn The Beat Around" was something of a hot mess, this is a much more confident foray into up-tempo numbers. As Steven is constantly saying, I feel as though Jessica is beyond critique; although she still doesn't inject as much emotion or personality into her performances as artists like Elise or Phillip, she makes everything look so effortless that it's hard to fault her. She worked the stage, she looked like she was having fun, and her last notes were flawless.
"Your choices are so natural, your vocals just make everything go away for me," Jennifer praised, while Steven reiterated, "I don't think I've ever heard you sing where I can judge you -- so beautiful." Randy said, "I can't believe the maturity in you."
Elise Testone and Phillip Phillips Duet: "Stop Dragging My Heart Around" by Stevie Nicks and Tom Petty
Finally, the grown-ups are singing! They were even looking at each other, on occasion. Phillip was still doing his twitching, gurning, "Paranormal Activity" audition, but their husky, raw tones complimented each other nicely and neither seemed to be trying to showboat or outdo the other. It was great to see some of Elise's sass and swagger return, since she seemed deflated after her solo performance.
Randy was glad to see Elise back on form too, crowing, "Elise, welcome back, baby -- that was hot!" Jennifer got herself tangled up with imagining they were a couple and wondering if they loved each other, while Steven called it "outstanding" and "as good as it gets."
Hollie Cavanagh: "What A Feeling" by Irene Cara
Thankfully, despite the earlier leggings, the producers didn't force Hollie to dump water all over herself during this "Flashdance" number, although it might have improved things for her. Unlike her duet, which was controlled and upbeat, her solo number was pretty much a total train wreck. She made a lot of strange choices early on in the song in terms of ad-libs, and was flat pretty much from the start. She also seemed to struggle with keeping time, and missed a lot of notes towards the end, which was why it was kind of a relief when she forgot to hold the microphone to her mouth at one point. She's also probably the most unnatural mover out of the bunch (aside from twitchy Phil, who is at least letting himself get lost in the music) and seemed robotic half of the time.
"Girl, um," Steven started promisingly, "Your pitch was all over the place, I'm so sorry to tell you." Jennifer reinforced her earlier message, telling Hollie she needs to "let it go" and put everyone's advice out of her mind when she gets on stage in the future. Randy agreed that she was over-thinking, pointing out that she has the talent, but that there were pitchy moments.
Jessica Sanchez and Joshua Ledet Duet: "I Knew You Were Waiting For Me" by Aretha Franklin and George Michaels
Undoubtedly the standout performance of the night, and a vocal masterclass from beginning to end. This is apparently what happens when you pair up two equally talented, vocally mature artists, and it was a joy to watch. They both seemed to be wholly enjoying themselves, matching each other in runs, ad-libs and belting high notes, and while there did seem to be an air of friendly competition between the two, it also felt like they were complimenting each other instead of trying to upstage one another, the way any duet should be.
The song earned a well-deserved standing ovation from the judges. "Two of the greatest singers to ever hit this competition ... one of the greatest performances I've ever seen on this show," Randy told them, while Jennifer floated the possibility of a finale showdown between the pair. (I really hope so, but know better than to hold my breath since Colton and Phillip are so pretty and white and male.) "So over-the-top it defies judging, only to be enjoyed," Steven swooned.
Colton Dixon: "Time After Time" by Cyndi Lauper
The biggest revelation from this performance was that Colton's skunk has gone blond! Hollywood just changes people, I guess. I know Colton has a fairly loyal contingent of supporters, but I'm sorry, guys, he always sounds whiny to me. Maybe I'm just desensitized from all the other alt-rockers who sound almost identical to him? He's had better performances and he's had worse performances -- this one lands inoffensively in the middle, but it didn't allow him much room to showcase his range, and he ended up somewhat upstaged by Rex the awesome drummer. I was impressed that he admitted he had "completely ripped off" the arrangement from a band called "Quiet Drive," since many "Idol" contestants like to pretend that they come up with these amendments themselves until they get called out on them.
Steven told him that he could drop a record right now (which is admittedly true, since it's a popular, if derivative sound). Jennifer praised him for being in sync with the band and said she "really liked it," and Randy liked that he's so "current" and made the song his own.
Skylar Laine: "Wind Beneath My Wings" by Bette Midler
I'll admit, the beginning of the song gave me goosies, and it was refreshing to see Skylar attempt a simple ballad that allowed her to show off her range, rather than yet another breathless, clumping up-tempo number. She couldn't quite settle into the timing either, and she's still singing out of her nose instead of her chest. But, while she hit a couple of flat notes, her real strength lies in her ability to belt, and her last clear, sweet notes helped elevate the song to another level. I think she still needs to work on her consistency, but she was definitely more assured than Hollie was tonight. I didn't quite think it was the euphoric auditory experience the judges did -- perhaps because Jessica, Elise and Hollie are still more vocally competent than she is -- but in comparison with her other performances, it was an eye-opener.
Jennifer was crying (which was a little OTT, in my opinion) and all the judges stood, ready to heap praise on the country singer. "It was beautiful, you showed up," Randy observed, "I think this is your best performance on the show to date." Jennifer agreed, "You can sing with the best of everybody who's here." (Isn't that kind of the point of her being in the Top 8 anyway?) Steven said "that's the best song you could've picked for your voice and the end of the night, and the beginning of a great career."
Who do you think was the best and the worst of '80s night? Who is in danger of going home, and do you think the judges will be tempted to use their save at this point in the competition?
"American Idol" airs Wednesdays and Thursdays at 8 p.m. ET on Fox.
Popular in the Community