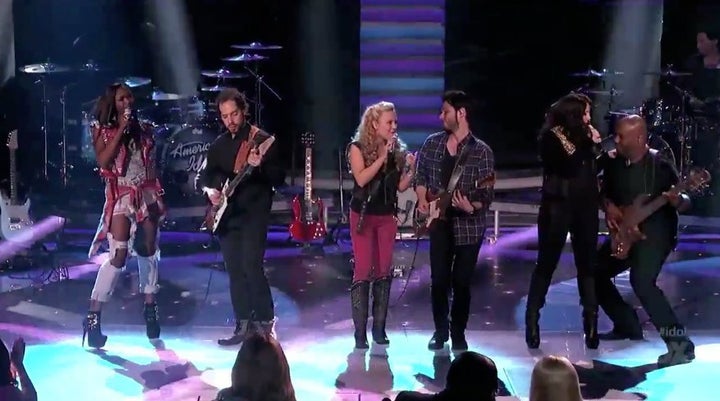 It was "Rock week" at "American Idol," which meant a night of R&B and country singers attempting to pull off powerhouse songs from the likes of Queen and the Rolling Stones. Despite being pushed out of their comfort zones, the contestants (for the most part) rose to the occasion, injecting the classic numbers with their own individuality as performers. But which of the potential "Idols" were the true standouts of the evening?
Rock week forced Burnell out his typical ballad comfort zone, taking on the Bon Jovi classic "You Give Love a Bad Name." Complete with a studded leather jacket and a light show, he delivered a very un-Burnell performance. All of the judges applauded his effort, but Keith thought he needed to make the song his own and Randy advised that he ride the beat harder in future upbeat numbers.
Angie and Lazaro teamed up for Queen's "Crazy Little Thing Called Love," and, despite a minor lyrical slip-up on Lazaro's part, they managed to pull it together. The judges were all in agreement that Angie was the star of the duet, but Keith thought the performance was a bit "variety show-y" and Randy didn't think it was Lazaro's best.
As usual, Kree managed to bring the night to life, continuing to establish herself as a frontrunner in the competition. Singing Janis Joplin's "Piece of My Heart," Kree was totally at ease on the stage, despite a pinched nerve. Nicki declared Kree deserving of all 50 of her votes and Mariah complimented her on her ability to choose the perfect songs, calling her a true artist.
Candice and Burnell formed a power duo, singing Joe Cocker's "The Letter." The judges agreed that Burnell's true self came through much more than in his first performance, and Nicki couldn't get over Candice's vocal ability.
Janelle, decked out in rhinestone cowboy boots, brought the country to rock night with her rendition of Billy Joel's "You May Be Right." Nicki (after she tried to -- and eventually succeed -steal Janelle's boots) spoke of Janelle's relatability as a performer: "You feel like every girl's best friend," she told her. Keith loved the way Janelle worked the stage and Randy called her "real and honest."
After a couple of rough performances, Lazaro hoped "We Are The Champions" would be the song to make him a champion. The judges all thought that he did the classic song justice, with Randy going as far as to say, "Dude, you did good."
Amber, Janelle, and Kree came together to sing Billy Joel's "It's Still Rock and Roll to Me." Randy thought the trio put on an unbelievable performance and Keith thought they sang great together. Nicki, on the other hand, delivered some mixed messages, telling them that she hated it and that it put her to sleep, while at the same time, reinforcing her obsession with all three girls.
Candice chose the Rolling Stones for her rock performance, singing "I Can't Get No Satisfaction" with her own unique twist. Mariah told her that it was "mesmerizing" to watch her on stage and Randy applauded her ability to bring true rocker attitude to her performance. Nicki loved her voice, but was bored by the song choice.
Amber once again brought the house down, singing Heart's "What About Love" with power and conviction. After a round of standing ovations, Nicki declared it to be her favorite performance of the night and Mariah told her how amazing it has been to watch Amber grow as a performer.
Angie ended the night with the (sort of?) classic "Bring Me to My Life." While it's a bit interesting to lump Evanescence and the Rolling Stones in the same category, the powerhouse number was the perfect fit for Angie's voice. Randy was really glad that America got to see the edgier side of her, but Keith reminded her not to get too caught up in how she looks during her performance and instead, focus on how she feels.
"American Idol" airs Wednesday and Thursdays at 8 p.m. ET on Fox.
PHOTO GALLERY
"American Idol" Season 12
REAL LIFE. REAL NEWS. REAL VOICES.
Help us tell more of the stories that matter from voices that too often remain unheard.