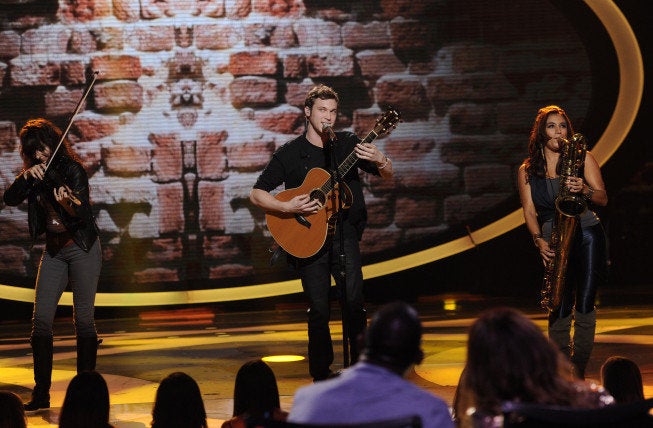 Here's a scary fact: Four out of the Top 6 "
" contestants weren't even born when Freddie Mercury died in 1991, so expecting them to nail Queen classics might've been something of a stretch, especially since out of the remaining hopefuls, only Elise Testone truly qualifies as a rock singer.
Still, the "Idol" producers were apparently feeling sadistic tonight, so we got an hour of poor Queen imitations and an hour of contestants' choice -- which had the potential to be satisfying, since the wannabe Idols tend to excel when they're actually allowed to tackle culturally relevant tracks. We also had a sick Ryan Seacrest, who spent much of the hour looking like he was on the verge of throwing up or passing out (flashbacks to Hollywood Week, much?).
Read on to see who emerged as a champion and who bit the dust as we recap the Top 6's performances.
Jessica Sanchez
"Bohemian Rhapsody"
Yet another song released two decades before Jessica was born, this performance lacked all of Freddie Mercury's melancholy resonance and musical passion. The first verse was undoubtedly the strongest part of Jessica's rendition, with her voice soft and restrained, but as soon as she hit the rockier notes, that emotional connection evaporated -- she even had a rare moment of pitchiness on the outro. She certainly has the ability to sound pretty, but since that's the antithesis of rock, it lacked the necessary punch to be one of her stand-out performances.
Steven Tyler told her that Freddie Mercury would've been proud of her (hmm), but admitted that "rock isn't your forte." Jennifer Lopez reassured her that she sounded beautiful, but that she was expecting more running around stage and hair tossing to make it into a rock performance. Randy Jackson said that he "actually loved it" and enjoyed her restraint in avoiding throwing in any of her usual runs.
"Dance With My Father
I won't lie, this performance totally made me tear up, and not just because Jessica's father is in the military and about to ship out, although that fact undoubtedly contributed to her emotional connection to the song. The one thing that's almost always missing from even the strongest Jessica performance is the emotional resonance, but this week she finally nailed that along with the vocals. It was tender, nuanced and understated, with a perfect grasp of the melody. I'll admit, it's still a little off-putting to hear her singing a song reminiscing about when she was a child when she technically still is one, but she imbued the words with such feeling that it's impossible to nitpick on this one -- a relief, since her first song was decidedly lackluster.
"That may have been the best I've ever heard that song sang," Jennifer admitted, even after saying that Luther Vandross is one of her all-time favorite singers. "The tenderness, the feeling, your vocal ability ... it was the most beautiful I've ever heard it." Steven said that her voice is so different than anyone else's, and called it an honor to watch her evolve. Randy praised her natural ability and vocal tendencies, especially now that she has captured the emotion too. "Every time you get up and sing, you know what's wrong with it? Absolutely nothing!" he enthused.
Skylar Laine
"The Show Must Go On"
I was a little worried at the outset, because Skylar seemed to be veering back into nasal territory, but she reined it in as she warmed up to the song. There were a few flat notes in the chorus, but overall I was impressed with her control. She didn't oversing or toss in too many extraneous runs, and the song was slow enough to allow her to take her time and breathe through it (since she's the worst for rushing through lyrics like the notes are chasing her). I was expecting a trainwreck of epic proportions when Queen met country, but this was certainly one of her best performances to date, and actually may have eclipsed Jessica's opening number, since Skylar actually seemed connected to the lyrics and their meaning.
The judges were similarly impressed; Steven called it "over the top" and "fabulous," while Jennifer admitted she got "goosies" and dubbed it "powerful." Randy agreed it was one of her best performances yet, and called it "incredible."
"Tattoos On This Town"
Parts of Skylar's second performance seemed too low and shaky (and not as a result of her vibrato, unfortunately), but she always looks comfortable on stage and that warm country twang comes effortlessly to her. I didn't feel the emotional connection that she insisted was there while singing for her home town, and her enunciation needed some work, but I'd imagine that Skylar's fans were probably satisfied by it.
Aside from misguidedly believing that he just invented the word "ginormous," Randy enjoyed how fearless and effortless she was. "You took us there again ... you slayed it," Jennifer said. Steven said that he missed her usual flair, and encouraged her to find songs that can "take your voice to that place."
Joshua Ledet
"Crazy Little Thing Called Love"
I won't lie, this seemed like a baffling song choice for someone with Joshua's range, especially when I think he could've nailed the wailing on "Somebody To Love" or "Who Wants To Live Forever." Still, out of all the remaining performers, Joshua seems consistently comfortable on stage, able to engage the crowd and make the most of the space without looking like he's having a seizure (Phillip), some kind of puppet with tangled strings (Hollie), or unable to multitask singing and moving together (Skylar). The up-tempo did help him avoid some of his bad habits, such as an overemphasis on unnecessary runs and vibrato, but though I admire the showmanship, I would've enjoyed seeing him demonstrate his skill on a song more suited to his vocal type.
Steven and Randy gave him standing ovations, while Jennifer was a little more hesitant to get up. Randy immediately started giving Joshua a succession of "four checks" for his vocals, performance, character and charisma (why it wasn't one check for each, I don't know). "You're so ready," Randy gushed, comparing him to Sam Cooke. Jennifer called it "an inspired vocal and a great performance," while Steven told him he has a "classic style" that sounds like nobody else.
"Ready For Love"
I didn't get the hype on this one, probably because I prefer to simply hear a song being sung without the need for all the vocal gymnastics that Joshua throws in. There's no denying that he's a phenomenally gifted singer, but those kinds of runs and ad-libs and wails aren't why I listen to music, so as talented as he is, he'll never be an artist that I rush to buy. The performance started out quiet and understated (which I appreciated), but by the midpoint, Joshua started to stretch that trademark range. He was obviously emotionally connected to the song, but the fact that I was unfamiliar with the India Arie track probably didn't help matters.
The judges once again gave him a standing ovation, with Randy and Jennifer admitting that they were at a loss for words with how to judge him (before disappointingly finding some words after all). "You're so spot on ... beautiful," Randy praised, while Jennifer called it "transcendent." Steven noted that he can "smell the finish line" for Joshua, and expressed hope that the record label finds him a "bunch of good songs."
Elise Testone
"I Want It All"
As expected, this song was right in Elise's wheelhouse and she was the first performer of the night to really put her own twist on a song and make it distinct from the original. It was bluesy, rocky and soulful all at once, and it seemed to get the crowd (and Jennifer) just as fired up as she was. The inclusion of the tambourine was a little random, but Elise attacked the song with passion and aggression, which made it infectious (and not in the gross Ryan Seacrest way that has probably now contaminated the entire Top 6).
The judges were feeling Elise's passion, with Steven enthusing that she finally found her stride: "You sang that like the classical song it was, if not even better." Jennifer agreed that Elise was in her element and that it was "natural" and "sexy." Randy told her it was "unbelievable" and "brilliant" and one of her best performances to date.
"Bold As Love"
This Jimi Hendrix classic was a very strange song choice when Elise desperately needs to nail every. single. performance. It had odd timing by design, which made it hard to really settle into the song and just enjoy it. In terms of the colors and inflections Elise brought to it, it was stellar, but it was also entirely self-indulgent and probably alienated a good percentage of the audience, completely killing the momentum of her first performance. I hate to say it, but I fear that she just sang herself right out of the competition, unless people judge Hollie's pitchiness more harshly.
Steven reminded her, "You gotta do songs that people know -- you can't pick the cherries with your back to the tree." Jennifer loved it, telling her she "slayed it so hard" that the audience's unfamiliarity didn't matter. Randy said it wasn't the right song for this time in the competition, noting that she was "boxing with the song -- it was so much information. Maybe if it was sung simpler, more people would've got it."
Phillip Phillips
"Fat Bottomed Girls"
I'm not sure if it was the sound mixing in the editing room or a problem with Phillip's earpiece, but for some reason he sounded very strange on the choruses, not harmonizing so much as shouting over the back-up singers. Luckily, he was a natural during the verse, which saw him digging into his graveled growl and really making a meal out of the lyrics. As a bonus, there was a distinct lack of his distracting twitch-dancing and no guitar for him to hide behind, allowing him to look fairly normal on stage for once.
Steven praised the "character that nobody else has" in his voice, while Jennifer observed that it didn't sound anything like Dave Matthews and allowed him to show his different flavors. Randy liked it but didn't love it.
"The Stone"
Phillip chose to face the Dave Matthews comparisons head-on with a Dave Matthews song, but it didn't really do his voice justice, especially when he was sharing the stage with an awesome saxophonist and violinist. Another quirky song choice, and one that, similar to Elise, the majority of the voting public won't "get."
The judges seemed to feel the same, with Steven describing it as entertaining and "off the wall." Jennifer saw that as less of a good thing, calling it "a little too obscure and a little bit too artsy ... I get scared when you do stuff like that." Randy disagreed with Jennifer, saying he was glad Phil-Phil showed his true colors and he loves that the contestant stays true to himself.
Hollie Cavanagh
"Save Me"
I still don't understand why they're styling Hollie like a 40-year-old investment banker instead of a perky 18-year-old (what are they paying you for, Tommy Hilfiger?), and I wasn't feeling the red silk power suit or the shaky performance; she really did need saving from the song after the first few bars. She had a few opportunities for her signature belting notes, but the rest of the performance was too inconsistent to do her any justice -- you could hear her voice wobbling like this was an audition all over again.
Steven liked that it was an old fashioned song with a strong melody, and thought she did a good job with it. Jennifer observed that Hollie got emotional in the middle and that it threw her off the tune. "You're such a gifted vocalist, you're always going to sound good," she lied, before once again admitting that she wanted to see Hollie enjoy herself more. Randy thought it was good but didn't feel like she had "a moment" in the song to really stand out.
"The Climb"
Hollie was smart to pull out an audition song for her second number, because she was far more comfortable this time around than she's been for weeks. It was a measured, controlled performance, she had much more age-appropriate styling, and she had the opportunity to really build up to her belting high notes in a way that proved very effective. (I got teeny goosies towards the end.) This performance might have saved her over Elise.
The judges gave Hollie a standing ovation, with Randy calling it a "beautiful, perfect song" for her. Jennifer agreed, praising the emotions, the vocals and the belting. "You sing a song like it's going out of style, so beautiful," Steven swooned.
Who do you think had the best performance of the night, and who is most in danger of going home? Weigh in below!
"American Idol" airs Wednesdays and Thursdays at 8 p.m. ET on Fox.
Related
Popular in the Community