 On Wednesday's performance night, the #Idols took on the '60s and British-imported songs. Scroll down for all the fashion goodness!
ALSO, be sure to hit me up on on Twitter (@SoysFashion) with your style questions, or just to say hello!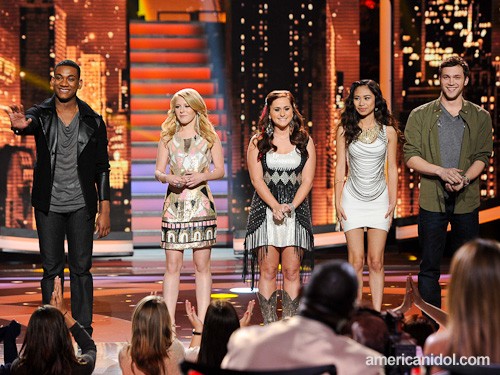 (LEFT, 1st look for "River Deep Mountain High" by Ike and Tina Turner)
Tina Turner was known for her tight-fitting flashy dresses, and I wanted to incorporate Hollie's spin on her love of sequins for her tribute to Tina. She told me that she would start from the audience, then walk to the stage. So I wanted to make sure her shoes were as high as she loves them to be, comfortable, and perfect for the sequins dress. One of the reasons why I gave Hollie a thick-heeled shoe was because they're easier to maneuver on stage, and it still suited the retro look. Hollie wore an AllSaints dress and Sam Edelman shoes. Jewelry included Arden B. earrings, Swarovski bracelets, a JewelMint ring, and a Prb Studios, Private Collection ring.
(RIGHT, 2nd look for "Bleeding Love" by Leona Lewis)
I loved Hollie's version of "Bleeding Love," and when she sang the tempo of the song during fittings I knew in an instant that the Leon Max dress needed to be on Hollie for this week. I was looking online that morning and I had it sent with a rushed delivery to my house that same day. The dress fit her like a glove, and all I needed to add was the black chiffon train that cascaded down the lucid steps. I styled Hollie in a Max Studio dress with Kizmit-customized chiffon train and Bebe shoes. Jewelry included a Saint Vintage necklace, Swarovski earrings, and a Bijou Tresor ring.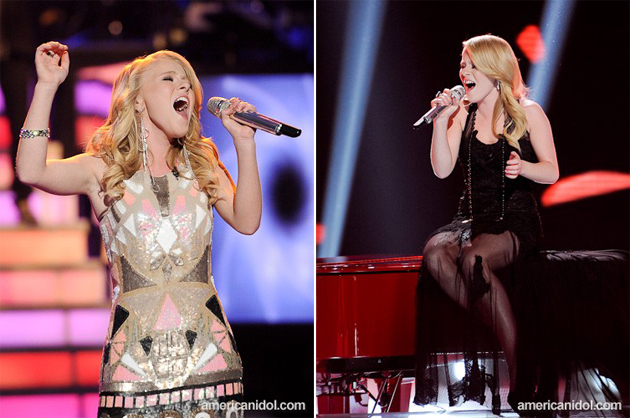 (LEFT, 1st look for "Fortunate Son" by CCR)
"Fortunate Son" sounded so rugged, so I wanted to bring in some metal elements to her outfit with the eyelets. The hang of her fringe vest, sequin dress, and her cowgirl boots really balanced out the Hollywood #glam and the country that never left the girl. I styled Skylar in a Parker dress topped with a vest from Haute Hippie, and Old Gringo boots with major #sparkle. Accessories included a Guess belt, Neon Dirt earrings and bracelet, and a Silpada ring.
(RIGHT, 2nd look for "You Don't Have to Say You Love Me" by Dusty Springfield)
It's hot in our current fashion silhouettes, and it's been Skylar's signature style with the short-in-the-front, long-in-the-back dresses. I took the long maxi dress with the high slit and draped the front to the sides to give it just that look. And I didn't forget her crystals in this look! Her shoes covered in crystals came in from her home town boutique and made it on the show just in the nick of time. Skylar wore a snake-print BCBGMAXAZRIA dress and belt. Jewelry included Prb Studios, Private Collection earrings, Prb Studios Gypsy Global Chic bracelet, and BCBG ring.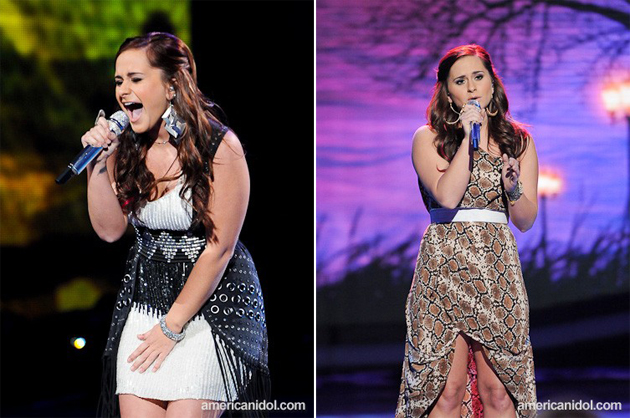 (LEFT, 1st look for "Ain't Too Proud To Beg" by The Temptations)
I #LOVE giving Joshua a pop of color, so of course the yellow daffodil was a must! Tulips and daffodils are in the same family, so Joshua was right that night Ryan asked him what his flower was. Not only was his flower a #fun accent, I jazzed up his jacket sleeves with Swarovski crystals. Only on an awards stage, at a concert, or on American Idol can you throw crystals on a man and it looks show-stopping! Joshua wore an Express shirt topped with an H&M jacket with Kizmit customizations, Theory pants, and Mr. B's for Aldo shoes. Accessories included an Express belt, Paul Smith socks again this week, and a flower from Rolling Greens (which Randy Jackson loved).
(RIGHT, 2nd look for "To Love Somebody" by the Bee Gees)
For the second look I wanted to bring back the sexy look that Joshua had with his leather jacket last week. He really wears the street style on stage like a nicely-tailored suit when he performs. Joshua wore an Unconditional shirt, Michel Berandi jacket, Zara jeans, and Aldo shoes. Accessories were an Express belt and socks, Swarovski necklace, London Manori bracelet, and Christian Tse watch.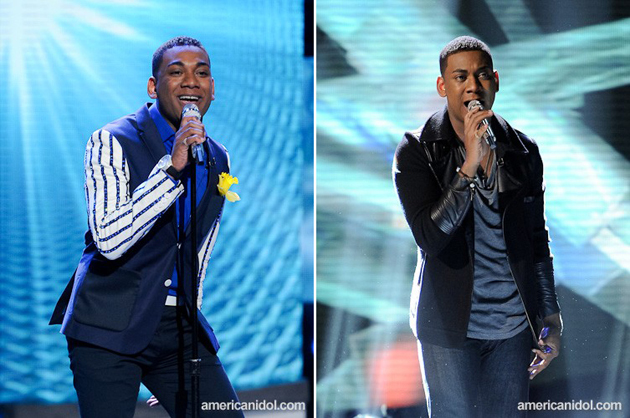 (LEFT, 1st look for "The Letter" by The Box Tops)
We all know Phillip's fashion style by now, and the biggest challenge every week is making sure I switch it up so it doesn't look the same. Now his pants are fitting tighter and his shirts are more groomed; refining Phillip's look is simply perfecting the fit. I wanted him in lighter colors for "The Letter" because it was a softer song that made me think of something earthy and rustic. I styled Phillip in a Marc by Marc Jacobs button-up shirt over a Kinetix shirt, G-Star RAW jeans, and To Boot New York by Adam Derrick shoes.
(RIGHT, 2nd look for "Time Of The Season" by The Zombies)
For this performance Phillip's navy blue shirt was a nice contrast with the video screens, which made him pop on that big stage. And a note -- I got his fitted jeans and tops from LIVE! On Sunset, my go-to spot to shop for the #Idols. For this more mellow song, he wore a Velvet Men shirt, Stitch's pants, and shoes by The Frye Company.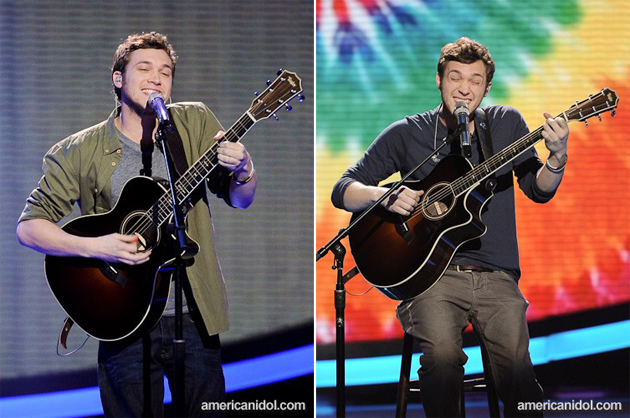 (LEFT, 1st look for "Proud Mary" by CCR)
I'm sure everyone is curious about my reaction to Jimmy Iovine's comments regarding Jessica's white dress, and I didn't think they were that bad. Like Simon Cowell, if there isn't anything bad to say, throw the stylist under the bus. It's show business. It's just too bad Jessica was the target, and the camera angle made the dress appear even shorter. Tina Turner was best known for her fringe dresses and short skirts... Production wanted her in a fringe dress, which was the last thing I wanted Jessica in. She is not Tina T, she is Jessica aka BB Chez (and maybe a bit of Beyonce like JLo said). It was our spin on a modern day tribute to Tina's sexy song "Proud Mary" (which was a cover of CCR's original). Jessica shimmied in a BCBGMAXAZRIA dress and Bebe shoes. Jewelry included a BCBG necklace and body chain, bracelet from Prb Studios, Private Collection, and earrings from Prb Studios Gypsy Global Chic.
(RIGHT, 2nd look for "You Are So Beautiful" by Joe Cocker)
You can't take the sky-high shoes away from Jessica; it's her signature style. Even before Jessica and I met, she was my height until her shoes came off... That's exactly what happened in this song. After singing a song like "Proud Mary," I was happy to hear that she was singing a sweet youthful song so I could showcase yet another style of Jessica Sanchez. I styled Jessica in a Blesse'd Are The Meek dress and shoes by Shiekh, both with Kizmit-customized Swarovski crystals. Jewelry included Prb Studios Gypsy Global Chic earrings and necklace, Deepa Gurnami bracelet, and Neon Dirt ring.