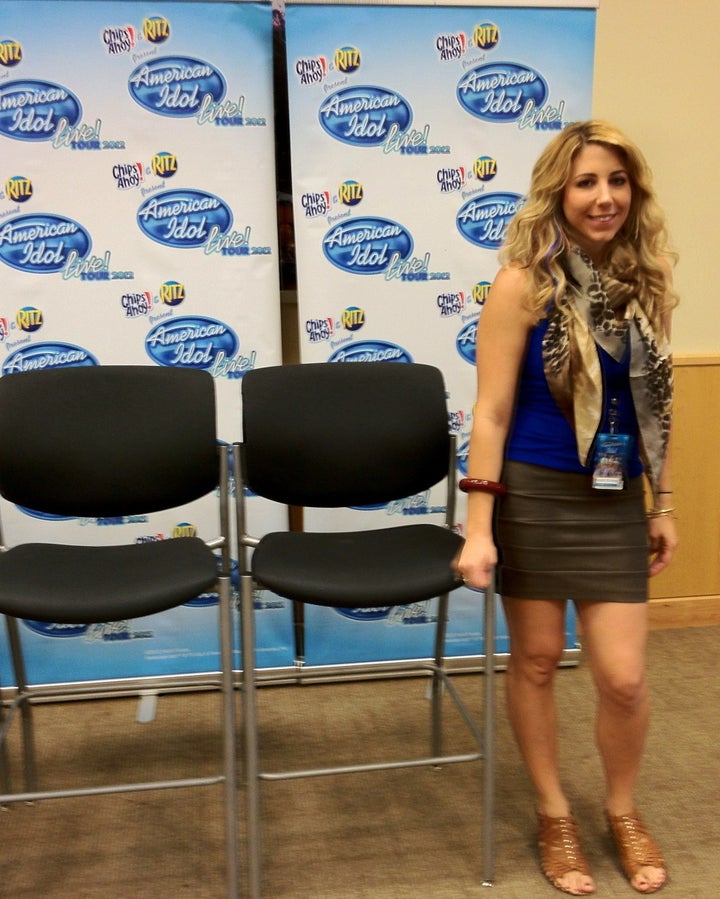 This week I had the opportunity to sit down one-on-one with four American Idol finalists. Reviewing their journeys into the primetime spotlight, we touched on topics ranging from parents to perseverance. By the time we wrapped and these musicians took to the stage for the American Idol Live Tour at Pittsburgh's Consol Energy Center, their winning ways were apparent.
Looking back at our conversations, the concert and all things American Idol, it's clear that there are more than a few lessons to learn from this talented crew. Those wanting a little insight into moving toward success might want to consider these 5 Idol-inspired tips....
1. Find your external support system.
The power of parenting in cultivating success wasn't lost on these Idols.
"If your child speaks about his/her dream with conviction, believe in your child.", Elise Testone, 29, a 2011 finalist urged. A former vocal coach, Testone understands the importance of mentoring and has been on both sides of the equation.
From support and protection to realistic evaluations and pushes for more, parents helped mold the work ethic and stamina of their children on the road to Idol.
DeAndre Brackensick, 17, emphasized, "My parents pushed me toward my dreams." The energetic high school student is quick to talk about family sacrifices and his gratitude.
In an industry that can lend itself to disingenuous consultants, solid parenting can be the buffer needed for a healthy adjustment to celebrity status.
As Hollie Cavanagh, 19, noted, "Family support is critical... I never felt alone."
Being hugely talented can get you places, but being hugely flexible can get you the job. American Idol thrives on shaking contestants out of their comfort zones. Torch singers are thrown into show tune numbers and folk singers pushed to perform Sinatra. Holding onto your genre can be the kiss of death and elimination in this game.
When it was time to choose her college major, Elise Testone worried that music might be an unrealistic career goal. Instead of ignoring her talent and dream, she immersed herself in every music-related class and opportunity she could find or create. Armed with those experiences and skills, it's no wonder she was an Idol finalist.
And when AI consultant Tommy Hilfiger suggested Erika Van Pelt, 26, change her hair, she didn't bat an eye, but donned a cape for a dye job and haircut. Literally embracing flexibility, Van Pelt resurfaced the next week nearly unrecognizable but hugely memorable as a committed contestant.
3. Keep your eye on the prize.
There's plenty of distraction on the road to success. For entertainers, it's critical to focus on performance, not tabloids, blogs and gossip. Hollie Cavanagh may be 19, but her mature decision to avoid reading and focusing on negative blogs and press is a wise move.
It's also easier to keep your eye on the prize if you identify the prize. Sometimes it's not first place or celebrity status.
Erika Van Pelt admits, "I didn't want to be famous; I wanted to affect people (with music)."
Perhaps that is what's behind her infectious smile. She won a long time ago and now wins every day she sings.
The best competitive players are team players. Genuinely cheering for someone else is good for you and them. Friendships and networking will build your career better and faster than bashing the competition.
Watching the AI contestants interact, it's clear that real friendships have formed. Like a proud parent, I couldn't help but smile at their playful banter and enthusiastic hugs. These are the experiences that propel friendships and future opportunities.
American Idol contestants are the poster children for teamwork. One minute you're in the lead, the next you're clapping in the background and making your competitor look good. The moral of the story? For goodness' sake, when asked, sing back up for your friends! There's a good chance they'll be doing it for you.
5. Get in touch with your dreams.
Dreaming big is important, but it's also important to stay in touch with reality. Follow dreams that fit. If you're the laughing stock of the karaoke bar, your chances for musical success are probably slim. In cases like these, it's often better to face the music and not sing it. Find your big dream somewhere else.
And even those with the talent to maximize their dreams can be sidelined by mean spirited critics and skeptics. Cavanagh and Brackensick suggest listening to the honesty of those that care about you, and using that honesty to perfect your performance.
So what if you're on the right path, but it feels as though no one's in your corner?
Season 11 Idol finalist Erika Van Pelt notes, "If no one else is supporting your dream, that doesn't mean it's going away."
Excellent point. Maybe that's the time to follow your star and the advice of a wise Idol judge and "Dream On."