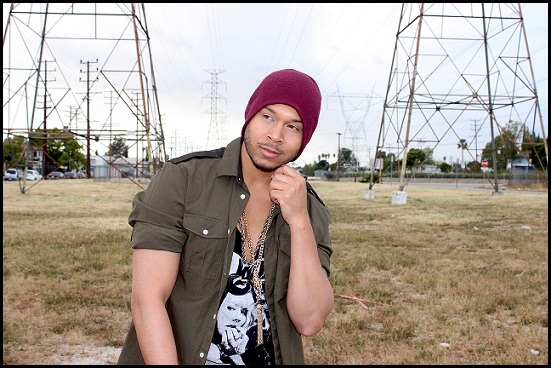 Frankee Razor, aka Justin Waddell, was one of the finalists on the last season of American Idol. His upcoming album is titled "Breakup In Paradise".
Frankee Razor's Website, Instagram, Facebook, Twitter
I'm a sucker for emotional drama that makes an artist put out great work.
That, my friends, is exactly what happened to Frankee Razor, aka Justin Waddell, one of the Final 3 on American Idol. I just had to hear his story, so here it is!
You're a soulful pop artist who has risen to fame from your time on American Idol. What was going through your mind the day you decided to audition for the show?
It was a chilly morning in New York, the day I auditioned for American Idol, and I was excited, nervous, anxious, and cold. I hadn't heard of the show before so I had no expectations. I wasn't prepared for the success of being apart of such an epic show. I treated it as just another audition.
You made it to finals. How has American Idol opened doors for you and boosted your career?
Being a Finalist on American Idol validated me as an artist and performer. It afforded me the opportunity to travel as an opening artist for some major artists such as Faith Evans, Eric Benet, Neyo and Keyshia Cole. In addition, it exposed me as a marketable entertainment brand, prompting other major organizations such as the United States Navy and MTV to solicit me for performance opportunities; as I headlined the United States Navy's high school recruitment tour and hosted MTV's Social History of Hair Series.
How was it like being on Idol? Did you like the judges? Who were your favorite? Do you have any regrets being on the show?
I thoroughly enjoyed being on American Idol. I have made lifelong friends whom I will cherish forever, such as Kelly Clarkson, Tamyra Gray, Rodesia Eaves, Kelli Glover, Fantasia Barino and George Huff to name a few. I loved the original judges, Paula, Randy and Simon because they had a natural chemistry that drew the audience in. My favorite judge was Simon Cowell as he was my biggest supporter, who always raved about my strong image as an artist. My only regret about being on the show was that I was so young and guarded, that I didn't fully open up and show all of me on screen. However, I was still finding myself as an artist and young man in general.
We all know you from American Idol as Justin Waddell, but now you go by Frankee Razor. What made you decide to change your name?
I changed my name to Frankee Razor because the market was saturated with Justin's, such as Beiber, Timberlake and Guarini and I hated being compared to them, as I was nothing like them at all. Frank, which is my middle name, means Freedom and that is what I display during my performances. I am free as a bird, which makes my performances exciting because there's no telling what might happen during my shows; you never get the same Frankee Razor show twice. Consequently, I went with the last name Razor, as it is my grandmother's maiden name, originally spelled Rayzer, because it exemplifies the qualities I have in my voice. My voice is very raspy, unique and pierces deep, as heard when I sing my newest single, "Breakup in Paradise" about my lost love.
How has life been since being on Idol?
Life has been a series of ups and downs since Idol, as I have had some of the brightest days where I am performing, writing, recording and touching hearts or dealing with depression, substance abuse, homelessness or some other self inflicted problem. After Idol, one goes through a series of mental roller coasters, as you feel your dreams slipped through your fingertips. I would have nightmares about the day I got kicked off American Idol, and endless mental ambushes, thinking "what if" I sang another song or "what if" I wore a different shirt. I was extremely hard on myself, which made me push harder to fulfill my dreams, but also made me emotionally abuse myself, never allowing me to enjoy my success. All in all, with the emotional purging of my newer releases I feel I am coming out of the shadows emerging more connected to who I am as an artist and more hopeful as a person.
Since this is the final season of American Idol, what did you think about the finalists this season?
I am so excited Trent Harmon was the winner. When he and I met we spoke about how similar our voices are, in that we are unique and it was about time the show rewarded the contestants with the unique voices. I think it was a great sendoff to benchmark the end of an era.
What are you thankful for?
I am most thankful for God not allowing me to give up on myself. I believe he has put something on the inside of my heart that won't allow me to give up. In addition, I am grateful for every audience member who has ever clapped or yelled or cried at one of my shows, because it is that magic and human exchange that I live for.
Why do you always make that hand gesture when being photographed? (with the fingers.) -- What's the meaning for you?
I was told that my hand symbol was demonic on several occasion, as many people believe rock music was originally made by Satanists. However, when I put my symbol up it represents "Music" to me, and that's all.
Please tell us about your upcoming album? Did you write all of your songs?
Sadly, my upcoming album is about the worst day of my life, when my wife left me, unannounced, no warning, no Dear John letter, nothing. It was one of the hardest projects I ever had to write, but "Breakup In Paradise" is truly about my healing as a person, a husband, a boyfriend, a friend, a human, a believer in love. I wrote every song and I was blessed to work with producers Orchestrated Noise, Gxo and Jay Cloud, whom all believed in this project from the very beginning.
What do you hope that your fans will take away from listening to your upcoming album?
For every person who has gone through a serious breakup, I want them to have this album to remind them that they are not alone, and that someone else understands how hard it is to face the demise of your marriage, a commitment you intended to be lifelong.
Yes we are currently on a promotional tour and I will be appearing at Saban Theater in Beverly Hills, CA, Alex Theater in Glendale, CA, as well as Las Vegas with location TBA.
Tell us about your recent photo shoot.
I did a photo shoot in Burbank with Olivon Studios, a wonderful photographer, and my personal wardrobe stylist, Oliver Styles. I am very involved with my image direction but I trust these two gentlemen with my life. Their creative artistry is unparalleled and they both know how to make me feel comfortable, as I hate doing photo shoots because I feel super weird trying to be sexy.
What television shows do you currently watch?
Favorite shows: FlashPoint, Criminal Minds, Smallville and anything with a positive ending. I love heroes.
What are your pet peeves?
I hate quitters, and I hate to be bored.
Do you have a significant other?
I am married to my music. I was burned in a relationship with my ex-wife and I'm not ready to take that leap just yet.
Calling all HuffPost superfans!
Sign up for membership to become a founding member and help shape HuffPost's next chapter