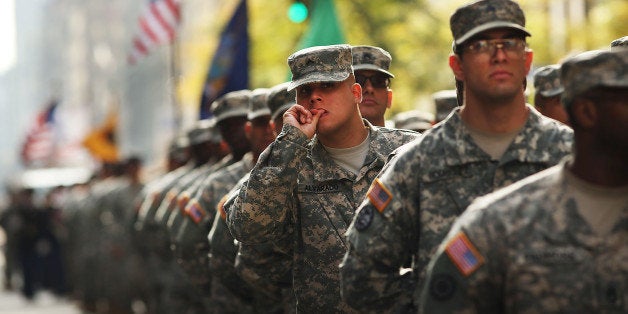 A university in Texas has asked me to speak to students in January on the subject that we've come to call by the shorthand "Ferguson," and I've been wondering what to say. It's a topical and rhetorical landmine. But the world today is one giant minefield, so the only way to avoid the risk of stepping on a mine is to acquiesce in silence and paralysis. I'm not willing to pay that price for safety, because both personal freedom and the fate of American society are at stake.
Part of the problem with "Ferguson" is precisely that we've hastened to make it a shorthand term, the better to pigeonhole it or explain it away, not unlike "Sandy Hook" or "Katrina" or "9/11." The truth is that each of those events is connected to every other; everything is connected to everything else. The source of our self-induced perpetual confusion is our stubborn insistence on slicing and dicing events, then filing them severally in convenient pigeonholes in order to forget about them, because we find connecting and remembering too painful and demanding.
These musings are on my mind now, because of the long-awaited release of the report detailing just how viscerally and morally disgusting has been the CIA's torture regime worldwide since 2001. I'm appalled, of course, like any right-thinking person, and ashamed, as every self-respecting patriotic American should be. But to say that is very far from sufficient, and the fact that so many of us "like" each other's well-meaning, self-satisfied liberal pieties and commentaries on Facebook is actually part of the problem.
But what does torture of terrorism suspects by the CIA have to do with "Ferguson," anyway? All too much. The connection lies in the demonstrated fact of impunity for those who hold brute power. How is it that CIA interrogators on one hand, and urban and suburban police officers on the other, can intimidate, brutalize, and even kill hapless and/or innocent unarmed civilians, and get away with it? The answer in both cases is the same: because we, the innocent bystanders, are afraid of what will happen if we hold them to account. We're afraid not only for our own physical safety, but also of what we would learn if we admitted that the state under which we live has squandered its moral and political credibility.
Consider all due caveats about the honest service and good intentions of most police officers and even CIA agents duly inserted here. But those are irrelevant, because the reality of severe abuse by at least some in both categories is too obvious to ignore. The men with guns and tanks and riot gear know that they can misbehave with impunity because -- to articulate our situation with brutal candor -- they have guns and tanks and riot gear, and we don't. That is the case both overseas and in nondescript Midwestern suburbs, and therein lies the connection.
If what we really want is to understand, then what we need is to find the courage to face the reality of what the state is and does. There are real terrorists in the world who commit real, despicable acts of terrorism. But what the CIA torture report lays bare is that the American imperial state, under the feckless ostensible leadership of any president, considers a terrorist anyone it sees fit to consider a terrorist, and that it considers itself and its personnel entitled to mistreat such people any way it sees fit, with impunity. Meanwhile, on the home front, as a friend of mine remarked recently, "The line between a long march or protest rally and an urban riot is drawn by the state, and enforced by the police." Impunity is what makes the state the state.
What this means is that none of us is either safe or free, except to the extent that we are willing to be free in our own minds and spirits. Necessary to maintaining personal freedom is accurate awareness. One thing that's accurate to say is that those of us who are white Americans have enabled the American state's impunity, by mumbling to ourselves and each other that the terrorists are Muslim and brown and the urban rioters are black. We've averted our eyes because we have not personally been on the front lines, and we've drunk our own Kool-Aid. Others don't enjoy such luxuries. But there is an upside to living life on the business end of the state's bootheel, as James Baldwin knew circa 1963:
The American Negro has the great advantage of having never believed that collection of myths to which white Americans cling: that their ancestors were all freedom-loving heroes, that they were born in the greatest country the world has ever seen, or that Americans are invincible in battle and wise in peace, that Americans have always dealt honorably with Mexicans and Indians and all other neighbors or inferiors, that American men are the world's most direct and virile, that American women are pure. Negroes know far more about white Americans than that.
It's human nature to want to believe in the rightness of our own actions and intentions. But it's precisely human nature that is the problem; the fact that human evil is predictable does not make it excusable. Nor does fobbing off the evil on singularly evil individuals like Hitler or bin Laden or Cheney. We must be willing to consider ourselves culpable, and to put ourselves at risk.
Innocence insisted on too strenuously is tantamount to guilt. Graham Greene depicted the sinister aspect of American innocence abroad with exquisite insight in The Quiet American, his novel of Vietnam published in 1955. At home in the same period, no one saw America more clearly than James Baldwin: "They have destroyed and are destroying hundreds of thousands of lives and do not know and do not want to know it. It is not permissible that the authors of devastation should also be innocent. It is the innocence that constitutes the crime."
Popular in the Community