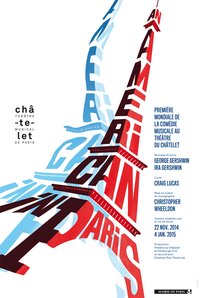 Producers behind the Broadway-bound "An American in Paris" made a clever move to premiere the show in Paris and this American was lucky to be able to catch it over the Christmas holidays before ending on Jan. 4th. However, it wasn't all just a calculated PR move as much as a joint venture between those that gained rights to turn the classic movie into a stage production and some creative people at Théâtre du Châtelet in Paris.
The combined forces made for a wonderful place for this company to try out the show away from New York critics (though many New Yorkers made the 9 hour flight over to see the show) and to work out the newly revamped story with a book by Craig Lucas and a score by George & Ira Gershwin before bringing it to Broadway this spring. Those that love the movie will recognize much of the same story they know and love, but Lucas and the creative team have moved the time period, changed up some of the internal conflicts and reworked some of the musical moments.
I'm not certain if it was simply being in Paris to see it, the fact this award-winning movie musical has never been done on stage, the sheer joy of seeing so much ballet in a theater musical, the beautiful work 59 Productions has done with projections for this show, the amazing sound of Gershwin joy coming from the orchestra -- or a combination of all of it...but this production was electric! (Just watch the conductor completely enjoying himself to know this musical is touching everyone involved.) I am usually a die-hard musical theater fan, but Christopher Wheeldon as director/choreographer has combined what is great about musical theater with what is so beautiful and moving about ballet and has created a unique gift that I can't wait to see how Broadway audiences react to it. I hope it is the same as the numerous curtain calls the French audiences demanded with cheers of Bravo.
The story about an American guy who falls for a Parisian girl was first made famous with Gene Kelly in the role of Jerry and we often can't think of the musical without thinking about him. But Robert Fairchild (who will be making his Broadway debut) has created a lead that we fall for instantly and end up forgetting all about the original. Not an easy thing to do but this classically trained dancer for the New York City Ballet shows he is a triple threat as a dancer, singer and actor. The joy exudes from the man's face and when he dances -- wow! Magic. His chemistry with Leanne Cope as Lise (also a classically trained dancer from London) makes you fall in love with this couple and cheer for them all night long.
She is amazing and uses every ounce of her body to tell Lise's story. The entire cast is wonderful from top to bottom, but I must give a shout-out to the performances of Veanne Cox, Jill Paice, Brandon Uranowitz, Victor J. Wisehart, and Max Von Essen who I am a fan of in everything that man does. If you are traveling to New York City any time after April, be sure and add this gem of a musical to your 'must see' list! Either in Paris or NYC, this energetic Gershwin musical is definitely something to experience.
An American in Paris will play the Palace Theater in New York City with previews starting March 13, 2015 and opening April 12.
Popular in the Community