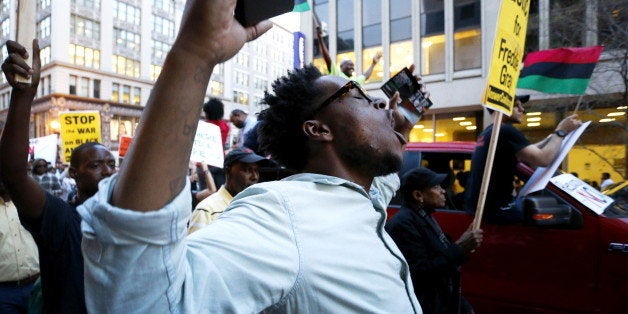 This week, in a Tarrant County, Texas courtroom, Ethan Couch was handed a two-year prison sentence as a condition for his continued probation stemming from an intoxicated manslaughter conviction. In 2013, four people were killed when Couch rammed his truck into them while driving under the influence of alcohol. Two other persons were seriously injured, thrown from the bed of Couch's truck during the crash.
Prosecutors argued that Couch, then 16, deserved a 20-year prison sentence for his crime. The defense countered by arguing that Couch suffered from a condition called affluenza which is defined as "the unhealthy and unwelcomed psychological and social effects of affluence regarded especially as a widespread societal problem such as feelings of guilt, lack of motivation, and social isolation experienced by wealthy people." They argued that his parents' wealth veiled him from understanding the consequences of certain actions. Thusly, he should not be unduly punished for said actions.
The court sided with the defense. Couch was given a ten year probation and ordered to abstain from alcohol consumption. He was also ordered to complete rehab and reportedly did so at a luxury rehabilitation facility that included horseback-riding among its featured activities.
In December, a video surfaced of Couch violating the terms of his probation. He went missing after failing to show for a subsequent meeting with his probation officer. Now fugitive from the law, Couch was found several weeks later at a Mexican resort town near the Pacific Ocean. While in Mexico, he reportedly consumed large amounts of alcohol and consorted with prostitutes. He was extradited back to the United States to await sentencing.
Last April, Allen Bullock participated in protests in Baltimore, Maryland, following the death of Freddie Gray, the 25-year-old black man who died of spinal cord injuries while in police custody. On April 25, 2015, Bullock climbed atop a police cruiser and damaged the vehicle by breaking its windows with a traffic cone. Mr. Bullock, who had minor offenses as a juvenile, was arrested, and his bail was set at $500,000. He spent ten days in jail as his parents struggled to make bail for their son. (Comparatively, the bail set for two of the police officers arrested for homicide in the death of Freddie Gray was $250,000 and $350,000, respectively.)
On March 29, Bullock was sentenced to serve twelve years in prison. Ultimately, all but six months of his sentence was suspended. Bullock must serve five years of probation, complete 400 hours of community service, get his GED and write an apology letter to the Baltimore City Police Department.
These cases are a prime example of American justice in black, white, and green. Both cases involve nineteen year-olds. One is white. One is black. One comes from wealth. One comes from one of the most impoverished communities in America. And far too often in this nation, the right combination of race and resource results in leniency from the justice system, and the wrong combination results in undue punishment.
Couch's actions killed four and seriously injured two. Bullock's actions hurt a car. Couch became an international fugitive from justice. Bullock voluntarily turned himself in to authorities.
For his crimes, Couch's parents offered to pay for his stay at a $450,000 a year luxury rehabilitation community. For his crimes, Bullock's bail was set at an amount well beyond his parent's means.
And although Bullock will just serve approximately one-fourth of Couch's sentence, the court actually sentenced him eight years longer than a court sentenced Couch. Given the gross wealth disparity among blacks and whites in America, wherein the median wealth of white households is 13 times the median wealth of black households, these injustices in black, white, and green may only increase, unless new approaches are pursued.
Thankfully, also this week, the U.S. Department of Justice's Bureau of Justice Assistance, in partnership with the Center for Court Innovation, announced that the Dallas County Public Defender's Office was one of 10 applicants nationwide to receive a 2016 Community Court Grant Program award. The Dallas City Attorney's Office in partnership with the Public Defender's Office is establishing Dallas County's first-ever county/municipal partnership to establish Dallas County's first-ever felony community court. The South Dallas Second Chance Community Improvement Program Court (S.C.C.I.P.) will receive a $200,000 grant to fund a two-year program targeting young adults in South Dallas.
Dallas is the epicenter of poverty in America. It leads the nation in childhood poverty for cities over 1 million residents. Here, poverty increased by 40% between 2000-2012. Recently, two South Dallas neighborhoods made the FBI's notorious list of the 25 most violent communities in America. Dallas was the only Texas city to make this list.
The newly funded community court, which will operate in South Dallas, will "respond to quality-of-life crimes by ordering offenders to pay back the communities they've harmed through visible community service projects such as painting out graffiti, beautifying neighborhood parks and cleaning up litter and debris from public streets."
The community court will also "link offenders to drug and alcohol treatment, mental health services, job training, and public benefits; services designed to help them address the underlying issues fueling their criminal behavior."
After successfully completing the program, defendants will have the opportunity to have their records expunged. National research has proven the community court model to effectively reduce crime, to reduce substance use, and to increase services to victims, all the while saving tax-payers money and improving the public's confidence in the justice system.
If affluenza works as a defense, it would seem logical that poverty would, too. It has not. Therefore, courts like S.C.C.I.P. are a welcome and necessary approach for restorative justice, especially for historically marginalized communities that have for far too long suffered greater penalties then their wealthier, and oft times, whiter counterparts when appearing before the judicial system. Still, more must be done to ensure that all persons - regardless of their financial means or their racial heritage - receive equity before the courts.
Instead of paying for a luxury rehabilitation center, maybe Ethan Couch should have gone through S.C.C.I.P. Thankfully, many who would not be granted nor could afford such luxuries as Couch will have this opportunity. And we will all be the better for it!
[Disclosure: My wife, Dallas Assistant City Attorney and Community Courts Prosecutor Yulise R. Waters, was the primary grant writer for this Dallas County grant. In unrelated, yet, nonetheless, exciting news, Yulise was just named to the Dallas Business Journal's 2016 "40 Under 40" list, making me an exceedingly proud husband.]
Calling all HuffPost superfans!
Sign up for membership to become a founding member and help shape HuffPost's next chapter