 Librarians do not approve of Arizona's battle against Mexican American Studies.
A group of 10 educational organizations, including the American Library Association, filed an amicus brief Monday in support of the lawsuit against Arizona Superintendent of Public Instruction John Huppenthal for quashing a controversial Mexican American Studies curriculum in Tucson. Some 48 teachers from across the country filed a second amicus brief defending the banned courses.
The educators argue that in passing legislation aimed at shutting down a progressive Mexican American Studies program, Arizona Republicans were guided by political goals rather than pedagogical ones.
"Amici are all deeply concerned about the effect of Arizona's legislation on First Amendment rights of its student-citizens," says the brief, which was uploaded to the web by blogger David Abel Morales of Three Sonorans. "By prohibiting certain categories of classroom materials and by eliminating the Tucson Unified School District's Mexican-American Studies (MAS) program, the State of Arizona is infringing on students' First Amendment rights to access books and classroom instruction."
Arizona Republicans, led by then-Superintendent of Public Schools Tom Horne and then-State Sen. John Huppenthal, helped pilot a law through the state legislation in 2010 that banned courses designed to overthrow the United States, that breed ethnic resentment or that treat students as members of an ethnicity rather than as individuals. Conservatives accused Tucson's Mexican-American Studies program of encouraging Latino students to adopt left-wing ideas and resent white people -- a charge the teachers deny.
Huppenthal took over as head of Arizona's Education Department in 2011, after Horne went on to become elected as the state's attorney general. The Arizona Education Department found the Mexican American Studies curriculum out of compliance with the new law and threatened to withhold 10 percent of Tucson Unified School District's budget unless it suspended the classes. Tucson's school board dismantled the program in January of 2011.
The district drew national attention for pulling seven books from classrooms and prohibiting them from instruction after the courses were suspended. All but one were written by Latino authors.
"[A]lthough States and school districts have latitude to shape curriculum, they may not ban books from classroom instruction or eliminate courses merely because politicians disagree with the ideas expressed in some of the books," the brief says.
The group of 48 teachers also questioned the educational soundness of the Arizona Education Department's decision to shut down Mexican American Studies and pluck books from classrooms.
"Whether or not the statute is constitutional, ordering the removal of books based on isolated quotes does precisely what amici public school teachers devote their careers to preventing," the brief says, continuing, "it ignores context and argument, drawing shallow conclusions from fragments of text."
Before You Go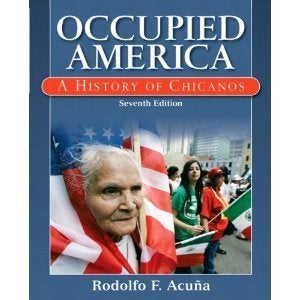 Latino Books Once Banned In Arizona
Popular in the Community