But what makes Reitman's hourly Twitter feed about food and banal junket questions significant is this: he just made a hell of a film about human connection, the George Clooney-starrer Up in the Air.
Based on the novel by Walter Kirn, it's a film that grappled with topics that are ever-so-timely: job loss, the state of the economy, the way that the modern world—be it the airworld of airports and planes, or the encroaching ease of the Internet—is making us even more lonely. Clooney plays business traveler extraordinaire and corporate downsizer Ryan Bingham, whose orderly world of jetting around America firing people is shaken with the arrival of two people: perky efficency expert Natalie Keener (Kendrick, who can also be seen in The Twilight Saga: New Moon) and alluring fellow traveler Alex (Vera Farmiga). Frequent Reitman players Jason Bateman and J.K. Simmons, along with bright lights like Melanie Lynskey, Danny McBride, Zach Galifianakis, and Sam Elliott, also make appearances.
Up in the Air is a moving film that leaves the audience with a lot to talk about, so when Reitman, the silver-foxy, hilariously midwestern-accented Kirn, Farmiga, and Kendrick were in New York for a press conference, we got a front row seat. Here's what they had to say about adapting the book, the economy, technology, and human connection in a cold age.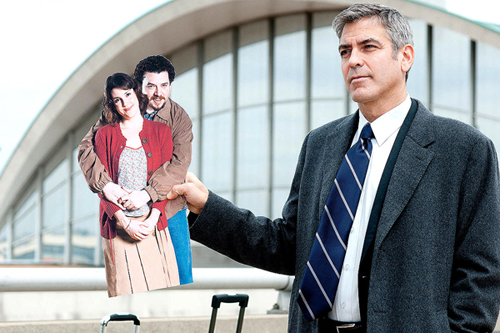 The book is quite different from the film. It's very timely,
too, in its discussion of technology and how the Internet is making
Ryan's job obsolete. How did you decide to adapt it, and what kind of
decisions did you make? What was it like for you, Walter?
Jason Reitman: When I write, I'm looking for someone who is likeminded. I stumbled across Up in the Air, the book,
when I was in Book Soup in Los Angeles—I judged a book by its cover,
Walter, I'm sorry—there was a flight attendant and a quote from Chris Buckley (who wrote Thank You For Smoking, which became Reitman's first film), and I thought, I'm probably going to like this.
I had no idea that I would actually fall in love with it and one day
adapt it.
The technology was an underlying idea that was already in the
book, about how disconnected we are. The insidious thing about
technology is that it makes us think we're closer—you can have 1000
friends on Facebook but you don't actually see them. The technology
makes us think we're closer when we don't look each other in the eyes
anymore. The firing people online seemed like a wonderful dilemma for
Ryan Bingham, in that in a certain sense, it's everything he wants. He
wants life to be more impersonal, he doesn't want to be connected to
people, but at the same time, it pulls him off the road. He does see a
certain dignity in how he does his job. So I thought it would work
nicely.
Walter Kirn: I think
that the book is to the movie what a piece of paper is to a paper
airplane. Everything that the movie is made of, I like to think, has
some sort of precursor in the book, but the movie is independent, and I
think a transformed artistic object.
I think anyone who's interested in book to film adaptation
should really look at this book, and look at this film, and see the way
that adaptation can sort of be a linear process but actually sort of a
chrysalis, butterfly process. I read Jason's script amazed. When you
talk about Oscars and that sort of thing, because I know the source it
came from intimately, there's definitely a deserved one there.
Jason Reitman: I don't know if you noticed that he said that you should really read the book AND see the movie. [Laughter.]
Jason, how did the economic crisis affect your approach to this material?
Jason Reitman: Well it certainly had more gravity—and that's not to
say that you can't make dark comedy in a dark situation—but I had to
take it a lot more seriously. But, again, I don't want people to be
confused:
This is not a movie about firing people. This is really a
movie about one man trying to figure out who and what he wants in his
life, and the location for that is this economy and the occupation is
termination.
This is a movie where the location is, yes, a horrible economy, and it
adds gravity and yes, certainly, there's a correlation between a man
who's searching for purpose in his life juxtaposed against the people
he's firing, who are now all searching for purpose in their own lives.
I never allowed his job or the state of this ecomony to take over what
was more important, which is: the fact is, there's something
exhilarating about being alone, about waking up in a city where you
have nothing and know nobody. I was looking into why that is. I have a
very complete life, and yet I still think about that. I was curious
why.
Read the full article at TribecaFilm.com, including quotes from Vera Farmiga and Anna Kendrick.