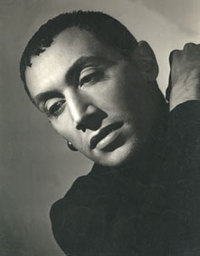 Groundbreaking choreographer Jack Cole, the father of theatrical jazz dance, was born John Ewing Richter in New Brunswick, New Jersey, in 1911. He died, too young, 63 years later in Los Angeles. For four decades, Cole led a high-profile career as a top-notch dancer, gifted teacher/coach, and choreographer of sparkling invention.
The Jazz/Musical Theatre Dance Program of the School at Jacob's Pillow is presenting works that Chet Walker has created in the Jack Cole tradition in two final performances: a free presentation on the Inside/Out Stage on Saturday, Aug. 21, at 6:15 and a sold-out benefit concert in the Ted Shawn Theatre on Sunday, Aug. 22, at 8pm.
Cole began his career as a Denishawn dancer. After only six weeks of training, he was invited to join the company in the summer of 1930.
Jacob's Pillow, the labor of love of Denishawn founder Ted Shawn, played a role in Cole's remarkably multifaceted dance journey. Oddly, he was at the Pillow both the first summer Shawn was there and the last. Around Sept. 1, 1931, Cole was one of four men to help Shawn construct his new Berkshires farm as a dance retreat. Later, Cole taught "American Theater Dance" at Jacob's Pillow for two weeks in 1971, the last summer of Shawn's life.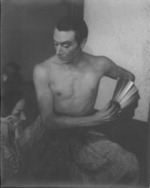 Cole ventured far beyond his modern-dance roots. Seeking authenticity, he studied bharata nātyam with master instructor Uday Shankar (Ravi's uncle), attaining expertise. A powerhouse solo dancer, Cole projected tough, almost menacing, masculine energy. Photos show the elegant, muscular young man striking sphinx-like poses dressed in harem pant and jewels, his elongated face angular as a Picasso.
As if this were not exotic enough of a stretch for the New Jersey native, Cole went on. Entering the Manhattan nightclub scene, he interpolated ethnic material (he also dabbled in Afro-Caribbean and Spanish dance) into floor shows. In the late 1930s, the Jack Cole Dancers headlined at the country's leading nightclubs including the Rainbow Room (where he was a regular) and Ciro's on the Sunset Strip. His unprecedented blend of Indian dance with American jazz forged his unique brand.
Cole choreographed adroitly for the Broadway stage. His shows included: Alive and Kicking (1950), Kismet (1953), A Funny Thing Happened on the Way to the Forum (1962), Foxy (1964), and Man of La Mancha (1965).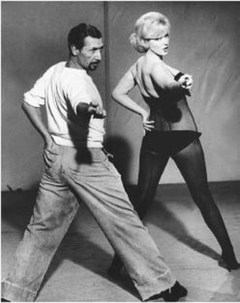 But his great fame came from his film work. His troupe debuted in 20th Century Fox's Betty Grable vehicle, Moon Over Miami (1941). Then, in nearly thirty films (some credited, others not), Cole contributed vivacious dance routines that made the film frame crackle.
He coached untrained movie stars to hoof like pros: Betty Grable, a 5'4" bundle of blond energy whom Cole fondly nicknamed "Thumper" displays comic skill in "No Talent Joe" from Meet Me After the Show (1951). Rita Hayworth, the '40s love goddess who grew up dancing in her family's vaudeville act, unleashes infinite sexual allure in "Put the Blame on Mame" from Gilda (1946).
And in Cole's great masterpiece, "Diamonds are a Girl's Best Friend," Marilyn Monroe, encased in a hot-pink evening gown, oozes exquisite femininity as she follows a deceptively simple roadmap of walks, skips, shrugs, and shimmies in Gentlemen Prefer Blondes (1953). The number catapulted the starlet into the celebrity stratosphere. Monroe retained Cole as a trusted adviser, and the two collaborated on five of her remaining pictures.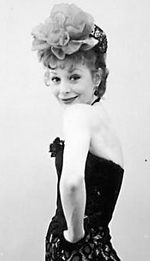 For cognoscenti, Cole's look is inimitable. His choreography features male dancers scrambling low to the ground then exploding in shapely leaps and falls. His female dancers sizzle with sex clad in body-hugging costumes like high-class strippers -- Cole loved charming hats, plumes, opera gloves and cleavage. Also characteristic of Cole were his infamous knee slides -- brutal on the joints, but an iconic, cool-Daddy look of the '50s.
The choreographer's protegee and muse, the sassy redhead Gwen Verdon, pictured at right, was his great interpreter.
A top-gun choreographer in his time -- feared, respected, and awed -- Cole's enormous contribution is puzzlingly little known, even inside the dance world. He lacks the name recognition of those he influenced: Verdon, Bob Fosse, Jerome Robbins, Matt Mattox, and Alvin Ailey, among others. His demanding perfectionism surely left behind mixed feelings. But now, 36 years after his passing, with The Cole Project, Jacob's Pillow claims for one of its most talented offspring Jack Cole's rightful legacy as an American master choreographer.
© 2010 Debra Levine and Jacob's Pillow Dance Festival
Arts journalist and film buff Debra Levine was recently a scholar-in-residence at Jacob's Pillow. She resides in L.A. where she covers dance for the Los Angeles Times and blogs on arts·meme.

Related
Popular in the Community