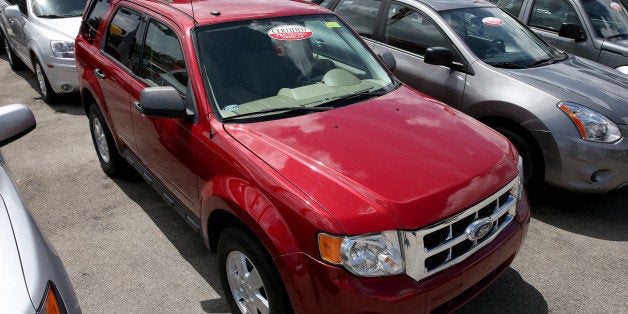 Many car owners suffer from high rates on expensive auto loans packed with potentially unnecessary additional products and services. Auto loans are the third largest source of debt for American families, trailing home mortgages and students loans. Why not drive yourself to a better deal?

In just April to June of this year alone, banks and other lenders issued $101 billion in new auto loans, according to the quarterly report on household debt.

What is spurring this rapid growth? According to recent reports, the spike in U.S. auto loans -- its highest level in eight years -- can be attributed to several factors, but in particular, a big increase in lending to risky borrowers and dealers gaining additional profit by manipulating interest rates.

When dealers sell a car and finance the transaction, they are able to earn revenue in several ways: through the car's sales price, the sale of add-on products and by adding a markup to the loan's interest rate for compensation.

The overwhelming majority of borrowers are unaware that auto dealers have the discretion to increase their interest rate for compensation, but it's far too common. According to a recent survey by the Center for Responsible Lending, 68 percent of all consumers did not know that car dealers could increase the interest rate. Of borrowers of color, 75 percent were unaware.

Members of the military are also targeted for abusive auto lending practices because they tend to be young, financially inexperienced and receive a regular paycheck. As a result, many borrowers are unable to stay on top of payments resulting in bankruptcy, having their car repossessed and a financial burden that pushes them further into economic insecurity.

The NAACP and many other lending groups, including the Center for Responsible Lending, are pressuring regulators to monitor abusive auto lending practices while educating consumers around auto loans.

One important step to lessen predatory car lending is to eliminate dealer interest rate mark-ups.

Dealers will continue to be compensated for their role in the car loan, and many publicly traded auto dealer groups have said that a move to compensation other than dealer interest rate mark up would have minimal impact on their business.

Dealers will not stop making loans if they cannot markup the interest rate. Marking up interest loans is simply one form of compensation for auto loans. There are other, and better, ways for dealers to receive compensation that do not harm their consumers and that best fits the borrowers' needs.

The majority of consumer groups believe that dealers should be compensated for the work they do in securing financing for customers. However, auto loans must be better monitored. History shows -- with the mortgage crisis -- the damage abusive financial practices can have nationally and internationally. So, regulators must move swiftly on barring dealers from financially exploitive auto loan practices that can be damaging for borrowers own personal economy and the country as a whole.
Dedrick Muhammad is the Sr. Director of the NAACP Economic Department and
Aracely Panameño is the Latino Affairs Director at the Center for Responsible Lending
REAL LIFE. REAL NEWS. REAL VOICES.
Help us tell more of the stories that matter from voices that too often remain unheard.