Recently, a Mosque in Milwaukee, Wisconsin, hosted a prominent extremist cleric from Pakistan on record for calling for the killing of "blasphemers," apostates, and Ahmadi Muslims (and anyone who speaks for their equal rights).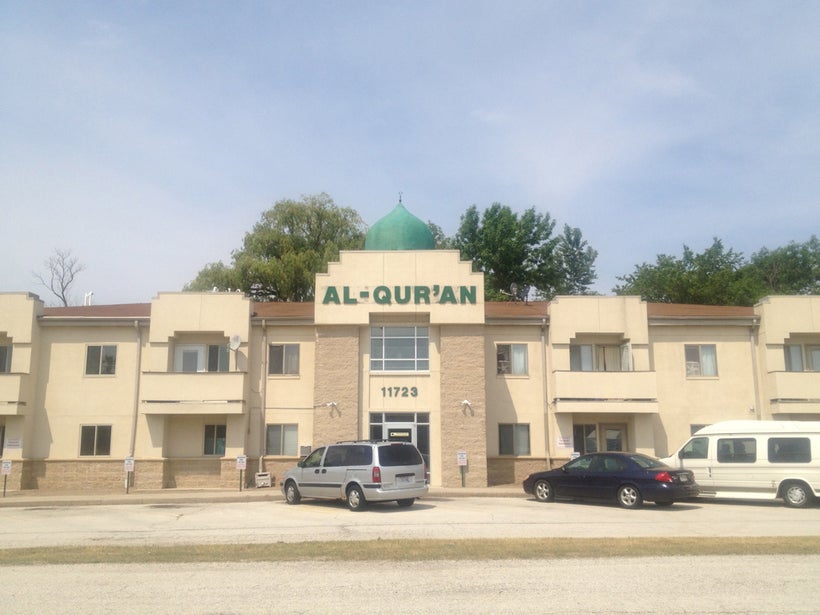 ".. the honor of this nation is very much alive... If law doesn't take action (against Abbasi), Muslims are ready to take action. It is law in the Pakistan Armed Forces that anyone who commits treason be shot dead at that very spot. If this is rule for an army, is my prophet not worth even this much dignity? This (anti-Ahmadi laws & blasphemy laws) is a part of Pakistan's constitution. How dare he (Hamza Ali Abbasi) speak about this issue... Our honor does not let us tolerate this crime... Remember that we are all soldiers in the army of Abu Bakr (ra). And we have no hesitation in this matter. Giving our life in this cause is the biggest honor for us." (original Urdu telecast below)
Civil and human rights activists ran a campaign to condemn Noorani's public endorsement of violence. Mr. Noorani has also declared those who "insult" Islam, who apostatize from Islam, and members of the Ahmadiyya Community as worthy of death. Regarding the Ahmadi Muslims, for instance, he said in a speech uploaded to Youtube last year:
"...(pejoratives) are outside the fold of Islam, are apostates and are worthy of death. And it is imperative for an Islamic leader to kill them."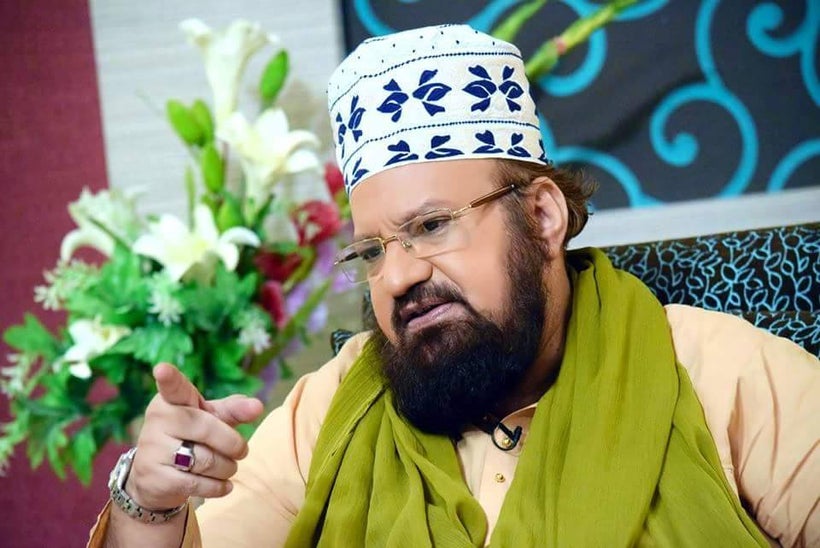 Ahmadi Muslims form the fastest growing revivalist movement within Islam. Founded in 1889, the Ahmadiyya Muslim Community rejects violence in the name of Jihad, upholds universal freedom of conscience and vouches for complete separation of church and state. In many Sunni-majority States, these views are considered heretic and Ahmadi Muslims remain severely persecuted. Clerics often call for their exclusion and incite violence against them. The Pakistani State declared the Ahmadiyya Muslim community a non-Muslim minority (Second Amendment to the Constitution) in 1974, stripping its members of their right to self-identify as Muslims. Ahmadi Muslims can be jailed under the country's blasphemy laws for "crimes" such as reading the Quran, identifying as Muslim, public prayer, saying the Islamic Creed (Kalima), calling to prayer (Adhan) etc. Thousands of Ahmadi Muslims have been attacked, jailed and killed over the last few years.
The hatred is so strong, extremist clerics are quick to target and label anyone who merely speaks for the rights of Ahmadi Muslims a "blasphemer" worthy of death.
On learning of Mr. Noorani's visit from a Sunni Muslim friend in Milwaukee, I contacted Masjid Al-Qur'an for an official comment. I was given quite the run-around, with no one willing to connect me with the Imam and/or other leadership at the Mosque. With much insistence, I was able to speak with Mr. Omar Mallick, the secretary of the Mosque. However, he requested that I call him back at a later time but multiple calls thereafter were not answered. The only information I could get from the first guy who picked the phone was confirmation that the Mosque did host Kaukab Noorani on December 31, 2016. Online evidence of this (screenshot attached) was quickly taken down from the official website of the Mosque after my phone call. I was also told that Mr. Noorani's invitation from Pakistan was facilitated by the Milad Foundation, also based in Milwaukee, WI. Multiple calls to the Milad Foundation were also not returned.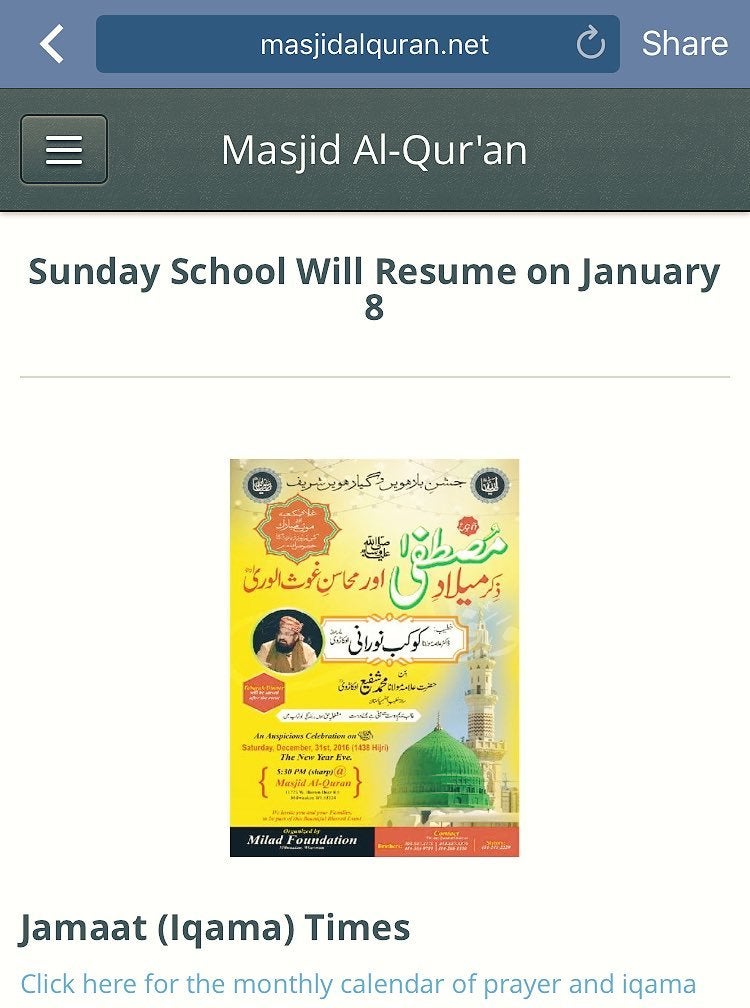 It is frustrating to see some Mosques and Muslim organizations in the West occasionally provide extremist hate clerics with forums to further their hateful ideas. What did Noorani preach at Masjid Al-Quran while he was there? Why was he invited in the first place? Did he radicalize other American youth during his visit to the United States? Do other attendees of the Mosque share his views about "blasphemers" and "apostates" being beheaded? Do they also believe Ahmadi Muslims are infidels who deserve to die? Instead of blanket faith-based monitoring, it is these specific cases that law enforcement must investigate to protect us all. We know very well what the import of such bigotry to the West is capable of. Case in point: Asad Shah.
With Islamophobia sadly on the rise in America, extremist clerics such as Noorani only provide more fodder for Islamophobes and give them "validation" to target Muslims. Regardless of sect and background, American Muslims cannot afford to sit idle when such extremists use our name and our space to put us into disrepute. Our silence empowers both the extremists and the Islamophobes. We must unite and isolate such bigots and protest their occasional presence in our Mosques. American Muslim rights organizations that track Islamophobia must also understand that it is in the interest of the American Muslim community to call out such extremism before Islamophobes do. The last thing us Muslims need in an age of Trump is another scandal linked to extremism within our midst. Such a scandal will hurt us all for sure.
Calling all HuffPost superfans!
Sign up for membership to become a founding member and help shape HuffPost's next chapter
This post was published on the now-closed HuffPost Contributor platform. Contributors control their own work and posted freely to our site. If you need to flag this entry as abusive,
send us an email
.