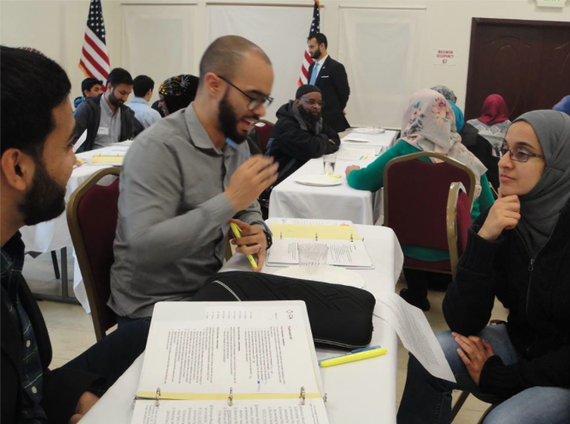 In response to growing anti-Muslim hate crimes, the Council on American-Islamic Relations (CAIR) chapter in Washington state held the first ever pilot event that educates Muslims on how to approach questions from the media. With the rise of anti-Muslim rhetoric, especially in the wake of elections, CAIR-WA found it necessary to teach Muslims how to effectively answer questions that are centered around Muslim communities.
"We want Muslims to be able to tell their stories about their lives, their dreams, their hopes and contributions. To convey to the American public that they to are a part of the American fabric, and deserve the same opportunity as all Americans to build a better future for their children and families, and to give them the ability to share that," Arsalan Bukhari, executive director of CAIR-WA, said.

Last year, CAIR offices nationwide received daily reports of hate crimes targeting American Muslims and those who are perceived to be Muslim. Many mosques have been vandalized, burnt, and many Americans, even those thought to be Muslim, have been shot or beaten.
There has been an increase of anti-Muslim hate crimes within the past 6 months, just in Washington state alone. According to a community-based survey, 80% of American Muslim youth have reported being targets of harassment, often times even in front of teachers and school administrators.
Bukhari said: "Hate speech leads to hate crimes. When hate speech and conspiracy theories against an American minority are constantly spread publicly and go unchallenged, they foster an atmosphere that causes hate crimes."
CAIR- WA felt compelled to counter this growing issue and felt a need to educate Muslims on how to deliver key messages out to the public about Muslims and Islam. Arsalan Bukhari, and retired public relations consultant Steve Boyer, combined their expertise and after conducting extensive research, developed CAIR's first media training for American Muslims.
"This is a pilot that we hope that can go nationwide. It needs to. The nation is at a turning point. Diversity is one of the greatest things about the United States, and American Muslims have not yet been fully recognized as part of that diversity. They are the last cornerstone, but to get there they need to be able to tell their stories," Boyer said.
Boyer spent several extended periods working in Saudi Arabia as a public relations executive. He found CAIR to be the perfect opportunity to continue his involvement with the Muslim community, and to utilize that knowledge. Boyer is a longtime Republican and hopes to strengthen the relationship between Muslims and Republicans.
"The broad scope of the [Republican] party is highly tolerant of Muslims, and that's been shown over and over by leaders like Paul Ryan, Mitt Romney, John Kasich, in particular who has been really out front on this, and Marco Rubio. What needs to happen is for those people who have the kind of broad view of the Republican party and what it needs to embrace, including American Muslims, to have control of this election and really recapture the soul of the Republican Party and not let it be taken over by the racist bigotry of Donald Trump's campaign," Boyer said.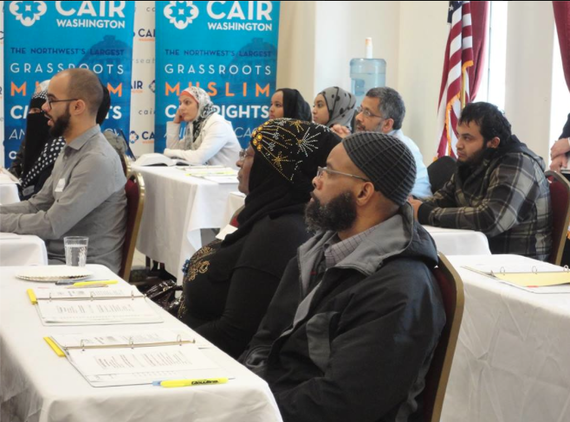 Earlier this month, Lacey, WA councilman Jason Hearn posted anti-Muslim remarks on his private Facebook account. The post was leaked, and the local newspaper picked up the story the following morning. Residence of Lacey did not take it lightly and pleaded for him to apologize. The interfaith community gathered in support for local Muslims, and the local Muslim community invited the councilman to visit their mosque.
Rokaih Vansot, a Lacey resident, was one of many Muslims that spoke out about the incident. Vansot and her 12 year-old son, who spoke to the councilman, attended media training after reaching out to CAIR-WA about the situation. Within an hour of training, they were able to successfully get their point across to the councilman.
"When Arsalan offered to provide the training, I ran with it, and he provided the training here two times and it was a good response from our community as well. It's helped me a lot, and taught me that as Muslims we have rights as well and we shouldn't be afraid to voice it. We have over 500 Muslims in Lacey, and inspired by our faith, we give back to our society everyday," Vansot said.
Zahid Chaudhry and his wife were also among the group of Lacey residents that felt displeased by the words of the councilman. They attended the media training so they could learn ways where they could better combat verbal hate-speech. Chaudhry is an American Muslim veteran who served as a soldier in Operation Iraqi Freedom (OIF). He planned to serve for life until the end of his career before he sustained an injury that left him wheelchair bound while in service.
"Over 28,000 American Muslims serve in our nation's armed forces, and many have made the ultimate sacrifice for our country. I served before and after 9/11, and I started off in the National Guard because I believed in serving the community and living out my Muslim values that we should participate in the community we live," Chaudhry said.
Research done by the University of Hawaii, University of Exeter , and National Hispanic Media Coalition shows that it's the news coverage and commentary, not the event itself,that determines how the public will react and whether members of a minority group will face hate violence. CAIR-WA hopes to end the bigotry that is aimed towards American Muslims by teaching them how to get their stories heard, in hopes to once and for all change the narrative.
Calling all HuffPost superfans!
Sign up for membership to become a founding member and help shape HuffPost's next chapter