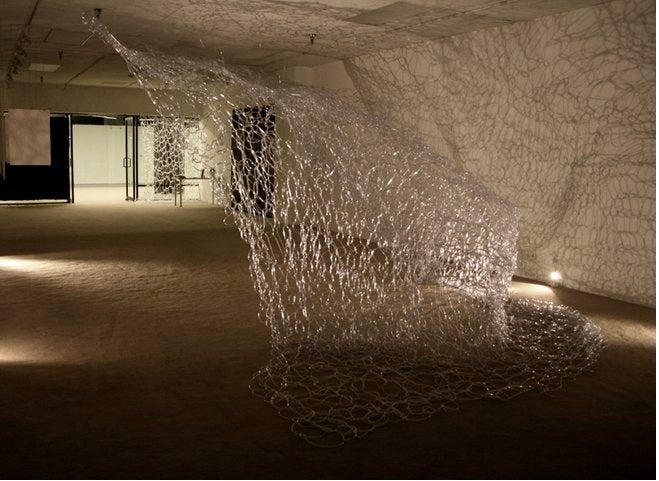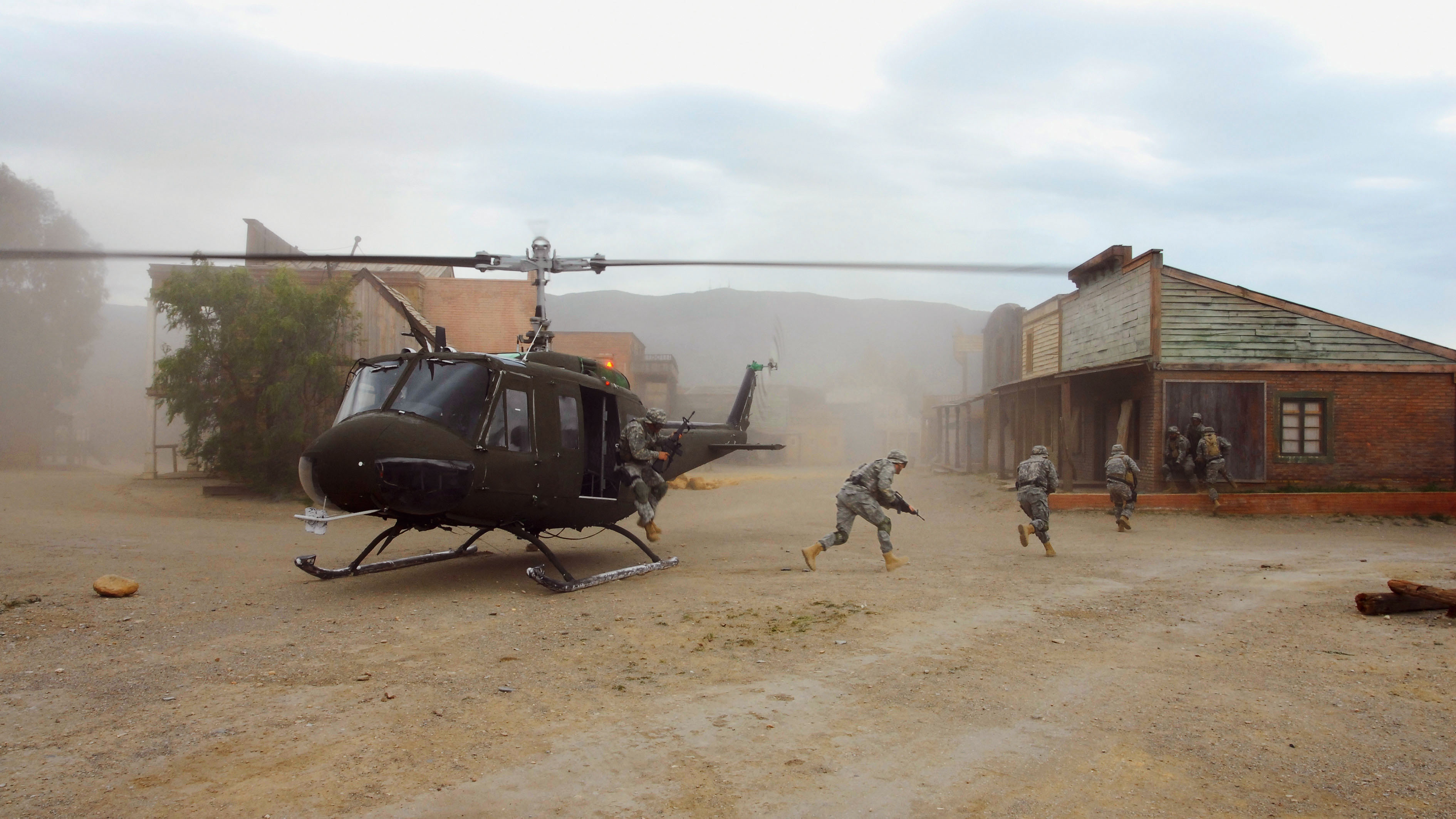 Julian Rosefeldt: American Night | Rosefeldt is known for his complex, and highly ambitious multi-screen projections and yet he considers American Night to be his biggest and most complex work to date.
Shooting in four different countries with a full cast and crew, the film uses the American Western as its starting point, both as an art-historical medium and as a popular language that ultimately shaped the American mind and its politics. The title refers to both, Truffaut's film of the same name and the process of shooting 'day-for-night,' but could also reflect something much more sinister. Using five screens spread out across the gallery, the 40-minute film uses key references to current American politics to deconstruct some of America's most cherished foundational myths, which in turn comment on the current hegemonic ambitions of US foreign policy. Both George W. Bush and Barack Obama make appearances in the film (as puppets no less), while much of the dialog is made up of actual quotations from such 'modern cowboys' as Rosefeldt describes them, as Sam Peckinpah, Charlton Heston, John Wayne, 50 Cent, John McCain and more.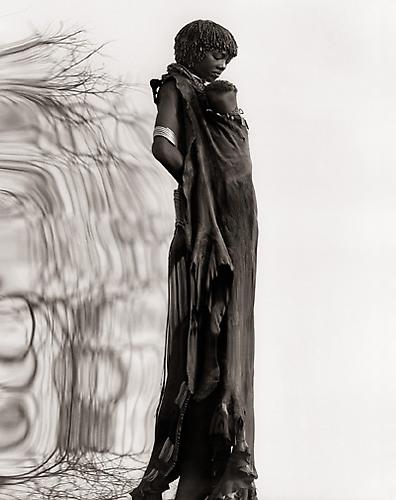 Elisabeth Sunday: Grace | For 26 years, Sunday has found her muse in Africa: a place of origins, devastating beauty, great troubles and unyielding expressions of life. She has traveled alone and lived among various original peoples who amidst a changing world, have clung tenaciously to traditional ways of life. From the hunter-gatherers dwelling in the primeval forests of the Congo Basin, to the nomadic tribes inhabiting the vast stretches of the Sahara Desert, Sunday's photographs reveal an interplay of invisible forces that connect her subjects with the world of nature. Utilizing a flexible mirror of her own design, Sunday photographs reflections that blend and dissolve the boundaries between her figures and their environment. Sunday's images express an intimacy with a corresponding strength derived from that relationship. She writes: "Mirror photography is much more than photographing a reflection, it produces a visual alchemy that combines the physical world with that of the great mystery... and captures some element that remains hidden in straight photography."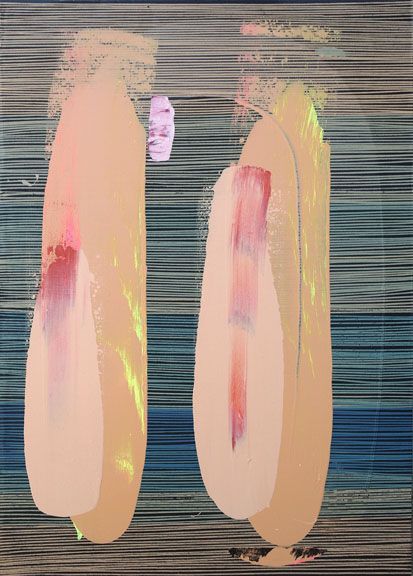 Painting on Edge II | Unlike the ideologically bound practices of modernism and postmodernism, the work in Painting on Edge II shows a new openness towards the fabulation of Hard Edge painting without a readily identifiable ethos. This is perhaps best represented by the artists in this show that openly mix the gestural and the graphic, patterns and process, and systems and topology. While all of the works in this show attempt to rework the geometric tradition in one way or another, there is nothing dogmatic or orthodox about their approach.
As such, the artists in Painting on Edge II are not just challenging traditional boundaries, but their work sits on the edge of many boarding discourses, caught somewhere between essentialism and transcendentalism, power and design, a rigorous application and the production of aesthetic delight. At a time when cultural production carries so much baggage from the twentieth century, the artists in Painting on Edge II show us another way to travel light in heading for places unknown, where the journey of making is a delicate balancing act between absolute precision and unlimited permissions.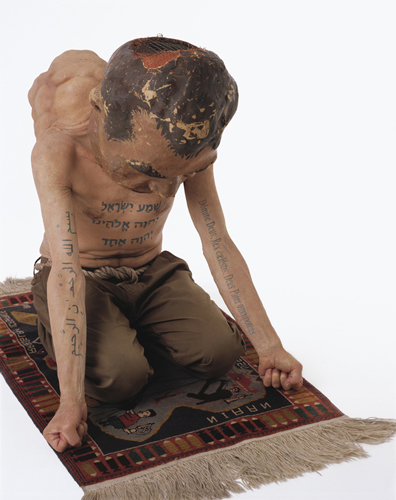 Daniel Joseph Martinez | Martinez has long been an avatar of visual culture, and his newest body of work conflates a multiplicity of complex ideas including biogenetics, class warfare, industrialization, the mechanization of modern culture, political posturing, violence, and the nature of human language. Yet at the core of this intensely realized project, as with all his work to date, is a commitment to represent the truth, not in the utopian, Carlyleian sense of reason, but as a fractured and wounded thing to bear. Thus, in works like A story for tomorrow in four chapters, Dostoevsky loved the Hunchback of Notre Dame, Muhammad Ali and Dandelions, Lick my hunch! Martinez postulates an alarming visual wherein his body is rendered as deliberately lumbering and unwieldy. These photographs present the artist as defamer and redeemer, the one who creates the image and the one who is afflicted by the creation. Sporting an oversized mask that resembles a bizarrely sadistic political leader, Papal miter, and prosthetic hunchback, Martinez again aligns the damaged body against a more sinister, broader cultural backdrop. How is beauty determined and by whom?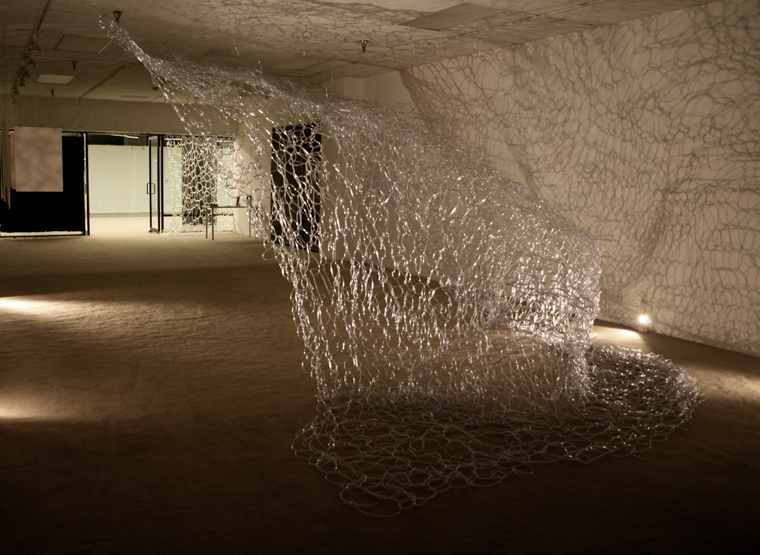 Flora Kao: Lines of Desire | Beautiful and emotive work that explores the uniquely human impulse to apply order to chaos and to control that which ultimately cannot be controlled.
Composed of repeated actions such as sewing, crotchet and the obsessive layering of source material, the work in Lines of Desire hovers at the edge of restraint and collapse, appearing to come together and fall apart simultaneously. The artist utilizes the overlapping of time, place and personal memory to create beautiful and emotive work that explores the uniquely human impulse to apply order to chaos and to control that which ultimately cannot be controlled.
Central to the exhibition is Net, a diaphanous undulating form crocheted from one mile of vinyl tubing and spanning 200 square feet. Drawn in part from the artist's painful recollection of the passing of her grandfather, the installation stands as part memorial and part meditation. In both the piece itself and in the colliding shadows it casts on the walls of the gallery, Net translates the trauma of witnessing incommensurable suffering into a visceral moment of stark and haunting beauty.
For the most comprehensive calendar of art events throughout Los Angeles go to Artweek.LA.
Related
Popular in the Community