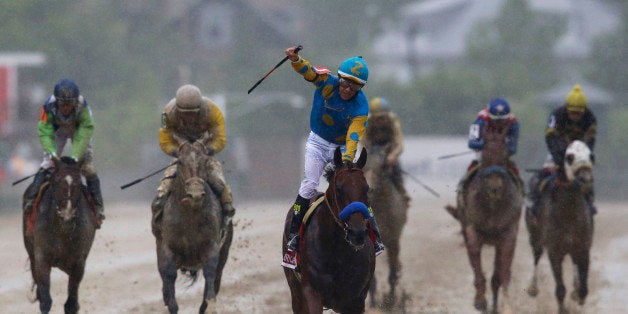 American Pharoah is on his way to getting his misspelled name in the history books!
Following his victory at the Kentucky Derby, the speedy colt won the 140th Preakness Stakes despite the pouring rain, putting him on track for a shot to earn horse racing's highest honor, the Triple Crown.
American Pharoah, ridden by jockey Victor Espinoza, edged out a tough field of eight horses in Saturday's race in Baltimore, adding to trainer Bob Baffert's string of victories. If American Pharoah can follow up with a win at the Belmont Stakes after the Preakness, Baffert can add a Triple Crown -- a sweep of the top races -- to his war chest.
American Pharoah was the favorite heading into the race at Pimlico Race Course, but by no means without competition, having to beat out rivals he bested at the Kentucky Derby, Dortmund and Firing Line, who were also picked as horses to watch. American Pharoah also had the unfavorable No. 1 post.
Mr. Z started off the race in front, but the Kentucky Derby winner pulled ahead in the stretch, finishing first with an impressive lead.
Tale of Verve finished second and Divining Rod was third, followed by Dortmund, Mr. Z, Danzig Moon, Firing Line and Bodhisattva.
American Pharoah won the 1 3/16th-mile race by seven lengths, according to the Associated Press: the largest distance since 2004.
"Just an incredible horse, what he does is amazing. American Pharoah from day one people were expecting this and with the weather I was getting a little leery but great horses do great things and he showed it today," Baffert said.
Prior to the race, a torrential downpour and thunderstorms turned the course to mush and forced emergency officials to evacuate the infield and grandstands, which held a record 131,680 people. But the weather didn't seem to faze Pharoah.
"I always told everybody American Pharoah would show up today," owner Ahmed Zayat said. "He is the real deal."
American Pharoah's Preakness victory was his sixth victory in a row, and he now is only the 14th horse with a shot at the Triple Crown since 1978. It will be Baffert's fourth attempt at the coveted prize -- the most tries any trainer in history has had. The date with destiny at Belmont is June 6 in New York.
Baffert, the trainer of both American Pharoah and Dortmund, has won the Preakness six times, and the Derby four times. American Pharoah's jockey Espinoza won the Derby and Preakness riding California Chrome last year, but lost at the Belmont. The 2015 victory was his third.