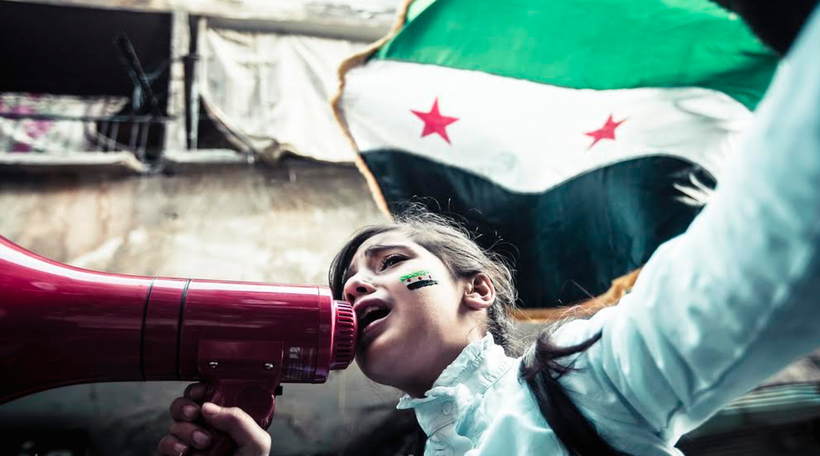 Co-authored by C. Danae Paterson
Last night, the US launched 59 Tomahawk missiles to destroy the regime-held Shayrat airfield, the military location from which the regime's chemical weapons attack originated. This strike may mark an important turning point in the US's policy of strategic absence in Syria. For years, there have been unanswered calls for a robust international response to the Assad regime's well-documented atrocity crimes. Quite literally overnight, the US may have made a serious pivot. This leaves the international community with the question: what now?
This unprecedented action may have opened the door to a more developed US policy on Syria. It may also provide an opportunity for negotiating a lasting political solution to the Syrian conflict. As the US administration considers next steps, the following points represent key considerations:
First, because the peace process is critical for a lasting political solution in Syria, the US must determine how and to what extent to engage in the Astana ceasefire process and the Geneva peace talks. The current US administration has, thus far, shied away from a substantial role in the renewed peace process. This has left a significant gap in efforts to develop a meaningful political solution, which is particularly concerning due to increasing Russian power in the conflict and Iranian influence in the region. There may now be an opportunity for the administration to reawaken its engagement in support of a political solution. If they do, the administration will need to consider how to incentivize parties to take serious steps towards reaching a negotiated settlement that fulfils Syrian aspirations for peace. This is an opportunity not to be wasted.
Second, the US administration must decide whether it will engage in additional military action. While some US officials have described this strike as a "one-off," others have noted that future US military action will depend on the Assad regime itself. This raises the question: What further regime activity would constitute a potential "strike-able" offense? The administration could choose to limit military intervention to use of chemical weapons. It could extend such strikes to the use of barrel bombs and other illegal, indiscriminate weapons. Or, it could choose to strike each time Assad forces (or its allies) attack illegal civilian targets.
Third, this strike could indicate a willingness to follow through on the US administration's previously-expressed interest in safe zones for civilians within Syria. But key questions remain. For instance, where within Syria these zones might be located. The administration could limit safe zones to the north of Syria, where Turkish forces and Turkish-backed forces are active. Or, zones could be established in southern Syria, where core Israeli and Jordanian border protection interests are implicated but where Hezbollah is relatively active. Of key importance, the administration should consider whether it can guarantee civilian protection for those in any such safe zones. An absence of sufficient protections in these areas may render Syrian civilians an even more readily accessible target for the regime and its allies. The US administration must consider whether it is able to muster domestic and international support and coordination to fully protect these zones.
Fourth, the US should consider how to engage with questions of accountability and transitional justice in Syria. The regime's use of the nerve agent Sarin on Tuesday directly violated the Chemical Weapons Convention and caused the deaths of at least 80 civilians and injured more than 200 others. The administration must decide whether and to what extent it will pursue options for accountability for this and other serious violations of international law. It could support prosecutions before the International Criminal Court or a Syrian-specific hybrid tribunal. It could also support the work of the UN's International, Impartial, and Independent Mechanism (IIIM), which assists in the investigation and prosecution of the most serious crimes in Syria. The administration should consider how to weave accountability into a broader transitional justice framework. This will be critical for lasting peace in Syria.
As the dust settles following last night's airstrike, the US administration has the opportunity to develop a clear, nuanced, and responsive Syrian policy focused on sustainable, negotiated peace. This could be a transformative moment for the administration to reawaken American engagement in Syria and bring this long and violent conflict to an end.
Dr. Paul Williams holds the Rebecca I. Grazier Professorship in Law and International Relations at American University and is the co-founder of the Public International Law & Policy Group (PILPG). He is a leading world expert in peace negotiations, post-conflict constitution drafting, and war crimes prosecution. In the course of his career he has assisted in over two dozen peace negotiations and post-conflict constitutions.
Danae Paterson is a graduate of Harvard Law School, and holds an MSc in Comparative Politics and Nationalism from the London School of Economics. As a public international lawyer, she specializes in peace negotiations, international humanitarian law, and human rights. She is currently a Law Fellow on PILPG's Syria Negotiations Support team and works to advise the Syrian opposition in the peace process.
REAL LIFE. REAL NEWS. REAL VOICES.
Help us tell more of the stories that matter from voices that too often remain unheard.
This post was published on the now-closed HuffPost Contributor platform. Contributors control their own work and posted freely to our site. If you need to flag this entry as abusive,
send us an email
.