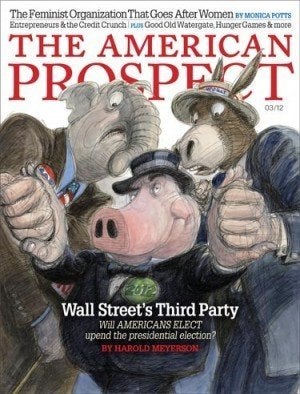 NEW YORK -- The American Prospect has raised $7,500 from 130 individual donors since The Huffington Post reported Monday that the cash-strapped liberal magazine may close this month.
"It's a great start," editor Kit Rachlis said Tuesday by phone. "It's absolutely reassuring since the full campaign hasn't launched yet. We have a long way to go."
Indeed, the non-profit Prospect still needs to fill a funding gap of $500,000 by the end of May and hopes to have another $700,000 in pledged support for the rest of the year by late June.
Rachlis said the outpouring of donations and words of support, many from former Prospect staffers and writers, was "extraordinarily moving in all sorts of ways." And he pointed out that the 130 donations came as a response to the immediate news about the Prospect's possible demise and prior to the magazine kicking off a full fundraising campaign targeting individual and institutional donors.
The many heartfelt reactions to the news on Twitter, along with fundraising appeals from The Nation and Washington Monthly, were impressive for a small, albeit influential, magazine. Yet Rachlis and company still need to attract some deep-pocketed backers who can make a sizeable dent in the current funding gap. Small donations can only go so far in such a short period.
In a fundraising letter posted late Monday, the Prospect's editors and board members said they'd already been working behind the scenes to keep the 22-year-old magazine afloat, but they now felt the need to go public in order to secure the necessary funding.
"If we do not find those commitments, the Prospect as we've known it will cease," they wrote. "This is real. And the stakes are high."
REAL LIFE. REAL NEWS. REAL VOICES.
Help us tell more of the stories that matter from voices that too often remain unheard.