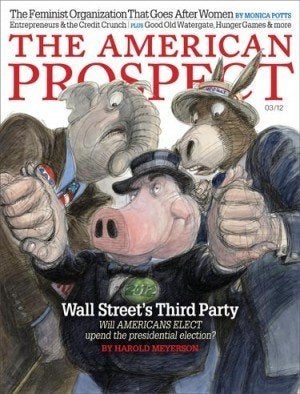 Prospect editor Kit Rachlis told The Huffington Post that the magazine is now "making an all-points effort to fill that gap with individual donors, institutional donors, as well as readers and subscribers."
"I'm extremely hopeful that we'll be able to raise the money," Rachlis said.
Still, Rachlis thought the situation was serious enough to inform staffers last Thursday of the magazine's current financial woes.
Rachlis said Prospect editors "thought it was important to be fair to the staff, to let them know there was a possibility that if we didn't fill it, the Prospect's last issue as currently constituted would be the July/August issue." The Prospect, which has a robust website, publishes 10 print issues annually; the July/August double issue closes in late May.
In addition to filling the funding gap, the magazine is looking to raise another $500,000 in pledged support for 2012 by the end of June, according to Rachlis.
The Prospect's board is looking at various options for keeping the brand going, including cutting the frequency of the print publication (or print altogether). However, Rachlis said he's hopeful the Prospect can raise the money to continue the print magazine, while also moving forward with a tablet product.
The Prospect was founded in 1990 by Robert Kuttner, Paul Starr and Robert Reich. Two years ago, the Prospect entered into an affiliation with New York-based think tank Demos, which includes providing some funding to the magazine, along with administrative staff and resources. However, the Prospect remains editorially independent.
Through the years, the Prospect has served as a launching pad for the careers of some top politics and policy journalists, including Talking Points Memo founder and editor Josh Marshall, the Washington Post's Ezra Klein and Slate's Matt Yglesias.
In addition to boasting such web-focused alum, the magazine continues to find success online. In recent weeks, the Prospect's web editor Gabriel Arana's moving piece on so-called cures for homosexuality, "My So-Called Ex-Gay Life," received the highest web traffic in the magazine's history.
The New Republic, a long-standing magazine of American liberalism, which has faced similar financial problems in recent years, was sold last month to Facebook co-founder Chris Hughes.
UPDATE: 12:21 p.m. -- Shortly after publication, several former Prospect staffers began tweeting names of other past alumni who also cut their chops at the magazine, an impressive group that includes: Nick Confessore (New York Times), Garance Franke-Ruta (The Atlantic), Jonathan Chait (New York), Ann Friedman and Tim Fernholz (Good), Richard Just and Jonathan Cohn (New Republic), Joshua Green (Bloomberg Businessweek), Phoebe Connelly (Yahoo! News), Kate Sheppard and Adam Serwer (Mother Jones) and Dana Goldstein (New America Foundation).
Related
Popular in the Community