Though the American Red Cross continues to come under fire for what some are calling a slow recovery effort, the nonprofit maintains that its response to Sandy has been "near flawless."
Two weeks after Hurricane Sandy slammed the East Coast, claiming 43 lives, the Red Cross has raised $117 million as of Nov. 9 and dispensed all of its emergency response vehicles to help the hard-hit areas. While struggling survivors have been quick to criticize the organization, its officials point to such figures as proof that its response has been swift and effective.
"I think that we are near flawless so far in this operation," Gail McGovern, chief executive officer and president of the Red Cross, told NBC News.
However, some victims are just not buying it.
Olga Cassagne and Irama Bolano, residents of Hoboken, N.J., finally got their hands on several hot meals from a Red Cross truck last Sunday. But they told HuffPost reporter Catherine Pearson that they had struggled to find the signature red and white trucks.
Staten Islanders have expressed a similar sentiment.
"I think the Red Cross, for at least my community, has been too little, too late, and quite frankly I don't need them," Tottenville Councilman Vincent Ignizio told The Huffington Post.
Though the Red Cross continues to list the resources its offering on its website, many victims are still without power and unable to check the nonprofit's updates.
While the organization continues to defend its practices, some experts say that the sheer nature of the storm's damage precludes relief organizations from offering up a perfect response.
"This is going to be, I think, more challenging than Katrina in the sense of the large geographical areas that were impacted," Ky Luu, head of the Disaster Resilience Leadership Academy at Tulane University, told The Huffington Post.
"From a logistical perspective, it's going to be very complex and difficult to manage."

Before You Go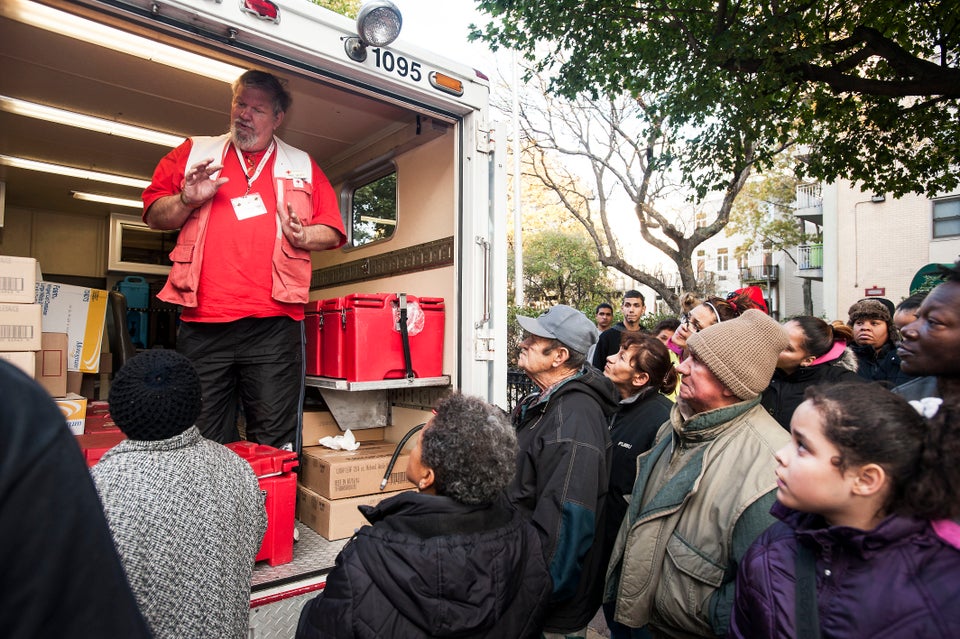 After Hurricane Sandy Red Cross Assists Victims
Popular in the Community