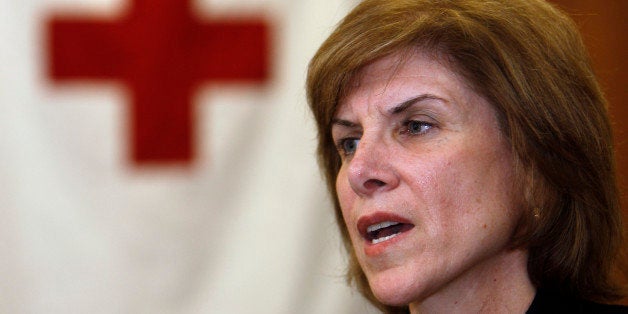 by Jesse Eisinger and Justin Elliott, ProPublica, and Laura Sullivan, NPR
This story was co-produced with NPR.
The American Red Cross regularly touts how responsible it is with donors' money. "We're very proud of the fact that 91 cents of every dollar that's donated goes to our services," Red Cross CEO Gail McGovern said in a speech in Baltimore last year. "That's world class, obviously."
McGovern has often repeated that figure, which has also appeared on the charity's website. "I'm really proud" that overhead expenses are so low, she told a Cleveland audience in June.
The problem with that number: It isn't true.
After inquiries by ProPublica and NPR, the Red Cross removed the statement from its website. The Red Cross said the claim was not "as clear as it could have been, and we are clarifying the language."
The Red Cross declined repeated requests to say the actual percentage of donor dollars going to humanitarian services.
In recent years, the Red Cross' fundraising expenses alone have been as high as 26 cents of every donated dollar, nearly three times the nine cents in overhead claimed by McGovern. In the past five years, fundraising expenses have averaged 17 cents per donated dollar.
But even that understates matters. Once donated dollars are in Red Cross hands, the charity spends additional money on "management and general" expenses, which includes things like back office accounting. That means the portion of donated dollars going to overhead is even higher.
Just how high is impossible to know because the Red Cross doesn't break down its spending on overhead and declined ProPublica and NPR's request to do so.  
The difference between the real number and the one the Red Cross has been repeating "would be very stark," says Daniel Borochoff of the watchdog group CharityWatch. "They don't want to be embarrassed."
Calling all HuffPost superfans!
Sign up for membership to become a founding member and help shape HuffPost's next chapter
BEFORE YOU GO