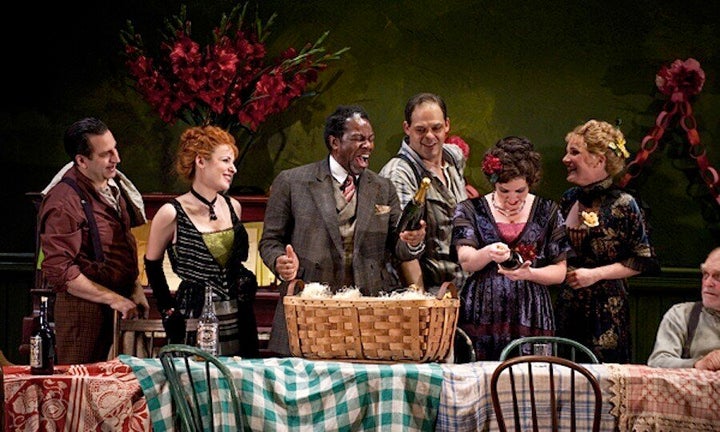 Just as Clybourne Park (premiered at Playwrights Horizons) and Once (workshopped at American Reportory Theatre, premiered by New York Theatre Workshop) -- with victories at The Tony Awards -- prominently reaffirmed how central this country's not-for-profit theatres are to new theatrical work, we learned that The Goodman Theatre's production of O'Neill's The Iceman Cometh (not a new work) will not be brought to New York by producer Scott Rudin (though others may yet step in). Just as I confess to being pleased about the first two works being anointed Sunday night, I also confess that I am not disappointed by the prospect of Iceman remaining a Chicago phenomenon (even though those involved in the production may be).
Now perhaps it's easy for me to say that about Iceman because I went to Chicago to see it, and therefore its potential inability to transfer doesn't leave me out in the cold. But I wouldn't mind it being seen only in Chicago because it further reinforces the notion that superb theatre exists around this country and that a transfer to New York should in no way be the sole arbiter of artistic success.
Despite protestations to the contrary, America does have a national theatre. We simply don't restrict it to the work of a single company. America's national theatre exists across the country and a centralized company or facility would, by necessity, be insufficient. Unlike Europe, where the dimensions of the major countries are simply smaller than the U.S., and therefore it is possible to have a National Theatre that is theoretically available to all, any such venue here would be inaccessible to most of the population. Iceman is a production of America's national theatre, as was the other show I saw on my jaunt, Timon of Athens at Chicago Shakespeare.
The Iceman phenomenon put me in mind of Hartford Stage's Peer Gynt in the late '80s, for which I was the publicist. This was a rare full-length Gynt, in a new translation that retained Ibsen's rhyming verse; it ran six hours in two parts and while the audience was wary at first, it became a smash, running eight weeks (the longest run at that theatre before that time and, I believe, ever since). There was talk of a New York transfer, with particular interest from then-prolific producer Roger Stevens, but it was not to be. Yet despite lasting only eight weeks in Hartford, without New York imprimatur, it is a show still spoken of in artistic and audience circles. I continue to meet people who tell me of their travels to see it, and its enormous impact on them. It too was a beacon of America's national theatre.
What if Jordan Roth had not rescued Clybourne Park when the Broadway production faltered? Would New Yorkers have been deprived, since only a relative few had been able to see it at Playwrights Horizons? Yes. But would America have been deprived? No, because the play had already been seen at numerous regional theatres and had begun international production. Our national theatre had embraced it.
I could cite example after example. But the juxtaposition of the Tonys and the recent news about Iceman (which, again, is hardly the last word on the topic) prompts me to proclaim my own credo about theatre in America and about my theatergoing: there is great theatre everywhere in this country and countless opportunities to see it. We may not always gather in vast numbers in stadiums or arenas for our entertainment, but we gather constantly for our theatre. We gather on Broadway, in storefronts, in resident theatres and in school auditoriums. No one can see all of it; we will always be disappointed in that which we can't see, but only in the very smallest of communities, only from economic limitations or distress, might we have to go entirely without.
Yes, despite living in one of the world's theatre capitals, I am driven to seek work in other cities (a topic I hope to explore in greater length one day soon); I am the exception. As we heard as children, at the end of a beloved film, sometimes what we're looking for is right in our own backyard. We only need to appreciate it for what it is and know that while there may be magic and grandeur elsewhere, there's plenty to satisfy us in America's national theatre, which is located wherever you live.
Calling all HuffPost superfans!
Sign up for membership to become a founding member and help shape HuffPost's next chapter