BURNS, Tenn. — Police formed a tight perimeter around a Tennessee state-owned hotel Saturday, guarding a white nationalist conference inside the building from anti-racist protesters gathered outside.
American Renaissance, a racist Virginia-based organization listed by the Southern Poverty Law Center as a hate group, reserved the 125 rooms inside Montgomery Bell State Park Inn for the weekend conference. Attendees not staying at the hotel arrived there early Saturday morning. Nearly all of them were men. They wore suit and ties — mandatory dress for the event — and didn't respond to reporters' questions as police escorted them inside.
Anti-racist protesters arrived a short time later. State park rangers subjected each protester to a metal detector test before allowing them to enter a fenced-off area across from the hotel.
One protester, Beth Foster, grew upset when park rangers wouldn't allow her to bring a purse inside, as bags were prohibited in the protest zone.
"This is absolutely absurd," she told the officers. "Nazis" from out of state, she told them, were allowed to rent out an entire Tennessee taxpayer-owned hotel, and yet she wasn't allowed to bring a tiny purse inside a section of her own state park. Eventually Foster — co-director of the Mercy Junction Justice and Peace Center in Chattanooga, Tennessee — left her purse and walked through the security checkpoint.
"It's anti-racist activists that the state sees as the enemies," she told reporters. "Not the Nazis or the white supremacists who are in our buildings, using our public restrooms, and eating in our public restaurant, plotting genocide."
The Inn at Montgomery Bell State Park — nestled in a 3,850-acre state park 30 miles west of Nashville — has hosted American Renaissance's annual conference since 2012. Privately owned venues had repeatedly canceled or denied reservations to American Renaissance before that, after pressure from anti-racist activists. Legally, it's more difficult for publicly owned venues like the park's inn to deny reservations to racist groups.
But this year's American Renaissance conference was marked by a much larger police presence than in years past. Over 100 officers from local and state law enforcement were in the park Saturday. A handful were stationed on the roof of the inn, looking down at protesters. A helicopter circled overhead. Police rode around on horseback. Police dogs sniffed at cars. At one point, police opened and searched a vehicle that appeared to belong to an anti-racist protester.
At the American Renaissance conference Saturday, the 60 or so anti-racist protesters — from groups including Nashville AntiFa, Anti-Racist Action Nashville, the Tennessee Anti-Racist Network, Women's March Tennessee and Shelbyville Loves — were kept about 100 yards away from the hotel behind a police barricade. Over 50 police officers stood guard outside the inn.
"Those are the most influential white supremacists in the world meeting at this rural location in Tennessee!" Lacy MacAuley, an anti-fascist activist from Washington, D.C., yelled at the cops. "You all are protecting absolute evil right now and you're looking at us as if we're the problem!"
Marisa Richmond, a history professor at Middle Tennessee State University, said she has come to multiple protests against American Renaissance. In previous years, protesters were allowed to go into the building, to use the bathroom, buy some food, and occasionally confront the white supremacists face to face.
"I'm a Tennessee taxpayer and I grew up here and I'm not even allowed to enter the building now," she said. "We pay for that."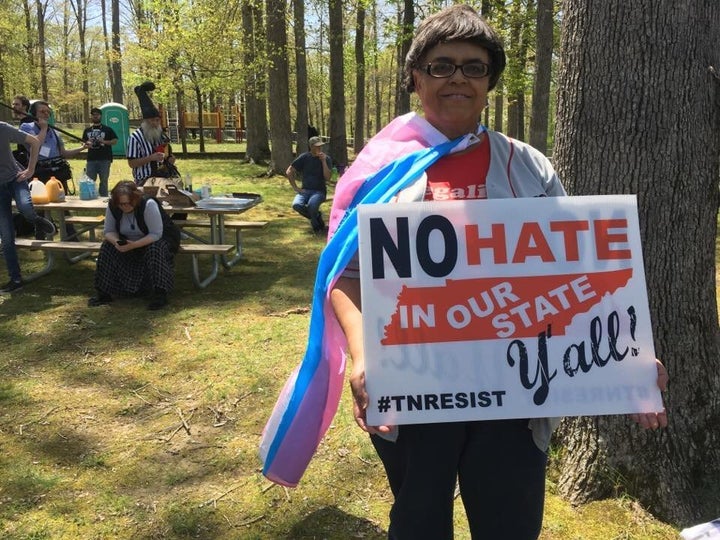 Police also prohibited protesters from wearing masks at this year's protest. When one young protester briefly wore a bandana around the lower half of his face, police charged at him, grabbed him by the arms and walked him out of the protest pen. Other protesters followed, swarming the police and chanting "Let him go!" and "Shame!"
Police did not arrest the masked protester but forced him out of the protest area. In an act of solidarity, a group of his fellow protesters then donned masks of their own and stared down police for an hour. This time the police did nothing.
The Southern Poverty Law Center, a legal advocacy group that tracks extremism, describes American Renaissance as a "self-styled think tank that promotes pseudo-scientific studies and research that purport to show the inferiority of blacks to whites — although in hifalutin language that avoids open racial slurs and attempts to portray itself as serious scholarship."
Its founder, Jared Taylor, has said: "Blacks and whites are different. When blacks are left entirely to their own devices, Western civilization — any kind of civilization — disappears." He's discussed sterilizing mothers who are on welfare, and has advocated for the creation of a whites-only country, or ethnostate, within the U.S.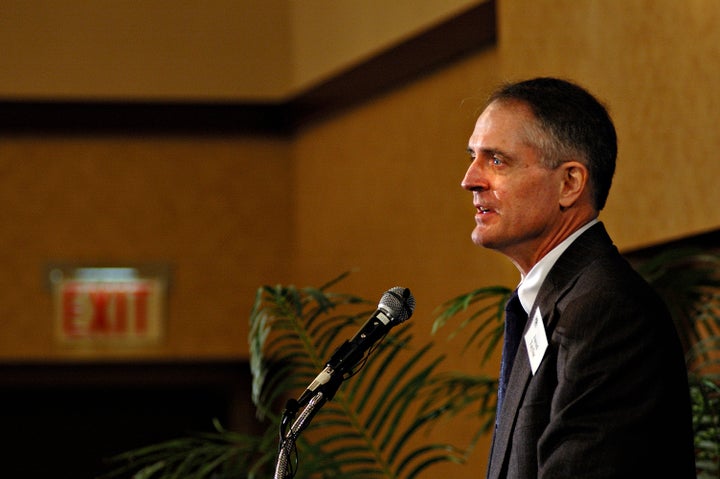 Previous American Renaissance conferences have attracted some of America's most notorious white supremacists, including David Duke and Richard Spencer, who called for "peaceful ethnic cleansing" in the U.S. at a prior year's event.
American Renaissance denied this HuffPost reporter press credentials to report from inside this year's conference. ("There will be plenty of media at our conference," Taylor wrote in an email. "You, on the other hand, have a record of covering any form of racial dissidence, not as a journalist, but as a closed-minded bigot.")
The conference was billed on the American Renaissance website as an opportunity for speakers and attendees to "plot a course for the years ahead" after some "startling setbacks" over the last year, likely referring to infighting that has fractured the white nationalist movement since last year's rally in Charlottesville.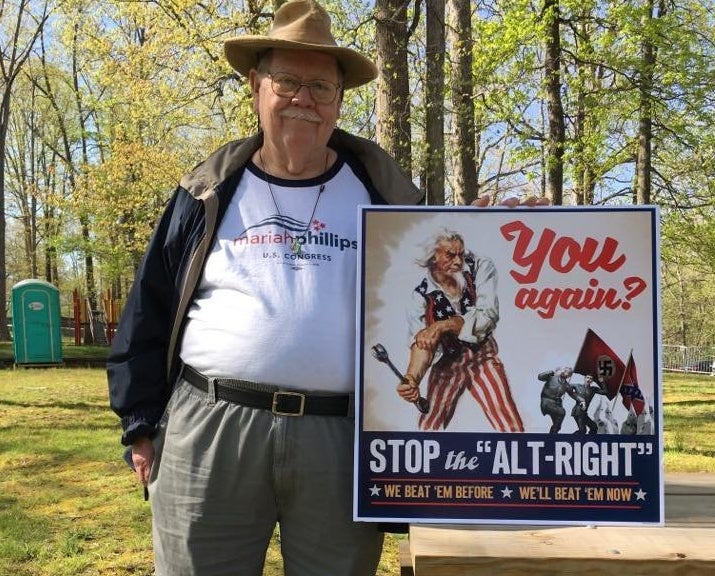 Paul Adams, a 65-year-old U.S. Navy veteran, drove over 50 miles from Smyrna, Tennessee, for Saturday's protest. "If my neighbor had a rattlesnake in his backyard, I'd sure come over and tell him," he explained.
He held a sign showing a giant Uncle Sam preparing to crush a group of Nazis. "You again?" it said. "Stop the 'alt-right.' We beat 'em before. We'll beat 'em now."
Daryle Lamont Jenkins, a longtime anti-racist activist and executive director of the One People's Project, which monitors far-right groups, said "the suit and ties" that typically attend American Renaissance conferences are especially concerning because "they're the ones that have real careers, they're the ones that get into academia, they're the ones that get into politics."
"You gotta maintain vigilance against groups like this," he said. "You gotta say, 'We're watching.'"
The American Renaissance attendees appeared content to hunker down in the hotel all day Saturday, offering protesters few chances to heckle them. When one older man in a suit and tie was escorted by police into the event, protesters yelled "Nazi scum!"
The protesters also did their best to try and be heard inside the hotel, breaking out in chants of "Heather Heyer! Say her name!" and blaring Billie Holiday songs through a megaphone.
Some protesters lit candles for those murdered by white supremacists. Others denounced the Tennessee state House of Representatives for declining last month to pass a resolution condemning neo-Nazis and white supremacists.
Rumors spread that police were preparing for a mass arrest, but by 3:30 p.m., it became clear that was just a rumor. Protesters walked out of the protest pen, many retiring to a park pavilion for drinks and food, taking in the beautiful spring day.
The white nationalists, whose conference lasts through Sunday, stayed fortified in the hotel. A large contingent of police remained outside, standing guard.
America does not do a good job of tracking incidents of hate and bias. We need your help to create a database of such incidents across the country, so we all know what's going on. Tell us your story.
Popular in the Community