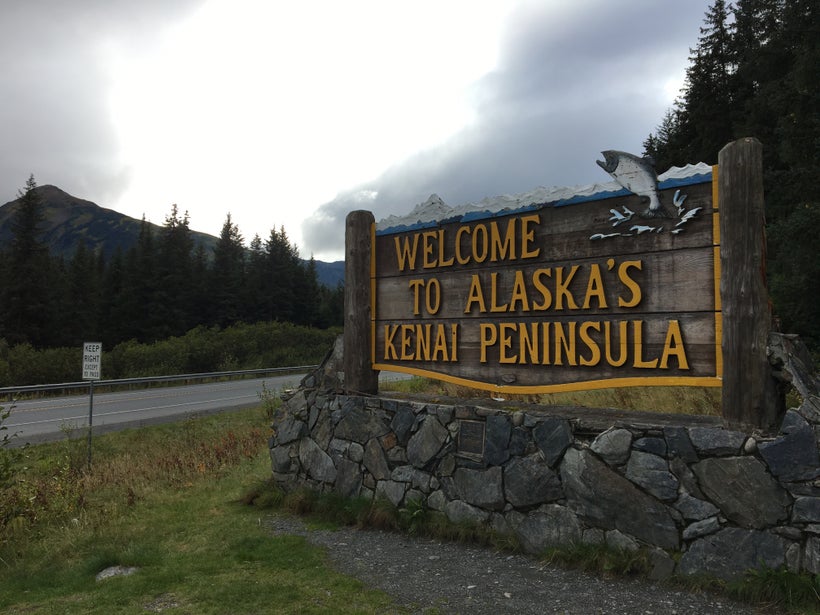 Let's get this straight, right off the bat. No animals were harmed on this road trip, although more than a few halibut gave up their delicious lives during a three-day voyage through the Kenai Peninsula.
In fact, despite the constant threat of an unexpected bear attack, there were no major casualties whatsoever. And anyway, to even call this a road trip in the first place is a bit misleading because this journey begins with a flight, unless you're deranged enough to drive from the contiguous 48 states all the way to Alaska.
Opting instead to fly into Anchorage, it's off on a 500-mile joyride through mesmerizing state parks and magnificent northwest territories, complete with lush, blooming canyons and gushing river flows. It's a race through some of the most beautiful terrain in the world, nearly untouched by mankind and technology. But first a few rules …
Now rules are really the complete antithesis to any road trip, and they will eventually be broken, but tagging along with the Sports Car Club of America on their annual United States Road Rally Challenge, this unconventional trek involves checkpoints, designated meet up spots, and misleading directions. It's a distant cousin of the Cannonball Run, although this journey is not all about speed, which is good because it'll take me the better part of a day to reacquaint myself with driving manual.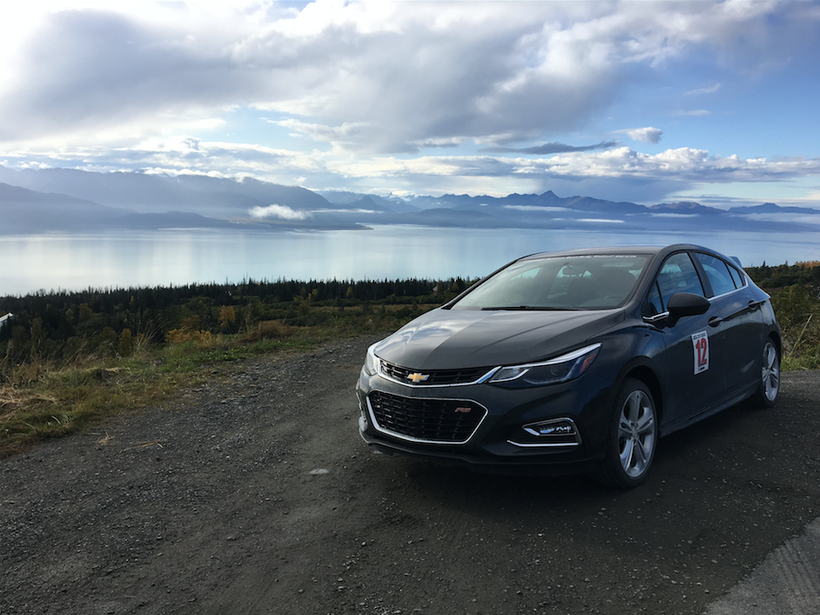 Having burnt out the clutch of a 35-foot moving truck more than a decade ago, there's reasonable apprehension to driving stick on this Alaskan adventure. Fortunately, the Chevy Cruze hatch diesel has a rather forgiving clutch, so there's minimal difficulty popping this ride into first gear.
And from there, it's off to the races.
A constant roadtripper, I rarely pack unattainable expectations alongside my extra socks, the additional pair that I always bring on every single jaunt. The open road is about destiny, fate, and chance, although it would be pretty rad to see a moose and some bear, from a safe distance of course.
More on that shortly, but first a checkpoint in Girdwood, a small resort town located at the base of Mount Alyeska in Chugach National Park.
Girdwood is essentially the entrance to the Kenai Peninsula, where john law is constantly out on patrol, handing out fines and citations for even the most minor of infractions. So be on the lookout and watch your speed in Girdwood while preparing to cross over to the Kenai. From there it's all smooth sailing.
Careening along highway one past Portage, it's almost impossible to catch a bad view. With the Autumn foliage peaking -- shades of red, yellow, and orange dominate the vistas -- this drive provides some of the best roadside scenery known to man, and soon it's over to Hope, a town of less than 200 residents, located on the north end of the peninsula.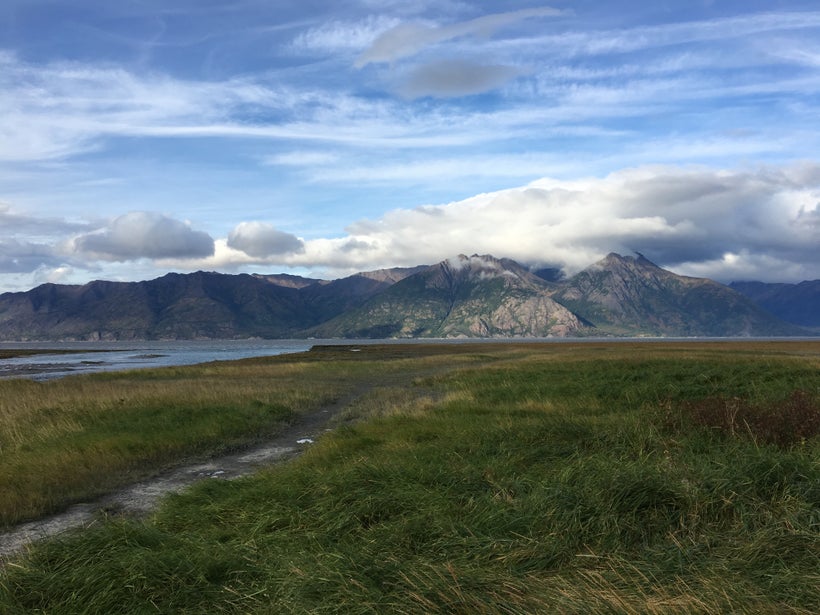 There's not a whole lot of action in Hope, but pulling up a stool at the Sea View Bar (18416 B Avenue, Hope, AK 99605) is an instant comfort, especially after several hours of strenuous shifting and downshifting. And as the IPAs start flowing, it's essential to order up some fish and chips to nourish to body and mind.
When the panko-coated fried planks arrive, the bartender reveals the local preference for halibut over cod. The results are instantly satisfying: juicy, fresh fish, fried, but not scorched.
Able to catch the Denali Cooks tune up during their soundcheck on the patio, it's soon back on the road for the 70-mile jaunt to Seward.
Fortunately, aside from a light rain, the roads are clear all the way to the Seward Windsong Lodge (31772 Herman Leirer Rd, Seward, AK 99664), an appropriate hideout for the evening. The hotel provides an ideal respite from the bustle of road life; only the sound of rain is audible out in the wilderness, allowing for a deeper and more effective rest.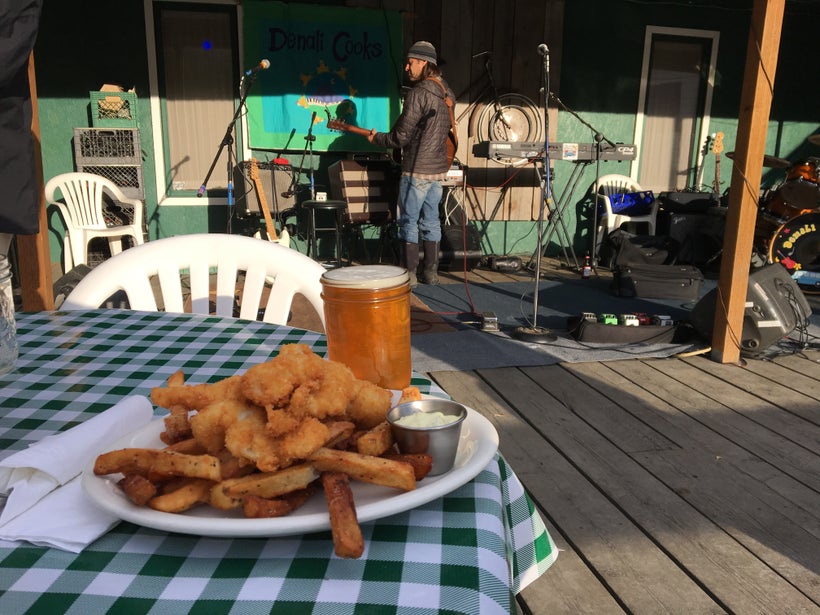 Day two begins with an early morning meeting with the USRRC participants, who have strict guidelines for their rally. Two dozen two-person teams have convened from around the country to take home top prize, and with the first leg complete, it's clear which duos are legitimately in contention and which pairings have no chance at gold.
Far removed from the leaderboard, this second day brings with it no unnecessary competitive aspirations. Today, it's all about the road, and the views.
Heading north through Chugach State Park, the route moves west along highway one past Cooper Landing and Skilak Lake. Traveling deep into the Kenai National Wildlife Refuge, reports come in that there's a mother brown bear traveling with a pair of cubs. There will be no roadside pit stops for now.
The refuge is massive and tranquil, and home to a seemingly infinite amount of flora and fauna. And if it weren't for a trio of bears on the loose, this would be an ideal locale for a casual stroll along the lake. None of that's happening now though, thanks to the presence of predators in the vicinity.
What happens next; however, is a modern marvel because whilst evading bears for the better part of the day, a lone moose approaches, without caution and without care. A massive beast -- nine feet, no ten feet -- prances out of the brush and onto the road, trotting away behind a thick and dangerous set of antlers.
There's a brief standoff where we stare directly into each other's eyes to see who will concede the road. Hoping that the bull will soon about face and move along, it's a comfort to come to this crossroads while inside a vehicle. Seeing a live moose, up close, was a mere pipe dream just hours earlier, and now that we're here, in the flesh, the protection of this metal chariot provides at least a thin veil of safety.
Fortunately, the moose is in a hurry to parts unknown, further into the refuge. And with the road clear, it's straight to Homer, the halibut fishing capital of the world.
Located on the southern end of the Kenai Peninsula, along Kachemak Bay, Homer is a sleepy and overcast town of roughly 5,000. Homer is known for the halibut, which is plentiful in the summer, when fishermen flock to the marinas along the Homer Spit, a four-mile gravel extension that runs into the bay.
Arriving just a few weeks after peak fishing season, many restaurants on the spit have closed after Labor Day. Fortunately, Captain Pattie's Fish (4241 Homer Spit Rd, Homer, AK 99603) is open year round, and serves, quite possibly, the freshest halibut known to man (the waitress is quick to point out that it arrives daily from just down the street).
Not your standard fish planks, these hunks of halibut are moist morsels, served in golden tempura batter. Paired with a chowder of fresh clams and a dozen raw oysters straight from Kachemak Bay, the fish goes down smooth. It's simply a perfect seafood feast after a tough day of driving.
And with a belly full of seafood, it's on to the Ocean Shores (3500 Crittenden Dr, Homer, AK 99603) for another solid night of rest, listening to the faint sounds of the bay shores and rustle of the frigid ocean winds.
Rising early to a fantastic view of Kachemak Bay, it's less than a hundred yards from the edge of the Ocean Shores lot to the sands of Bishops Beach.
These waters were never meant for swimming, but rather for viewing and enjoyment. And above the sea, in midair, bald eagles soar freely, showing off for anyone who enters their turf. They are marvellous creatures: strong, powerful, and daring; and they know it.
Inspired by the braggadocious eagles and their effortless flight through the skies, I've unofficially withdrawn from the road rally, opting instead to spend this final day on the Kenai enjoying everything the terrain has to offer.
Visiting Alaska is a rare treat that should be near the top of every domestic traveler's list, and there's no reason to waste this opportunity by adhering to rules and regulations. I'm here to enjoy nature and tear up the roads on the scenic adventure. Fortunately, the Chevy Cruze hatch diesel's 50 mpg fuel economy limits environmental impact and waste. It's a comforting tidbit as I crank this beast into sixth gear, converting the practical hatchback into a revving sporty roadster for most of the 200-mile route from Homer back to Anchorage, cruising to the sounds of David Bowie, Iggy Pop, Elvis Costello, and Tame Impala.
This road trip has hit a fever pitch.
Once safely back in Anchorage, it's straight to the Hotel Captain Cook (939 W 5th Ave, Anchorage, AK 99501) for a long, hot shower and two fingers of Oban 12-year single malt. The whiskey effortlessly and efficiently cleanses the palate; it's about time for one more round of halibut before returning to the mainland, this time in the form of a sandwich from Fletcher's, located on the hotel's ground floor.
Once again, the fish is fresh and fried to perfection, and no doubt, within a decade, halibut tourism will become a legitimate pursuit. Well, it will for me because there's just no denying how impressive the quality of the Alaskan fish is.
It's been an intense weekend of roadtripping, racing around the Kenai for no particular reason other than it's beautiful, idyllic in fact. Alaska, with its fresh air, infinite vistas, and endless wildlife, has made a deep and sincere impact on my brain and soul. And while it takes some effort and planning to make it to the forty-ninth state, the visit is highly recommended.

Calling all HuffPost superfans!
Sign up for membership to become a founding member and help shape HuffPost's next chapter
This post was published on the now-closed HuffPost Contributor platform. Contributors control their own work and posted freely to our site. If you need to flag this entry as abusive,
send us an email
.