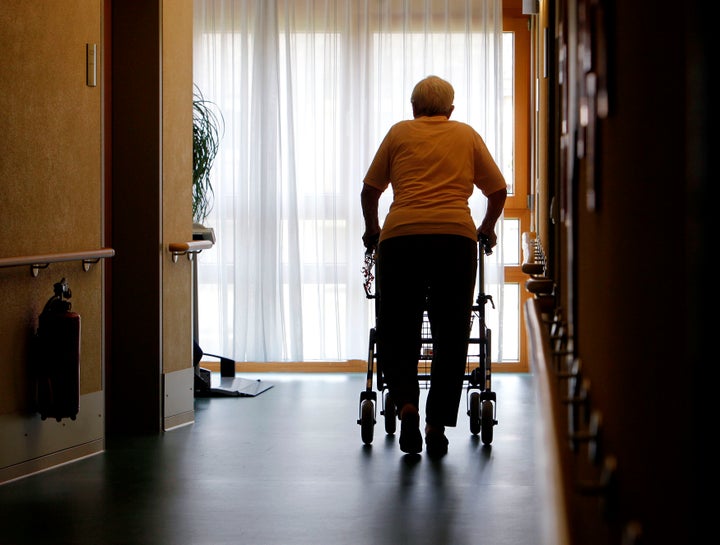 At one point, "Emma" considered living on the streets rather than remaining in a family environment she found threatening. The 70-year-old spent her life caring for others, including a husband who suffered from post-traumatic stress disorder and became increasingly abusive. Her home life became even more stressful when her daughter experienced financial difficulties and moved in. Emma found herself being treated as the child by her daughter, with threats of conservatorship frequently voiced.
Unfortunately, stories like these are all too common... and often examples of senior abuse are much more severe. On a recent trip to Sacramento, I was introduced first-hand to the rising need among the frail elderly to have access to safe places where they can escape abusive situations. Leo McFarland, Volunteers of America's chief executive in the region, showed me their new Senior Safe House -- a residential home providing shelter and support for abused seniors who previously had been showing up at homeless shelters.
These seniors have included Emma, as well as others, like "Beverly," a retired Army nurse who recently experienced abuse from her daughter and sought a safe place to stay. But almost as shocking as these stories is the fact that the Sacramento Senior Safe House is one of only a handful of places nationwide established specifically to help older people escaping abusive situations.
Opened in 2009, the facility has six bedrooms for seniors referred by Sacramento County Adult Protective Services and other partners. Previously, these seniors were moved into places like motels and hospitals that were under-equipped to meet their needs and didn't provide adequate safety. While this scattershot approach would seem unthinkable if we were talking about abused children or other vulnerable groups, it continues to be the accepted norm when it comes to helping abused seniors in most communities.
While we all would agree that elder abuse is dreadful and should be stopped, we have failed to dedicate the necessary resources to actually combat it in an effective way. In March 2010, Congress passed the first comprehensive federal elder abuse prevention law. This was an important victory for those of us advocating on behalf of seniors, but more than a year later, the law is now pointless because no money has been dedicated to enforce it.
To this day, elder abuse remains the only form of family violence for which the federal government provides virtually no resources. What resources are dedicated come from cash-strapped cities and states. Abused dogs and cats in our society receive more attention and money.
By many measures, elder abuse in this country is getting worse. According to a recent National Institute of Justice study, almost 11 percent of people ages 60 and older (5.7 million Americans) faced some sort of elder abuse in the past year. A 2009 study estimated that 14.1 percent of non-institutionalized older adults nationwide had experienced some form of abuse in the previous year. A 2009 report by the MetLife Mature Market Institute and the National Committee for the Prevention of Elder Abuse estimates that seniors lose a minimum of $2.5 billion each year from financial exploitation.
Several factors point to the number of these abuse cases growing significantly in the coming years. First, America's population is aging rapidly, with the number of people over the age of 65 expected to double over the next two decades. Second is the economy. During the annual observance of World Elder Abuse Day held in June, Kathy Greenlee, head of the federal Administration on Aging, acknowledged a link between the increase in abuse cases and the recent economic downturn. A final factor is an overall trend toward providing care for seniors at home or in community-based settings. While this trend shows great promise and responds to the desires of seniors, is also moves care into private settings where abuse can more easily take place.
Today's elderly also come some a generation that values quiet dignity and would rather "remain calm and carry on" than complain. Because of this, many victims of abuse suffer in silence rather than seek help. Since they're not complaining -- and because our society over the past generation has adopted an out of sight, out of mind mentality toward care for the elderly -- this problem doesn't register in the minds of most people. It certainly wasn't on my radar until recently.
We need places like the Sacramento Senior Safe House in every community in the United States. But we'll never reach that goal until we stop simply talking about how awful elder abuse is and actually dedicate the money, both public and private, to help combat it. Funding the Elder Justice Act would send money directly to the states to create jobs and protect our seniors from abuse. It would keep them out of harm, prevent them from losing their life savings, and avoid more expensive care down the road.
In Sacramento, it took Volunteers of America four years of advocacy and planning and enlisting private partners from the local community to make this dream a reality. Home Aid, a national nonprofit organization representing the building and construction industry, along with other private donors supported the development and building of a place that from the outside appears to be a typical family home amidst a bustling Sacramento neighborhood. Little can you tell that inside is a beautiful safe haven for abused seniors who now may enjoy the peace, security and love they deserve.
The number of seniors in abusive, and even life-threatening, situations will only get worse as our population ages. The time is now to build the infrastructure to support their needs and provide a safe place for them to call home.

Related
Popular in the Community