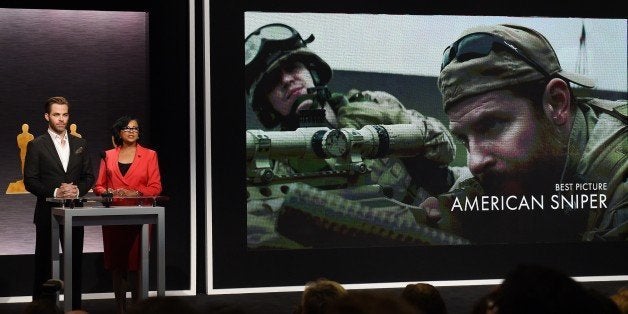 American Sniper has ruled at the box office for the past three weekends, racking up record-breaking grosses, while also earning multiple Oscar nominations.
The film -- focused on the life and legendary Iraq War exploits of Navy SEAL sniper Chris Kyle -- has also stirred patriotic fervor and criticism in equal measure. Mainstream and social media continue to debate the film's accuracy, its depiction of snipers, its perspective on the U.S. military presence in Iraq, its impact on the Arab and Muslim communities and whether Kyle represents everything that is right or wrong with America today.
Amid those debates and staggeringly strong ticket sales, student journalists nationwide are weighing in with their own reviews of the film and commentaries on its political and cultural significance.
In The Spectator student newspaper, Seattle University sophomore Harrison Bucher calls the movie "an amazing true story of an American hero."
North Carolina State University student Kevin Schaefer agrees, describing it in The Technician as nothing less than "an exhilarating cinematic experience... that leaves audiences speechless."
Middle Tennessee State University student Maranda Faris is only slightly less enthused. In The Sidelines, she writes that American Sniper is "an emotional roller-coaster that will have you on the edge of your seat for 132 minutes."
University of North Texas student Dalton LaFerney is also a huge fan of the film.
"American Sniper not only deserves the applause of movie critics and the prestige of Hollywood gold, but it's also a film that should be screened in psychology classes," LaFerney contends in The North Texas Daily.
It's the kind of film that offers beautiful symbolism, bringing to life a true story. ... While many war films exploit battlefield tension, such as gunfire, massive explosions and carnage, American Sniper is more about the cerebral side of fighting. A warrior is more of a thinker, someone who has purpose not only in battle, but in life.
In The Reflector, Mississippi State University student Blake Morgan argues the key to enjoying the film is to view it on a personal -- not political -- level.
"What makes this movie so different from other American war movies, from Saving Private Ryan to Fury, is this movie is more about one man's journey through war," Morgan explains.
...The movie does not make a statement either way on America's decision to enter Iraq or to stay there for an extended period of time. 'American Sniper' hardly even approaches the subject; instead, it focuses on one man's mission to protect his friends, family and country.
University of Oregon student Chris Berg appreciates the movie's mission of displaying both the glamor and gritty underbelly of war. But, he does point out two major narrative set-ups that he sees as less-than-stellar -- a dehumanization of the "enemy," and a deification of Kyle.
"We ... see next-to-nothing that permits the audience to sympathize with Iraqi soldiers and citizens," Berg declares in The Emerald.
One of the few foreigners who does come off as something remotely human is soon revealed to be a traitor (by Kyle, no less). On the home-front, his redemption is represented in the form of returning to the traditional 'cowboy' lifestyle from which he came. His death is also never shown on screen, with the information conveyed directed to the audience through an epilogue post-script. All these elements heighten the impression that Kyle is larger than life -- a modern hero of a modern war.
University of Southern Mississippi student Noé Cugny is similarly disturbed by what he perceives as an oversimplified depiction of Iraqis. As he writes in The Student Printz:
The entire population the soldiers encountered in American Sniper is reduced to an anti-hero, similar to a comic book villain: vicious and misleading collaborators, helpless families who asked for money in exchange of information and were too foolish to understand that they needed America's help, or mere faceless terrorist minions, waiting to be shot down to the great joy of a bloodthirsty, flag-waving audience.
Cheers or jeers aside, James Madison University student Matt D'Angelo wants the public to understand one main thing: "The American Sniper isn't evil." D'Angelo is making that case in respect to not only the movie, but the autobiography on which it is based, and the real-life man behind the film's main character.
The man experienced war firsthand. He watched horrible people do horrible things. He had to make tough ethical calls regarding who lived and who died. There should be no surprise that he hated the Iraqi insurgents he was fighting. In other words, just because he killed more than any other sniper doesn't mean he was a crazed psycho picking off civilians left and right. ... [T]his movie was not like Lone Survivor or Saving Private Ryan. It didn't glorify war and the horrendous atrocities that are committed. It simply told the raw story of how a man who confronted evil on a regular basis and had to return home and be 'normal' again.
Meanwhile, Sienna Heights University student Nate Adams argues there is nothing normal -- in a good way -- about Bradley Cooper's raw portrayal of Kyle.
Bradley Cooper is a revelation, giving, without question, the most authentic performance of the last year (and wholeheartedly earns his Oscar nom). He put on over 60 pounds of muscle, carries his southern drawl with crisp and clear diction, and gives you the true face of a man who has seen far too much -- one of the best characterizations ever.
Ultimately, audiences' characterization of American Sniper appears to depend on the prism through which they view the film.
I feel sour, even sick, when witnessing the people in a theater room cheering in front of a film that glorifies acts of violence while shamelessly simplifying extremely complex realities and unapologetically categorizing entire chunks of the world population.
American Sniper is a reflection of the idea of the American hero, combined with the grittiness of modern day war films. It's hard-hitting, well-acted, well-produced and, Oscar nominations aside, well-deserving of at least one viewing.
REAL LIFE. REAL NEWS. REAL VOICES.
Help us tell more of the stories that matter from voices that too often remain unheard.