Nohemi Gonzalez had "big dreams" with plans to start a family and a career when her life, as well as the lives of at least 128 others, was senselessly cut short on Friday, her heartbroken parents told The Associated Press.
The 23-year-old design student, who attended California State University at Long Beach, was among those killed in the attacks in Paris. She was studying abroad at the Strate School of Design in Sèvres, France.
"She wanted a career and she wanted a different life. She had big dreams," her mother, Beatriz Gonzalez, told The AP in an emotional interview.
The brainy and ambitious young student had arrived in Paris for school in early September, a friend and fellow exchange student told The Daily Beast. She was bilingual in Spanish and English and working on her third language, French.
"She was always happy, rarely in a bad mood. Athletic smart, upbeat," Andrew Calder, 30, told the outlet. "She was a dedicated student. … She worked hard, always."
It was her determination to learn and craft a better life for herself that fueled her happiness, her mother told the AP.
"She was so happy, every day, because she loved to go to school and she was hoping to have a different life. Not only like most of our people -- like go to work and come back home every day. She wanted to have a career and a family," she said, fighting back tears.
Gonzalez, who lived in El Monte, California, was a first-generation American, The Los Angeles Times reported. In a past class assignment, she proudly declared herself a first-born Mexican American and credited part of her ambition to her mother, according to the outlet.
"I am Mexican American and I also happen to be first generation born in the United States," she wrote.
"I grew up in Whittier and had a very hard working mother that raised me to be extremely independent. If I had to describe myself in a few words I would say I am very high spirited, clean, orderly and self driven," she continued.
She had joint Mexican-U.S. citizenship, an anonymous Mexican foreign ministry official told The Guardian.
Jose Hernandez, whom the AP describes as Gonzalez' father, got word Friday about the terror taking place overseas. At that point, he told the AP,"we were just hoping that it was a false alarm."
Gonzalez' longtime boyfriend, Tim Mraz, was one of the first to contact them after not being able to get a hold of her amid the chaos, Hernandez said.
When Hernandez got in touch with Beatriz Gonzalez and told her what was going on, he says she replied: "'I can feel it in my heart, that she's OK.' I said, OK," he told the AP.
Later, they got the news no parent should ever have to hear. Their daughter had been fatally shot after stepping outside a restaurant with friends, Calder said.
Back in California, Gonzalez' boyfriend was among those reeling from this nightmare.
"Yesterday I lost the most important person in my life. She was my best friend and she will always be my angel forever. I am lost for words," Mraz posted on Instagram with a photo of the couple embracing, The Daily Beast reported.
"My prayers are with her family. Such a bright soul and the sweetest girl with a smile on her face. Thank you to the friends and family that are reaching out. You will always be my Pocahontas and I will always be your John smith. Te amo," he wrote.
California State University plans to hold a vigil Sunday evening in memory of the slain student. The university's president expressed her condolences and support for those affected by the tragedy in a statement.
"Our university stands with our nearly eighty foreign exchange students from France as they struggle with this tragedy," Jane Close Conoley said. "We will extend all support necessary to comfort them. We will also extend support to all students, faculty and staff who are in need."
Dominique Sciamma, the director of the Strate School of Design, posted condolences in a statement on the school's Facebook page:
One of our international exchange students was a victim of yesterday's massacre. Her name was Nohemi Gonzalez.

We share in the pain of her family and loved ones.

Others were wounded and today are not in danger. We wish them a lot of courage to overcome such a test.

Our response today must still be the same: Live.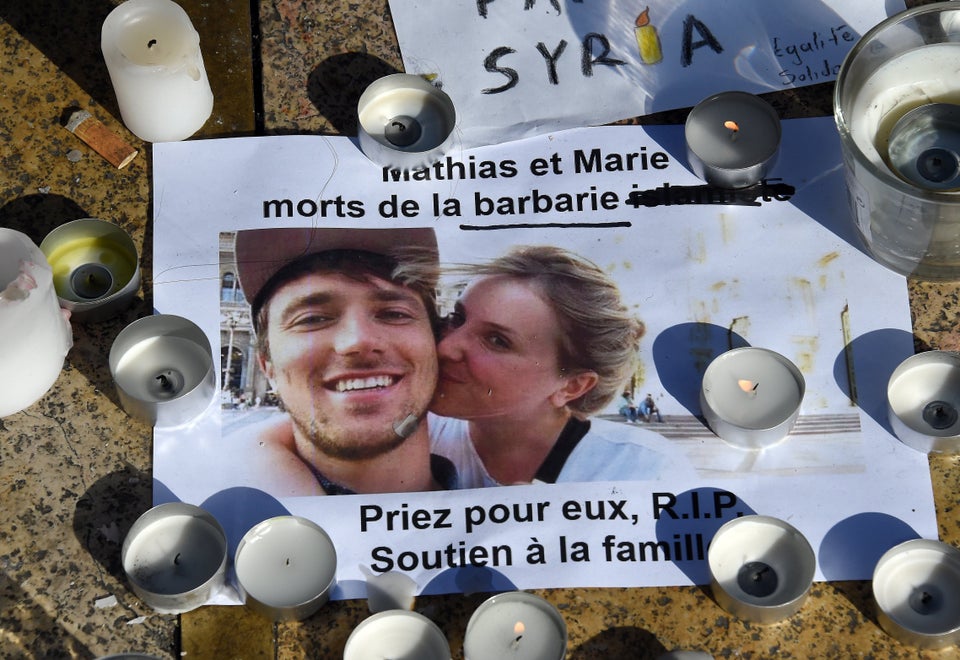 Paris Attacks
Popular in the Community