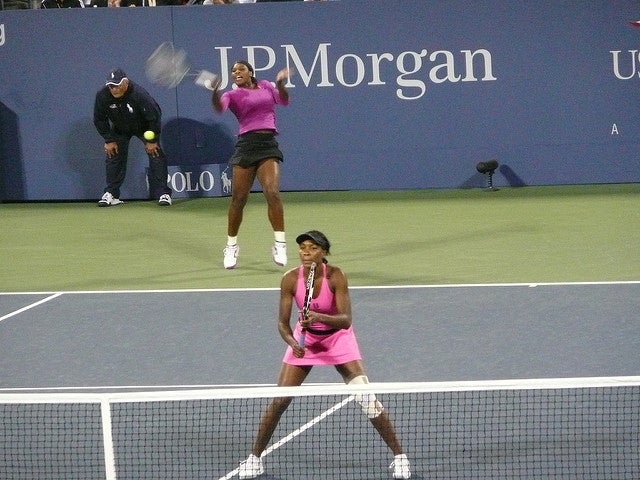 A few weeks ago, I played tennis with a close friend of mine, also a young, black male. Thomas and I have been playing together for years, but this was the first time that I recorded our hitting session. I captured video to see what I look like on the court now that I am older and a more skilled player. When I first started playing tennis in local United States Tennis Association tournaments, my dad would film some of my matches to give me the opportunity to analyze my game first-hand.
After watching a couple minutes of the footage playback, Thomas said to me, "Now, tell me we don't look like Venus and Serena [Williams] out there." I couldn't help but laugh. Our playing styles, movements and strokes, although they pale in comparison, were inspired and molded by Venus and Serena. On my forehand side, I alternate holding my racket like Venus or Serena depending on my mood. Much like both sisters, Thomas has the power and mental resolve to blast break points away with a big serve when caught in a jam.
In learning tennis, we studied them much more than we studied the game. Without Venus and Serena as references, there is no telling what our playing styles would be like. There is no telling if we would have ever picked up rackets and fallen in love with the sport. As successful Black athletes in a predominantly White sport, they gave us a vision and helped us believe in possibilities in the world of tennis for ourselves.
On Thursday, three Black women: Venus Williams, Sloane Stephens and Madison Keys, played in the U.S. Open semifinals for a chance at a place in the final, and ultimately the title. This is the first all-American U.S. Open women's semifinal since 1981. And this year will be the first all-Black final at the U.S. Open since Serena defeated Venus for the title in 2002. Stephens will face Keys in the final.
For years, there has been a drought in American tennis. Prior to Serena and Venus Williams, the last American woman to win a grand slam tournament was Jennifer Capriati in 2002. The last American man to win a grand slam tournament was Andy Roddick in 2003. And now, in 2017, there is a 75 percent chance that the next winner of the U.S. Open women's tournament will be not only an American, but a Black woman.
For historical context, outside of Venus and Serena Williams, only three other Black players have won grand slam tournaments in singles competition: Althea Gibson, Arthur Ashe Jr. and Yannick Noah. It is important to note that for many years Black players were denied access to the sport's top championship events. Players like Gibson and Ashe broke barriers that allowed for the Williams sisters to dominate in the sport and their achievements ushered in a new generation of talent.
Budding star Sloane Stephens is a 24-year-old tennis player from Florida, and the daughter of Sybil Smith who was the first Black woman to be named First-Team All American in Division I swimming history. Madison Keys is also from Florida, and at just 22-years-old has some of the fastest groundstrokes on the WTA Tour. Both have cited the Williams sisters as inspirations. And both will likely go on to inspire up-and-coming young players today.
For Venus Williams, at age 37, her accomplishments this year have been nothing short of phenomenal. She has reached two finals at grand slam tournaments, at the Australian Open and at Wimbledon. Based off of her performance at the U.S. Open so far, she is guaranteed to return to the top 5 in the world rankings following the completion of the tournament.
Regardless of how the semifinals turn out, history has already been written. I started playing tennis because I first saw Venus and Serena Williams play in the U.S. Open final in 2002. Fourteen years later, I know that somewhere there will be an unassuming child not fully aware of the history they are witnessing, but enchanted nonetheless by the Black girl magic on the tennis court, who will go forward and pick up a racket one day too.
As a long-time fan of tennis, I have never had difficulty in deciding who to root for. Tonight will be a little different.
Joseph Pate is the digital campaigns manager for the Center for Community Change.
Popular in the Community