The last C-17 plane departed from Afghanistan at 3:29 p.m. EDT Monday (11:59 p.m. Kabul time), putting an end to the country's withdrawal, which was rushed by the Taliban's quick takeover and threatened by a deadly suicide attack that the Islamic State's affiliate in Afghanistan claimed responsibility for.
"Tonight's withdrawal signifies both the end of the military component of the evacuation but also the end of the nearly 20-year mission that began in Afghanistan shortly after Sept. 11, 2001," said Marine Corps Gen. Kenneth McKenzie, who leads U.S. Central Command.
McKenzie added that he can say with 100% certainty that every single U.S. service member is now out of Afghanistan and that there were no evacuees left at the airport when the last U.S. flight left Kabul.
About 123,000 people have been evacuated since Aug. 14 in one of the largest airlifts in history, though the increasing danger to Kabul's airport resulted in some Americans and thousands of Afghan allies left behind. The White House said Monday that about 6,000 Americans have been evacuated or otherwise have left Afghanistan in that same time.
The Pentagon said there were no non-military Americans on the last military flights, and Secretary of State Antony Blinken said that there are "likely closer to 100" Americans left in Afghanistan who want to leave. McKenzie also stressed that some Americans expressed they wanted to stay Afghanistan.
"I believe our Department of State is going to work very hard to allow any American citizens that are left" in Afghanistan to be able to leave, he said. "I believe that we're going to be able to get those people out. I think we're also going to negotiate very hard, very aggressively to get our other Afghan partners out. The military phase is over, but our desire to bring these people out remains as intense as it was before."
Earlier Monday, White House press secretary Jen Psaki said the Taliban has publicly stated it will allow people to travel outside of Afghanistan after Aug. 31.
"That does not mean we trust what they say, but there is an enormous amount of international leverage," Psaki said. "There is a discussion about what our diplomatic presence may look like moving forward. Our current plan is to not have an ongoing diplomatic presence in Afghanistan" for now, but the U.S. would like to find ways to work with Afghans.
U.S. officials told The Wall Street Journal that a small handful of remaining U.S. diplomats also left on Monday and are safe in Kuwait. This means there are currently no U.S. diplomats left in Afghanistan.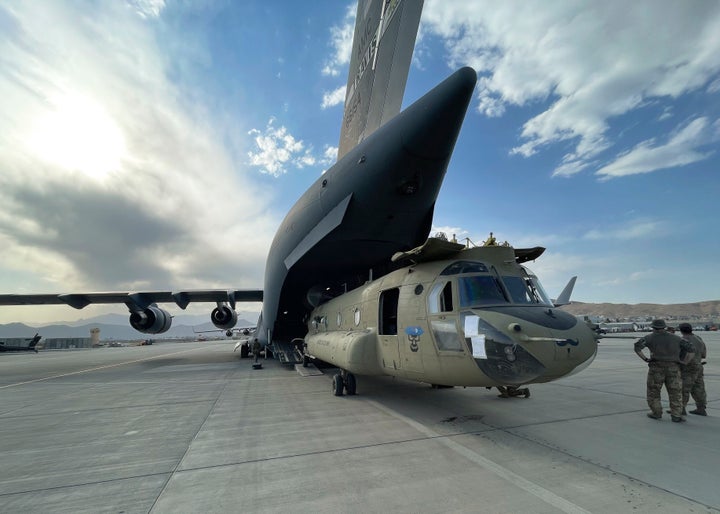 "They remain a very lethal force, and I think we would assess that probably there are at least 2,000 hardcore ISIS fighters in Afghanistan now, and, of course, many of those come from the prisons that were opened a few days ago," McKenzie said of ISIS-K, which is considered more radical than the Taliban and a hurdle for the Taliban's ability to rule the country.
"So that number is up and is probably as high as it's ever been in quite a while," he added. "That's going to be a challenge for the Taliban in the days ahead."
Biden released a statement after the Pentagon press conference saying he will address the country Tuesday afternoon on his decision not to extend the U.S. presence in Afghanistan beyond Aug. 31 ― a move that has drawn polarized reactions. The president has asked Blinken to lead the continued joint mission with international partners to ensure safe passage for any Americans, Afghan partners and foreign nationals who want to leave Afghanistan.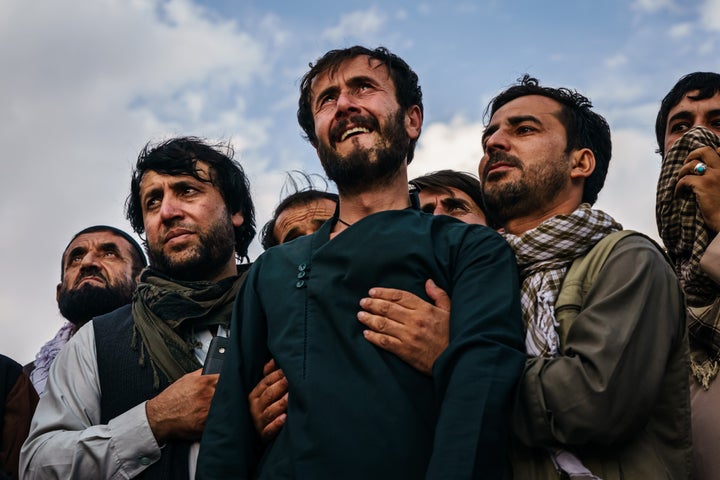 Such a plan will include work to build on the U.N. Security Council resolution passed Monday afternoon, which shows the Taliban that the international community expects the group to deliver on its commitment to provide freedom of travel. Blinken said Monday that the U.S. Embassy in Kabul will remain vacant while diplomats assigned to Afghanistan work out of Doha, Qatar.
"For now, I urge all Americans to join me in grateful prayer tonight for three things," Biden said. "First, for our troops and diplomats who carried out this mission of mercy in Kabul and at tremendous risk with such unparalleled results: an airlift that evacuated tens of thousands more people than any imagined possible.
"Second, to the network of volunteers and veterans who helped identify those needing evacuation, guide them to the airport and provide support along the way. And third, to everyone who is now ― and who will ― welcome our Afghan allies to their new homes around the world and in the United States."
Popular in the Community