The first visit of C.S. Lee -- popularly known as Vince Masuka from the American TV show Dexter -- to Israel, was an inspiring one for the Korean-American actor. In an exclusive interview, Lee told Tazpit News Agency that there were many moving points during the trip to the Holy Land. "The visit to Yad Vashem Holocaust Memorial was particularly special," recalled Lee during his last evening in the country.
Lee was part of a contingent of acclaimed prime-time TV and movie stars led by award-winning actress Lea Thompson (Back to the Future, Switched Birth), her husband Howard Deutch, music director and producer, their two actress daughters, Zoey (Vampire Academy: Blood Sisters) and Madelyn Deutch. Vivian Bang (Sullivan & Son), Anson Mount (Hell on Wheels) and Malik Yoba (Revolution) were also part of the trip, which had been organized by America's Voices in Israel (AVI), directed by Irwin Katsof.
"There was something very different about visiting the Holocaust museum here in Israel than in the U.S.," said Lee. "In DC, the tragedy seemed a lot more distant, whereas in Israel, it felt a lot more close and personal and placed everything in perspective."
In addition to touring Jerusalem and Yad Vashem, the actors and actresses also visited the Golan Heights and Tel Aviv and met with notable Israeli personalities including hi-tech and business luminaries.
"Israel isn't the war-torn, camel-riding country that we sometimes think of in the U.S. -- I never imagined for example that there could be a city like Tel Aviv," Lee told Tazpit News Agency. "I felt very comfortable here," he added.
On the last night of their visit, the Hollywood group met with Israeli victims of terror attacks. The encounter meant a great deal to the young Israeli victims, and was arranged through OneFamily Fund, the Israeli national organization dedicated to the rehabilitation of terror attack victims and their families.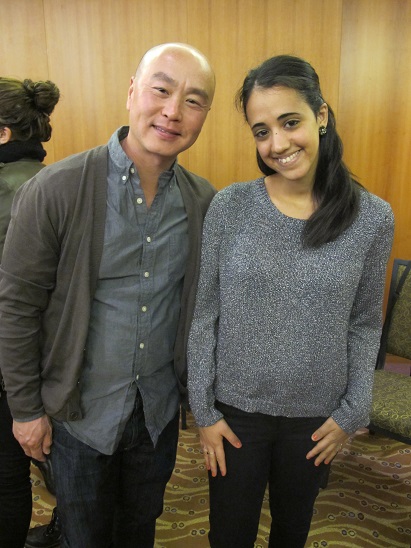 Photo Credit: OneFamily Fund / Description: Dexter's C.S. Lee with Linoy Zohar who was injured in a Jerusalem bus bombing in 2004.
Rebecca Fuhrman, who was injured in a terror attack next to the Jerusalem Convention Center in March 2011, told the stars that as a victim of terror, she lives with the fear of being forgotten.
"It gave us a tremendous amount of strength knowing that American celebrities wanted to spend time with us, to hear our stories on their last night in Israel." Fuhrman told the group.
"It was important for us to interact with Israelis personally and hear their experiences," said Lee.
Lee said that he was surprised by how many people actually recognized him in Israel. "I knew that Dexter was a popular show outside the U.S., but I never realized how popular it was in Israel. I think more people recognized me here than in America."
REAL LIFE. REAL NEWS. REAL VOICES.
Help us tell more of the stories that matter from voices that too often remain unheard.