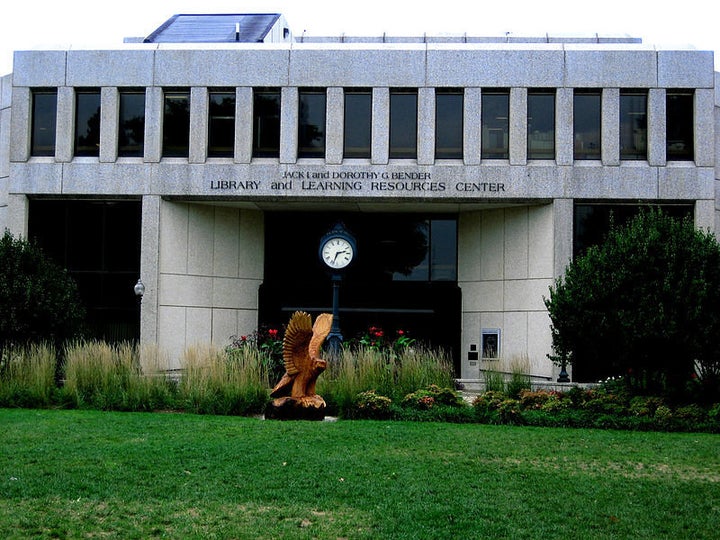 American University will no longer require students reporting that they were sexually assaulted to sign a confidentiality agreement.
American, a private university in Washington, D.C., is making a series of changes to how it handles sexual assault cases, according to a document released by an alumna who petitioned for the school to overhaul its procedures. Several of the reforms appear to respond to allegations in a federal complaint filed this year by Faith Ferber, an undergraduate at American.
Ferber had to sign a confidentiality agreement before she could participate in a disciplinary hearing for the male student she said sexually assaulted her, according to documents shared with The Huffington Post. Federal guidelines say schools are not allowed to require confidentiality once a sexual misconduct case has been resolved.
American's changes are a "really good start," Ferber told HuffPost on Wednesday. But she said she still has concerns after an administrator publicly criticized her for filing the federal complaint accusing AU of violating the gender equity law Title IX.
Bianca Palmisano, an alumna who started the petition, met with students and administrators on April 18 to discuss reforms. Changes were forwarded to the university's Sexual Assault Working Group for implementation, the university said.
"We made some important, incremental changes to policy with this petition, but more than anything, I know it inspired a lot of advocates working on this issue to keep pushing forward," Palmisano said. "And that's a big win for me."
Days later, however, Gail Hanson, AU's vice president for campus life, told the student newspaper that Ferber's federal complaint "discourages people from stepping forward, it doesn't encourage them, and we've already seen a little bit of evidence of that."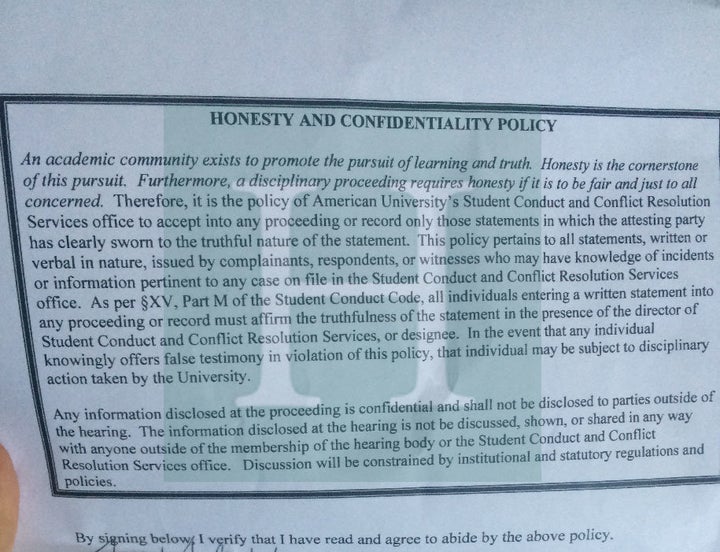 Ferber said such "victim-blame" makes her concerned the school "will always be reactive instead of proactive."
"It shouldn't take 85,000 people watching you to do what's right for your students," she said.
American confirmed it has agreed to changes listed in the document released by Palmisano, but didn't immediately have additional comment.
Ferber's federal complaint pointed out the confidentiality agreement and said the disciplinary hearing in her case was delayed six months because the school didn't want it to interfere with final exams. The student she accused of assaulting her admitted responsibility and received one year on probation, according to Ferber. She said the university told her the student would be banned from Greek life, but he's now in a fraternity.
American's planned reforms replace the requirement that students reporting an assault sign a confidentiality agreement with a statement that will be read aloud. The statement will clarify that accusers and the accused in sexual misconduct cases will be able to share their experiences and will guarantee their First Amendment rights are protected.
AU also agreed to consider input from accusers when deciding punishment for offenders. Further, the school will not allow students on disciplinary probation to study abroad in an AU-sponsored program or participate in fraternity or sorority membership recruitment. The school said it would consider using Skype to hold "timely hearings" and avoid long delays.
The school also said students on probation will not be allowed to serve in student government or as elected Greek life officers, though they can belong to a fraternity or sorority.
Prior to Ferber's federal complaint, AU was already the subject of a U.S. Department of Education Office for Civil Rights investigation over its handling of sexual assaults. That review began in March 2015.
Read the reforms planned at American University:
Popular in the Community