In a series of emails and texts, American University students said to be associated with an underground fraternity discuss rape, assault, underage drinking and illegal drug consumption, as well as how to keep their illicit behavior secret.
The redacted emails and text messages, which appear to have originated from the Google Group of Epsilon Iota, were posted Thursday night on an anonymous Tumblr page. Prior to the material's appearance on Tumblr, a PDF file of more than 70 pages of uncensored material, dating as far back as 2012, was circulated to many on the AU campus from an anonymous email account.
The AU Epsilon Iota chapter of Alpha Tau Omega lost its charter more than a decade ago due to misconduct involving hazing and alcohol abuse. "Involvement in this unrecognized organization could pose risks to students, and the university highly discourages individuals from joining them," reads a 2010 document from AU.
The emails -- a selection of which can be seen below -- not only reference various illegal activities and seem to make light of sexual assault and rape, but include a lengthy discussion of whether or not one brother physically assaulted a female student in 2012. The group's responses range from denial to downplaying the incident.
Gail Short Hanson, vice president of campus life, issued a statement on Friday evening in a campus-wide email, which was subsequently provided to HuffPost by the administration:
Recently, an anonymous source shared emails and other information with university administrators and selected campus community members. We are outraged by the reprehensible content of this material. It could not be more contrary to American University's values and standards.

The material is under intense analysis by university officials, with attention to the statutes and regulations that guide our behavior. We assure our campus community that we are pursuing these matters deliberately and expeditiously so that violations of the law are addressed and university conduct code standards are upheld.
An introduction to the Tumblr page that posted the emails stated, "It came to our attention that AU Greek Life is being encouraged to not talk about what is happening with EI." The page continues, "We are being told to keep silent because sharing the documents could hurt the investigation and create legal problems. Well silence is why this stuff has been protected for so long."
When asked about those claims, Camille Lepre, assistant vice president of communications at AU, told HuffPost, "It's not the case that AU is trying to stop students from talking," and she noted the Tumblr post "does not say anything about what AU said or didn't say."
Prior to the missive from Hanson, Lepre had told the student paper, the Eagle, that "The university is cooperating with local law enforcement on a series of incidents involving a small number of students who have been engaged in illegal activity and high risk behavior."
WARNING: The emails below contain explicit and offensive language.
In the excerpts below, the emails discuss an incident in which a EI brother is said to have physically assaulted a female student. Some of the correspondents defend the member, suggesting that he only pushed the woman in response to aggressive behavior on her part. Others deny the alleged incident took place, or mock the allegation. The alleged member in question suggests at one point that if he had wanted to hit the woman, she'd be in the hospital: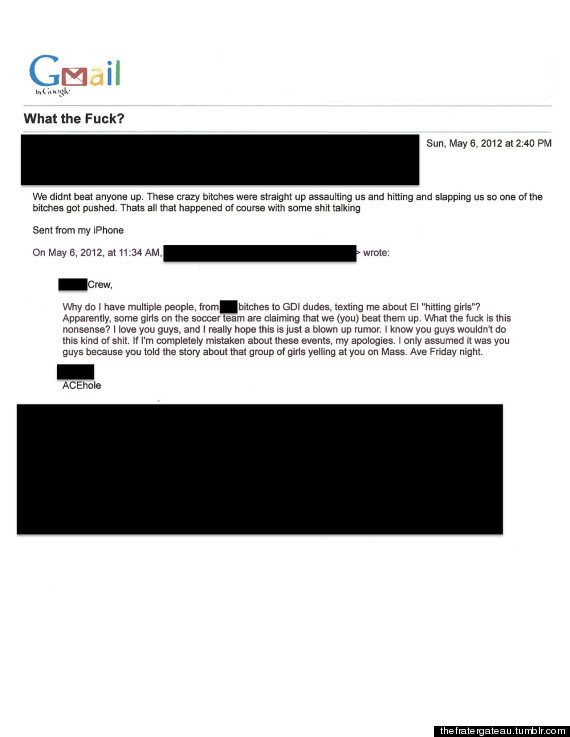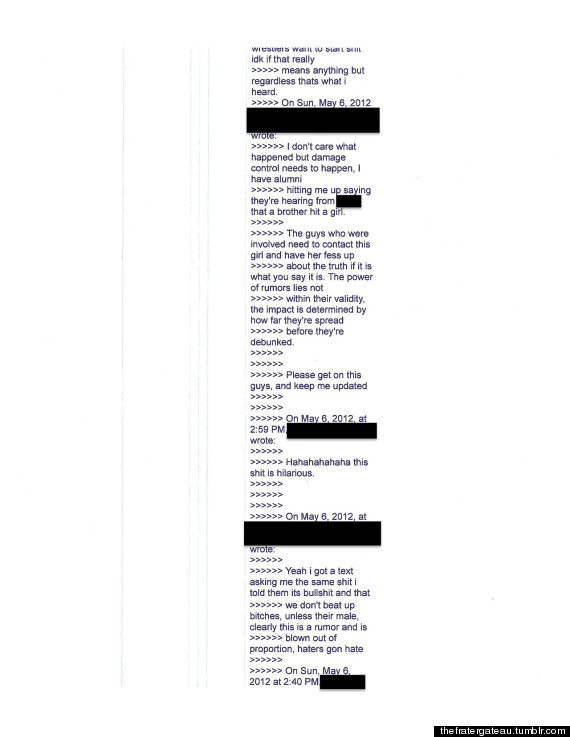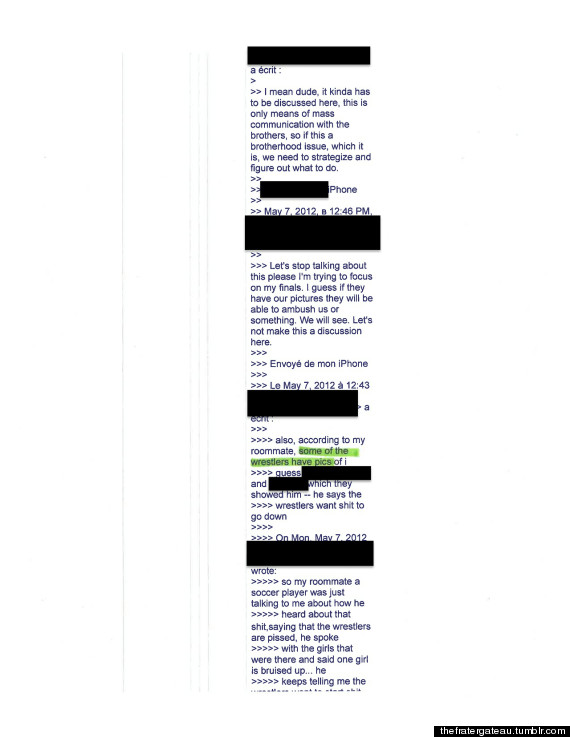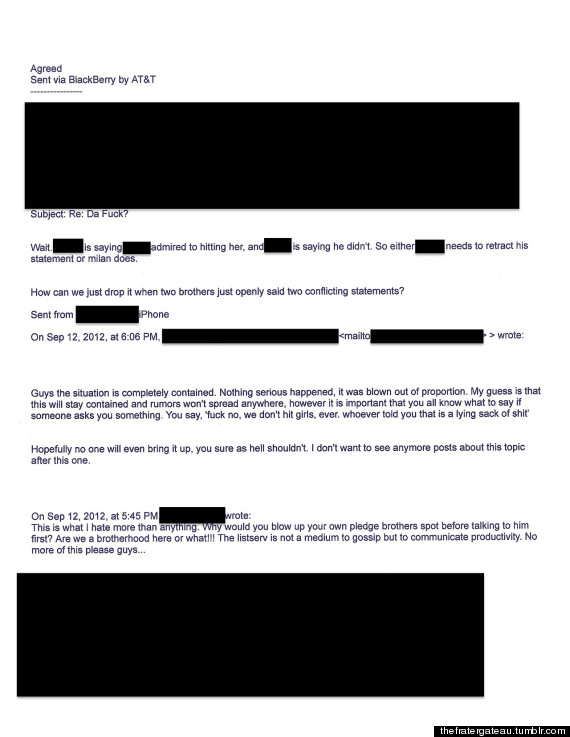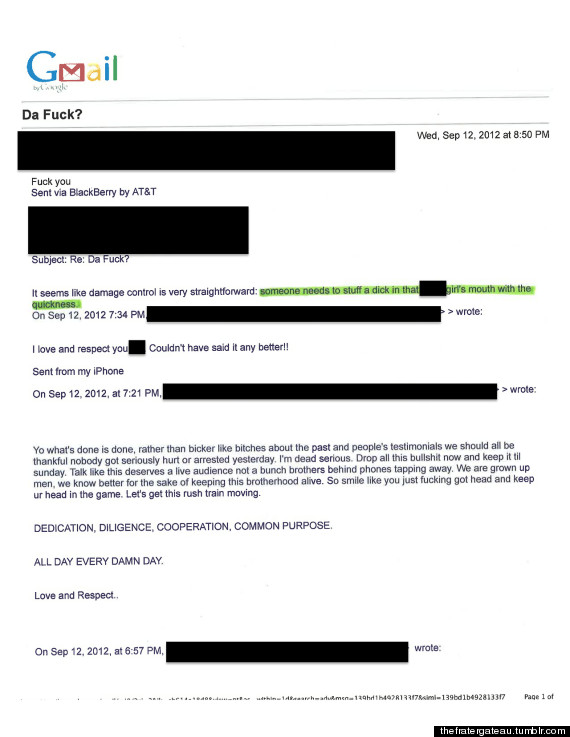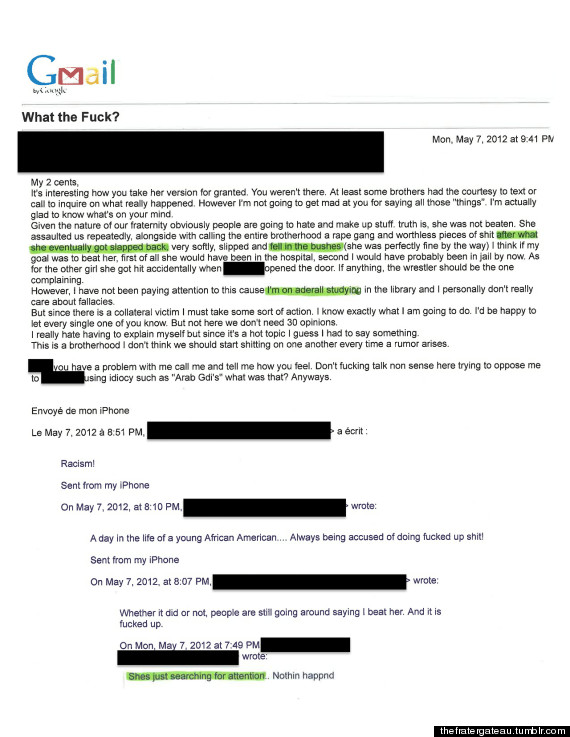 Another email exchange involved a discussion of what to put on rush shirts, including several misogynistic suggestions: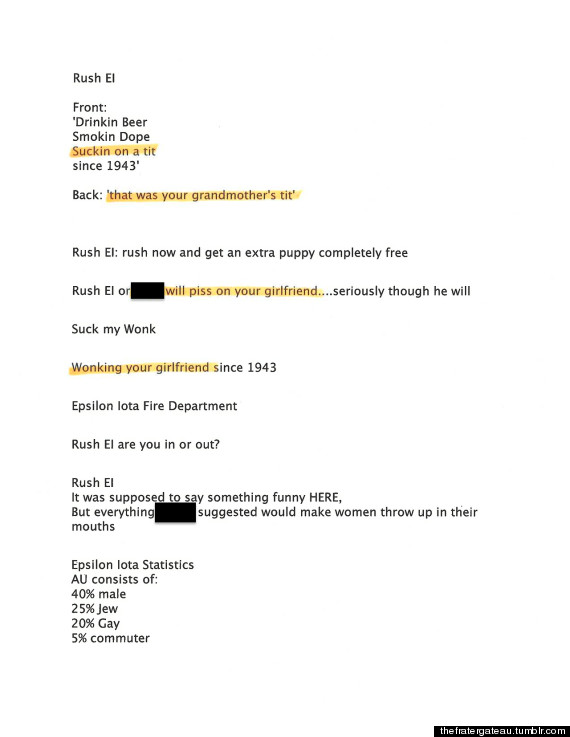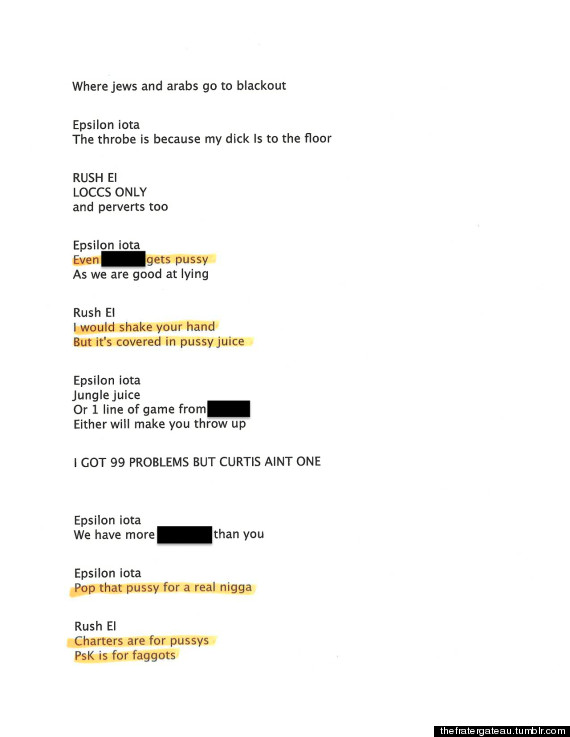 Several emails and text messages reference rape and sexual assault: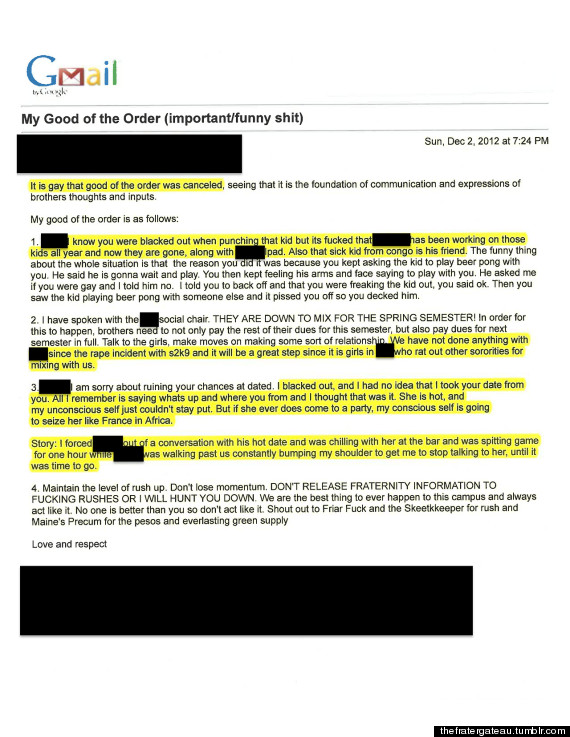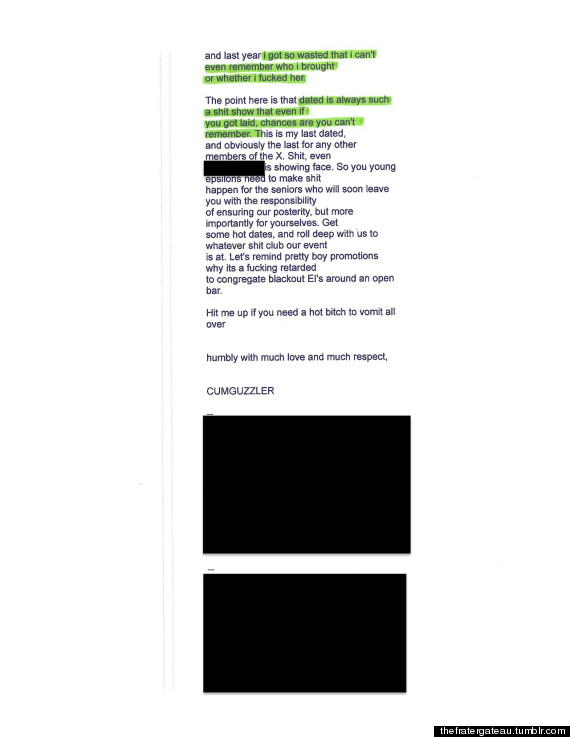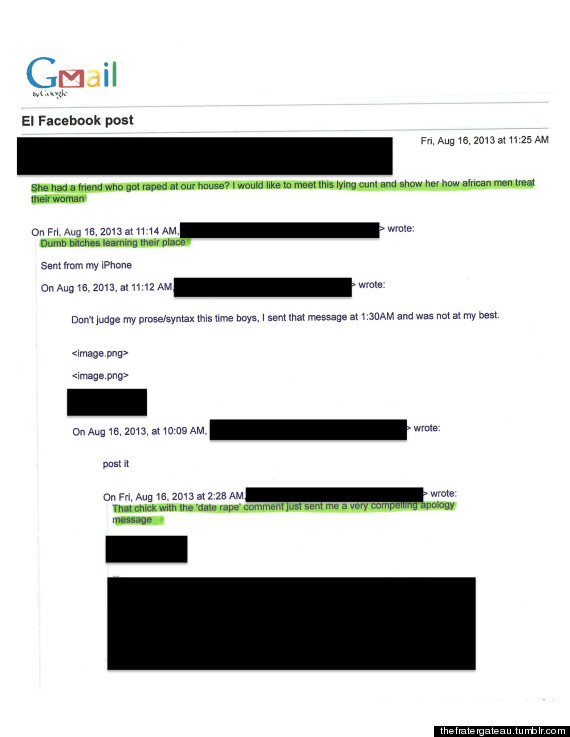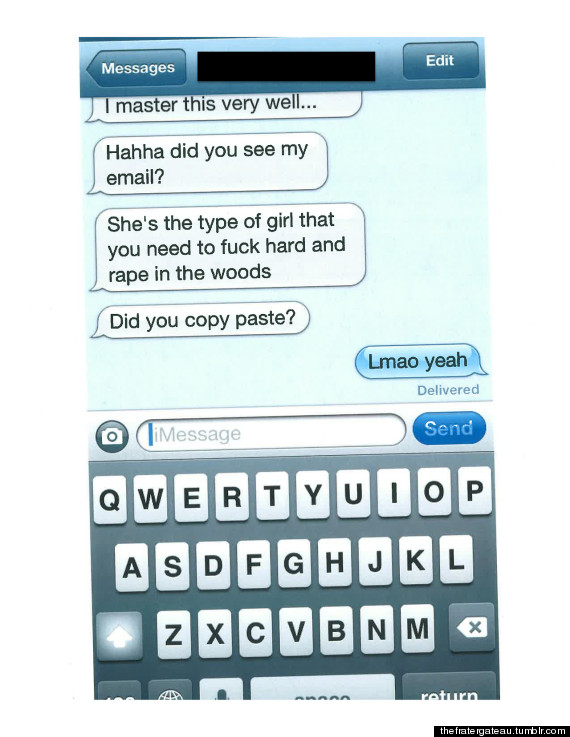 Others encouraged underage alcohol consumption and drug use: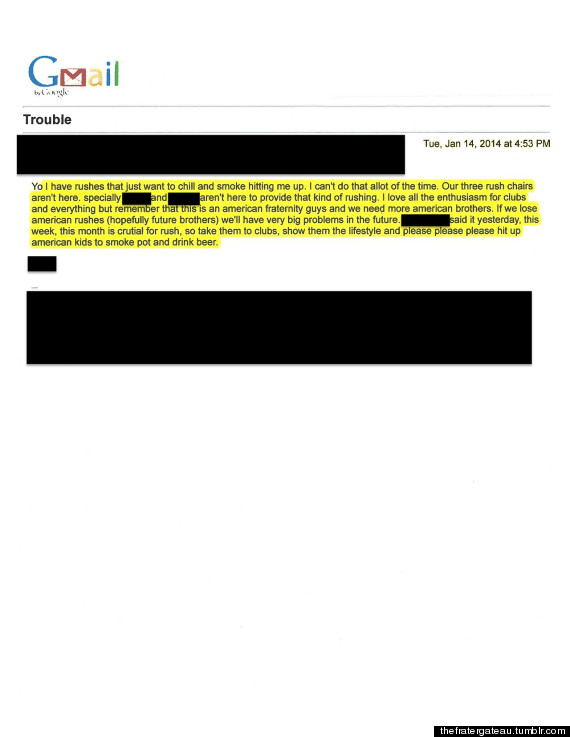 A previous version of this article stated the brother who allegedly physically assaulted a woman was identified as member of the AU wrestling team. The messages state that members of wrestling team had photos and were upset about the incident, but it was not clear what their involvement was in the incident. The university did not respond to requests on what connection this incident had to the wrestling team.
Related
Popular in the Community