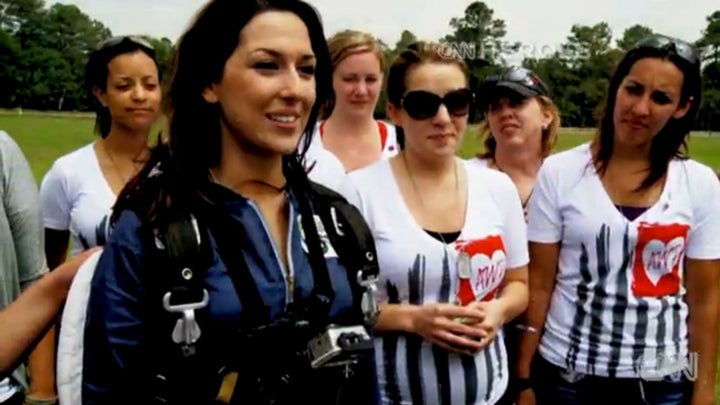 When Taryn Davis lost her husband at the age of 21, she couldn't find a relatable support group. Because of her young age, she says her grief was often dismissed and she was encouraged to get remarried.
But, she says, she didn't want to get remarried. She wanted to cope with losing the love of her life, and she knew there must be others who felt the same way.
So, she started her own support group. Through the American Widow Project, Davis connects young widows across the country to share their experiences coping with tragedy. Using social networking, she encourages them to share their memories of their husbands and learn from each other.
"One widow told me...the first time you meet another military widow, it's like someone holding a mirror up to you. And it's a mirror that...you haven't wanted to look into, because for once, you're finally seeing who you are, and you're seeing it through them. It's liberating."
As the average age of women involved with the group is 25, many of their activities cater to a younger crowd. From skydiving to surfing retreats, Davis encourages her fellow widows to not only remember the men they once loved, but remember who they were before their grief.
On the American Widow Project's website, a section is devoted to widows' stories from around the country. Sometimes humorous but always sincere, the stories tell personal accounts of love, loss, and the work toward regaining their former lives.
Davis shared one of her own experiences on HuffPost, recounting a time when she had to sift through six boxes of her dead husband's possessions that the military returned to her. She writes on going through his belongings with "aftertaste of anger," as even the scent of him was gone.
"The fact that they had washed all of his clothing made me so infuriated! Let me have one last breath of his smell. The smell I was unable to be without for 8 months.....and now forever."
Davis has collected similar experiences from around the country in a documentary that shares her organization's name, The American Widow Project.
Popular in the Community