Co-authored by Kaitlin Junod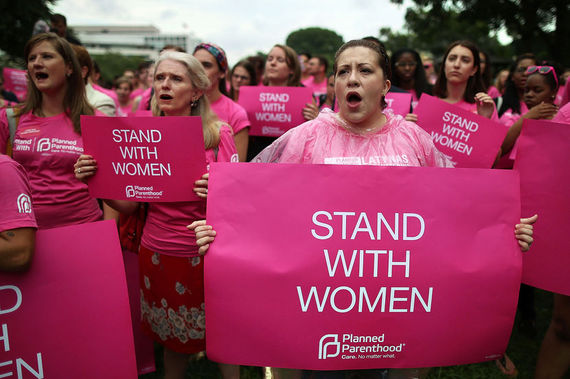 Ever since the Supreme Court's ruling in Planned Parenthood v. Casey, 1992, states have been left with an ambiguous standard when it comes to formulating abortion laws. In its final decision, the high court said that the law in question may not have the purpose or effect of placing a "substantial obstacle in the path of a woman seeking an abortion." Since then, states have been struggling to define what constitutes a "substantial obstacle," with many tending towards a more restrictive interpretation.
Recent developments in various states point towards an unfortunate future for women's abortion rights. Last month in Texas, the 5th Circuit Court of Appeals signed off on a law that requires all abortions to take place in mini hospitals. This, combined with previous hospital admitting privileges, leaves less than 10 abortion clinics open, compared to the former 40. As a result, over 1 million women of reproductive age now live more than 150 miles away from an abortion clinic. Though it appears the state of Texas would disagree, this unquestionably seems like a "substantial obstacle" for women all over the state!
Fortunately, the Supreme Court has allowed for these 10 clinics to remain open as it considers whether or not to hear an appeal from a decision ordering them to close. Though this seems like a battle won for abortion rights, the future is still unclear, as the 5-4 decision indicates there is still much disagreement over the issue.
The question now is how far the Supreme Court will let anti-abortion states go in restricting women's access. The Court has yet to decide if it will hear the case of a Mississippi law that requires doctors to have local hospital admitting privileges, which would effectively shut down the last abortion clinic. The timing of this potential case is crucial--if the Supreme Court does decide to take up the case, its decision would be announced just months before the 2016 presidential election.
If the Supreme Court acts, hopefully the outcome will shed some clarity on what defines a "substantial obstacle" to women seeking abortions. Ever since the landmark decision in Roe v. Wade, 1973, women have had the constitutional right terminate a pregnancy before the end of their first trimester. All moral debate aside, women have a strict legal right to abortion that states have been using their regulatory power to encroach upon. Perhaps the Supreme Court should take up this Mississippi case and set clear protections for women once and for all.
Richard Fowler is the youngest syndicated progressive and/or African-American radio host in the United States.
Kaitlin Junod is a journalism student at Boston University. Originally from the Philadelphia area, she is involved with the university's newspaper and radio station. Upon graduation, Junod will pursue a career as a foreign correspondent and investigative reporter for a news organization.
Related
Popular in the Community