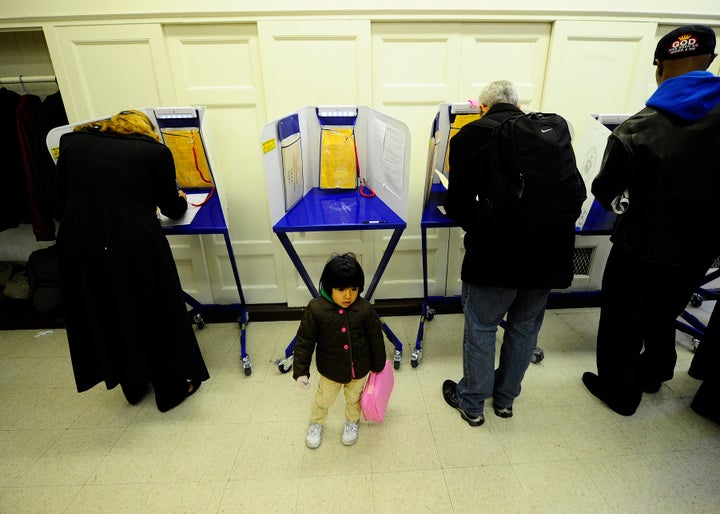 WASHINGTON -- In a sign that unions too are looking to make the most of the Citizens United decision, labor groups on Thursday launched a new super PAC that plans to pour money into efforts to elect pro-labor Democrats in key 2012 congressional elections.
The American Worker PAC will focus its attention on some two dozen elections in 11 states, mostly those in which Latino voters will figure prominently, according to PAC president Chuck Rocha. The super PAC plans to spend as much as $1 million each in individual races in Florida, Texas, California, New Mexico, Colorado and Arizona, among other states. It will stress the importance of good-paying jobs, infrastructure investment, and traditional Medicare and Social Security programs.
"Latino voters may be the most important demographic this election cycle," said Rocha, a former official with the United Steelworkers, but he added that the focus won't be on immigration issues. "In the Latino community, Latinos don't walk around every day worrying about immigration policy. They worry is their job safe and what's going to happen to the economy."
Rocha said the committee will work with unions and workers' groups to support only the Democrats they deem pro-labor and pro-worker. The group will not devote resources to any candidate who supports the pending trade deals with Colombia, Panama and South Korea, for instance, or to any candidate who supports privatization or overhaul of Social Security.
Reaching voters who aren't necessarily involved with unions is crucial, Rocha noted.
"This is about the American worker," he said. "Not the union worker but all workers."
The Supreme Court's controversial Citizens United decision last year has led to the creation of so-called super PACs, which can accept unlimited donations from individuals, companies and unions. Although it was widely seen as a gift to corporations, the decision meant that labor-related super PACs like the American Worker can now accept money from unions as well as individuals sympathetic to labor ideals and then spend that money to help elect specific candidates. Richard Trumka, president of the AFL-CIO, recently said the change will make labor groups more independent in future elections and less likely to back Democrats whose principles don't square with theirs.
The American Worker PAC will concentrate its resources in areas where the number of Latino voters is increasing due to redistricting, Rocha said. The PAC plans on using local workers in each district to develop radio and television ads that deal broadly with jobs and the economy in both English and Spanish. It will also shell out money for research, polling and mailings.
Rocha said the PAC had a previous, more modest incarnation under the same name during the last election cycle, in which it was involved in four congressional races -- notably that of then-Rep. Ciro Rodriguez (D-Texas), who lost to Republican Quico Canseco.

Calling all HuffPost superfans!
Sign up for membership to become a founding member and help shape HuffPost's next chapter