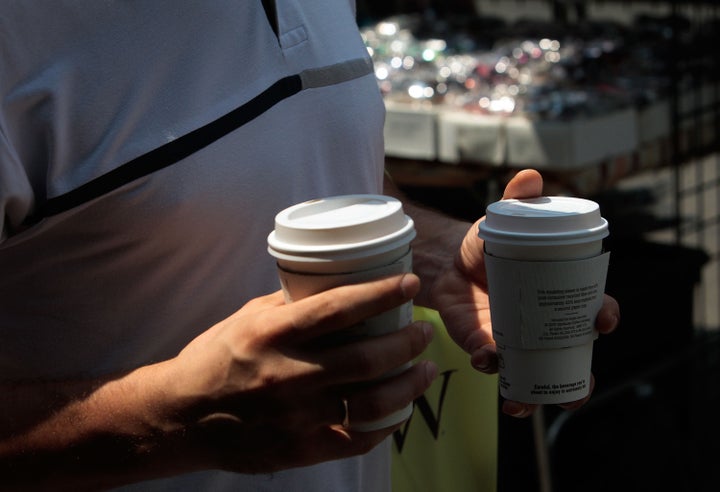 You know that, for the sake of your budget, you should kick the ever-more-expensive coffee habit. And, for that matter, that you should make yourself a brown-bagged BLT to bring to work rather than getting Chipotle for the third time this week. But mornings are tough! And how much harm could a few cups of coffee, and a few burritos, do?
According to a recent survey of 1,000 American workers by Accounting Principals, quite a bit. The firm's data show that half of American workers regularly buy coffee during the week. This half spent an average of $1,092 a year. An even larger proportion of workers -- a full two-thirds -- buy lunch at work. These folks spend even more than the coffee drinkers. On average, the midday meal costs lunchers $1,924 a year. That's even more than commuting, which accounts for about $1,500 a year.
The workers who spent the most on both coffee and lunch were those aged 18-24. Their low income, it seems, is more than offset by their lack of real-life expenditures and their hunger for fancy foods to get them through the workday.
The men in the survey also said they spent far more on both food and coffee than the women did.
One small flaw with the survey is that it didn't ask those who don't regularly buy coffee and lunch how much they spend on those items at the grocery store. It's not like the one third who don't normally eat out is going without lunch -- and it seems safe to say that many of the non-coffee-buyers are brewing their own at home.
Still, this just goes to show that even small habits can add up. And the survey also showed that workers are, to some extent, cognizant of their spending. Thirty-five percent of those surveyed said that they planned to bring lunch from home rather than buying it as a way to save money in 2012.
CORRECTION: This article previously misstated the per-day expenditure of the third of Americans who spend $1,092 a year on coffee.
Related