With an infectious rolling groove led by the double bass, British bluesman Chris Rundle eases into Ray Bonneville's "Under the Bridge" with a natural and deceptively effortless sound on his debut album, "Cave Sessions," taking the Americana blues classic on a journey from New Orleans to Rundle's adopted streets in Bologna, Italy. Soon joined by Italian jazz guitarist Enrico Pitaro's haunting licks, Rundle's Americana guitar underlies a brilliant new collection that is hip without pretension, evocative without formality, and brings together a unique blend of down-home and jazz-laced blues.
The collaboration between Rundle--whose spare style springs from Americana and country blues to global folk roots--and his Italian jazz counterparts is not only refreshing and engaging, but adds an original edge to traditional and contemporary blues tunes that is at once relaxed and incredibly accomplished.
In "Sugar and Riley," Rundle's vocals trundle alongside Giannicola Spezzigu's double bass with an unabashed fun and appeal, as Pitaro's lead guitar improvises; with the traditional "Midnight Special," Rundle opts for an easy, almost calming tempo, as the guitars riff in an upbeat and uncluttered show of versatility.
Referring to a host of influences, including Mike Dowling, Mary Gauthier, Lucinda Williams, Giant Sand, Jeffrey Foucault, John Mellencamp, Gillian Welch, Ray Bonneville, Junior Kimbrough, Daniel Norgren, North Mississippi All Stars, Eric Bibb, and Otis Taylor, Rundle told me his aim is to "look for a particular mood: a kind of cathartic melancholy which somehow brings you joy even as it tells of the most terrible pain." In their live recording of Randy Weeks' irresistibly crafted "Can't Let Go," made famous by Lucinda Williams, Rundle and his band rollick and grab the listener with a playfulness that asks for the song to be played over and over.
Pitaro's sophisticated jazz phrasings turn John Mellencamp's "Right Behind Me" into delightful and witty undertones to match Rundle's steady vocals.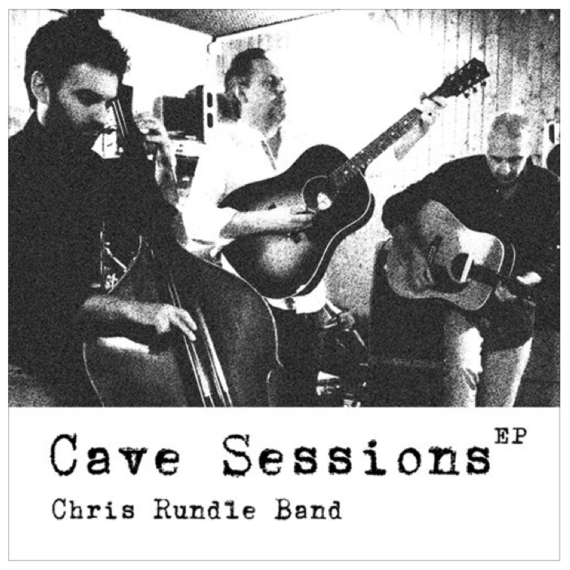 Chris Rundle Band, photo courtesy of Chris Rundle
In some ways, Rundle's natural and effortless tunes recall JJ Cale, the legendary singer and guitarist, whose hybrid of blues, folk, country and rock drew raves from stars like Eric Clapton for its simplicity concealed by masterful craftsmanship. Like Cale, Rundle's confident and laid-back sound offers the appeal of an after-hours chat with a friend in the back corner of the bar.
As a showcase for their eclectic work, mixing acoustic and electric guitars, Rundle's original piece is "Sonora Requiem," a ballad based on a poem by Arizona poet Richard Shelton (and arranged by Rundle and myself), which highlights Pitaro's elegant guitar interpretations, Spezzigu's plaintive bass, and Rundle's own heartfelt vocals.
"I love very repetitive songs that catch hold of you and won't let go," Rundle says, "particularly the North Mississippi tradition and variations on this such as Daniel Norgren."
The debut of Rundle's "Cave Sessions" promises such a hold on its listeners--and a beguiling glimpse of a full length CD of original pieces in the works.
Popular in the Community