Nashville is probably still primarily known for producing big, highly-polished country music. But just barely. The city has flourished with new sounds and creative power over the last decade that long-time residents of the city's music scene I've talked to say they haven't seen since the Johnny Cash/Kris Kristofferson crowd turned the city upside down in the late 1960s and early 1970s. Rolling Stone recently named Nashville's rock scene the country's best. Music heavyweight Jack White, who may be the best producer in the country not named Joe Henry, put his studio here. The Black Keys moved here. So did Keb' Mo' (pictured).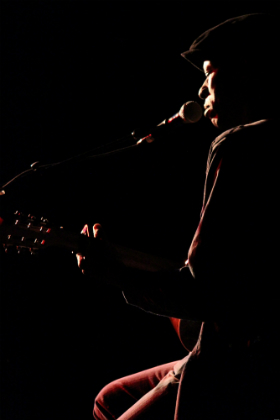 The new Nashville sounds really aren't new. They go back decades, in some cases a century or more. But the classification of them is. Nashville has become a hub of Americana music, the amorphous category the New York Times recently called "the coolest music scene today." At this past weekend's Americana Music Festival, more than 100 acts from across the country converged on Nashville to demonstrate the sound's broad range of styles and influences.
Fans, producers, practitioners, and followers of Americana seem to be preoccupied with defining it, and with that, setting up fences (white and picket, naturally) to separate what gets included, and what doesn't. One of the panels at this year's conference was titled, "Is Blues Americana?" I didn't attend, but I can only hope the answer was, "You're damn right it is." In his introduction to the festival's program, the president of the Americana Music Association -- the improbably-named Jed Hilly -- notes that the word Americana was recently added to Miriam-Webster's dictionary, with the definition: "a genre of American music having roots in early folk and country music." That seems not just narrow, but backward. Americana doesn't have "roots," it is roots. It isn't really a genre, either. If you had an "Americana" section in your record store (assume for a moment that there are still record stores), you'd need to pull enough music from other sections to make a mess of the place.
America is a nation of mongrels. American culture is a fluid, organic mix and hybridization of other cultures. It seems appropriate, then, that the most well-known champion of Americana music at the moment is Robert Plant, a British rock 'n' roll god who rose to fame by mimicking (sometimes rather blatantly) American blues artists. And the most popular Americana act in the world right now might be Mumford and Sons, also British. Whiskeytown's Strangers Almanac, the band and album that popularized the alt-country sound that you could argue launched the Americana movement, featured vocals by Alejandro Escovedo, a son of Mexican immigrants. In 1998, the flagship Americana publication No Depression named Escovedo artist of the decade. Thirty years ago, a band like Los Lobos may not have been considered Americana. Today, there's no question they are.
So here's a better definition: Americana describes any type of music primarily influenced by uniquely American varieties of roots music, notably country, blues, gospel, bluegrass, and jazz. So all bluegrass is Americana, but not all folk. Some rock is Americana, but not all of it.
Enough esoterica. Let's get to this weekend's festival. The nice thing about the Americana Music Festival is that it's hosted in Nashville's great venues. The bad thing about that is that it makes it more difficult to wander from stage to stage. For the most part, you pick your venue for the night, and you stick with it. The venues don't always stick to schedule, so if you try to venue hop between acts, you're going to miss quite a bit. I spent most of my time at Mercy Lounge and Cannery Ballroom, both because they had the artists I most wanted to see, but also because it was the only venue with two stages. But that meant missing acts like Hayes Carll, Marshall Chapman, Will Kimbrough, and old-timy revivalist Pokey LaFarge.
The most awing act I saw this week was the Blind Boys of Alabama, on Wednesday night. Religious or not, the Blind Boys live version of "Amazing Grace" is something everyone ought to hear before they die. I'm an agnostic, and I was ready to believe. They also belted out Curtis Mayfield's "People Get Ready," one-hit wonder Norman Greenbaum's "Spirit in the Sky," and Tom Waits' "Down in the Hole," a treat for fans of The Wire. Musicians sometimes say they don't like playing in Nashville because it's more a city of musicians than a city of music fans. There's lots of standing, sometimes nodding, lots of judging, but little dancing. For the hour the Blind Boys took the stage, the crowd moved. The Blind Boys just create joy.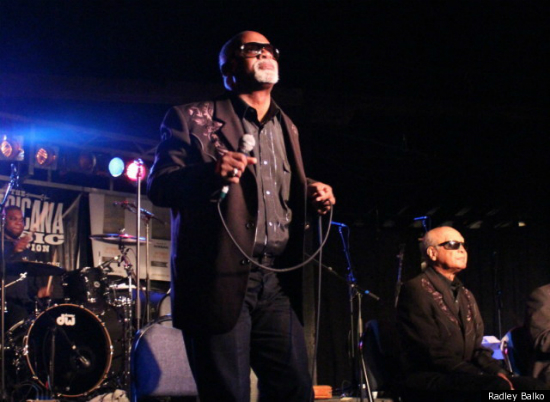 The Blind Boys of Alabama
The Muscle Shoals tribute, also on Wednesday, was also lively. The two hour revue was hosted by Nashville's Webb Wilder, and featured what might be the best sessions band ever assembled, including Muscle Shoals guitarist Jimmy Johnson, keyboard great Clayton Ivey, and some of Nashville and Alabama's best studio musicians. A mix of soul legends and contemporary acts then rattled off Muscle Shoals hits like "Mustang Sally," "I'm Your Puppet," and "Old Time Rock 'n' Roll." It was particularly thrilling to 1970s soul goddess Candi Staton.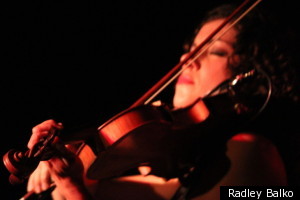 The best part of the music festivals is the chance to discover artists you hadn't heard before. I'm a new fan of Carrie Rodriguez (pictured), a winsome, fiddle-playing, bilingual flash of talent from Austin. Rodriquez can be both sassy and sentimental, but she bleeds authenticity, perhaps because she's a protegee of longtime songwriter Chip Taylor.
Other notable performances I saw: The Jayhawks, reunited with a new album, did a crowd-pleasing 90-minute set on Thursday, drawing heavily from their 1995 breakout album Tomorrow the Green Grass. Keb' Mo' played Friday night, with his son on drums behind him. John Oates, minus Hall, put on a surprisingly soulful and boogie-able show. Nashville regulars Buddy Miller and Jim Lauderdale took the stage together, and announced between songs that they're also recording an album together. And in a city that was flush with virtuoso guitarists this weekend, the best of all of them may well have been Luther Dickinson, who played with his band the North Mississippi All-Stars on Friday night.
The festival's showcase was the awards show on Thursday night at the Ryman Auditorium, Nashville's prized venue that quite literally elevates music to a religious experience -- the building was originally a house of worship. The show was hosted by Lauderdale, a showman known as much for his charisma and year-round tan as for his guitar work. It featured performances by Plant (who also won Americana Album of the Year), Alison Krauss, Hayes Carll, the Avett Brothers, and Buddy Miller, who also won Artist of the Year.
There are a number of reasons why Nashville has emerged as the hub of the Americana sound. Part of it may just be geography. The city sits nearly in the middle of the basin of American roots music, extending west to Austin, north to Chicago and Detroit, east to Appalachia, and south to New Orleans. And of course, Memphis, Muscle Shoals, and Kentucky bluegrass are a tank of gas away.
But there's more to it than that. Nashville's also the home of big FM country, the over-produced, commercially-successful variety of country polished of all its grit. Americana is in a lot of ways a reaction to that. It's a return to roots. Hayes Carll, the wry, literate Austin musician who was also up for Americana artist of the year, sings of mescaline benders, weekends drenched in booze, and politics. He broke out with a song called "She Left Me for Jesus," a catchy, subversive song that both convincingly mimics Big Country and is delivered with a knowing smirk that Big Country will run like hell from it.
Nashville is also where the late Gram Parsons made his home. Parsons was the first to fuse country and rock -- or at least who first did it best -- and is often credited as the founding father of alt-country and Americana. Parsons himself dubbed his style, "cosmic American music." Back in the early 1970s, a Long Island DJ asked Parsons and his songwriting partner (and longtime Nashville resident) Emmylou Harris if they'd call their music "progressive country." Harris bristled, and quipped that she and Parsons actually played "regressive country." That is, they were pulling country apart, adding back the grit.
Americana may have taken root in Nashville not because Nashville's leaving country, but because it's more country than what those bigger buildings on Music Row now call country.
A few more photos from the festival: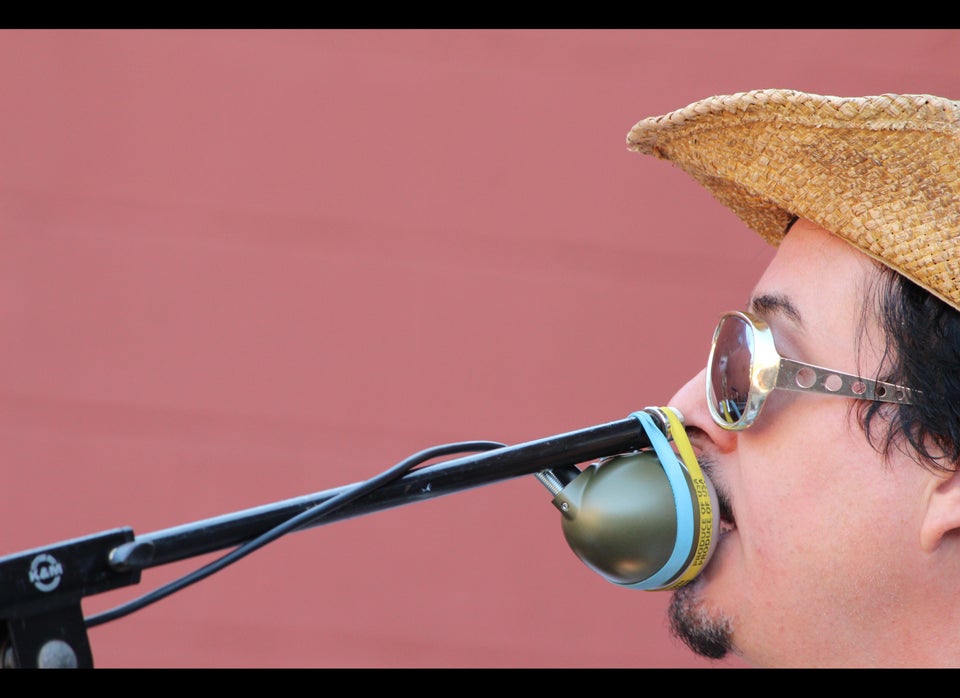 The 2011 Americana Music Festival