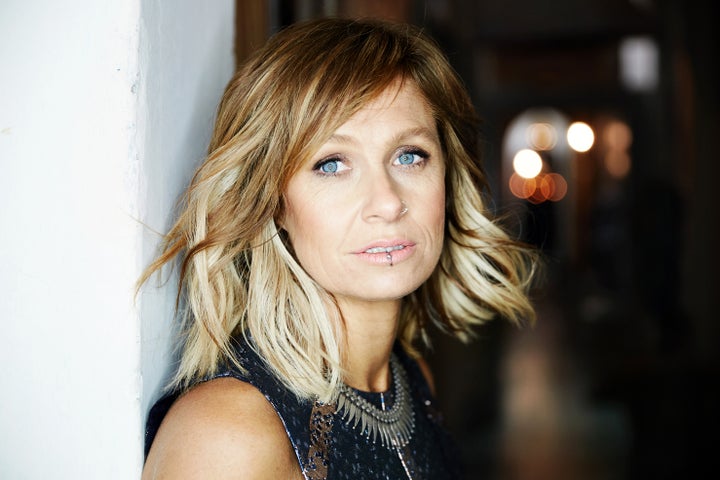 Kasey Chambers, a top-selling singer-songwriter in her native Australia and perhaps Australia's best-known country-based artist in her native land after Keith Urban, is finishing her US tour with sold-out club shows supporting her most ambitious, genre-crossing album yet, the double-CD Dragonfly. (You can buy it at Amazon and her website, but sample its wonders first at Spotify.) Joined by both Keith Urban and Ed Sheeran for duets, she demonstrates on her new album the mastery of songwriting that has marked her since her debut album was released in the US in 2000, with the beloved title track, "The Captain," that she wrote at 17. It's probably still her best-known song and, as she noted in her recent video shoot at Paste magazine before her sold-out shows at the New York branch of City Winery, she still loves playing it every night.
She has earned through 11 studio albums a loyal cult following in the United States (as shown by my 2016 rave in The Huffington Post on her Birchmere show in Alexandria, Virginia where she returns this Thursday, July 13), packed shows (see the shots from the stage on her Facebook page) and multiple standing ovations virtually anywhere she plays. Except for the deserved worldwide hosannas she received for The Captain, almost all this has been achieved in the absence of the sort of American media notice and upscale NPR attention given artists of her caliber, among them Lucinda Williams, Gillian Welch and Patty Griffin or even those who may get more publicity in her genre, such as Neko Case or Jason Isbell, but who, in my view, can't come anywhere near matching her in producing consistently high quality songs.
The centerpiece of the album, "Ain't No Little Girl," is in essence a soul ballad with roots flavoring about her finding new power within herself that must be seen live to be believed; it is a far cry from the little-girl-lost shadings of some her earlier work, such as "Am I Pretty Enough for You?," and it is an instant classic, a masterpiece which riveted the audience that heard it for the first time with me at the Birchmere. (In my interview with her, I compared it to hearing Jackson Browne play a tune he had never played live and just finished recording: "The Pretender," leaving the arena audience breathless with awe.) By the time she reached the chorus, reared her head back and let her voice sing out with a new depth and strength only months after resting from vocal nodes surgery in 2015, we were all stunned to hear her sing:
But I ain't no little girl
No I ain't no little girl
I won't plead, I won't pray
In an exclusive podcast interview (you can hear it online here), she explained how the song had nearly as strong an impact on her, coming from some ineffable Muse that overpowered her as much as the song would affect future audiences. "I honestly believe it's the most important song I've ever written," she says now. But she was so affected by it she didn't even sing it live anywhere or record it for some years after she wrote it. "The song wrote itself," she says. "One day it wasn't there, and the next day it was there." She adds, "The song wrote me."
She explains this by noting how she grew as a singer and a person to feel equal to the song she composed. She says, "I wasn't that person I was going to become to be able to own that song." She recalls that when she sang it at the Birchmere that summer in 2016, only the third time she'd sung it before an audience, "On that night, to be honest, it took over my whole body. The song is much bigger than me, and it always has been even before I performed it. I feel like I've grown personally and vocally to get to a point where I can tap into that sort of inner power and strength to be able actually sell it to the audience." And that's what she does every night on her tourending July 22 at the City Winery in Atlanta before returning to her native Australia, basking in the success of an album that rose straight to the number one slot on the pop and country charts there.
Despite that woman-power anthem, she still has all the private vulnerability and sensitivity that she taps into for her artistry. At the same time, she seems on stage and with her fans to be just another fun-loving Aussie gal pal who takes "dunny" shots of herself standing on the closed toilets in the venues she plays, and has even allowed selected affluent fans to join her on paid music-laden African safaris. (Imagine sensitive artistes such as Natalie Merchant or Joni Mitchell joining fans on safaris even in their youthful heyday of popularity.) "All these different sides are me," she says. "I love having people around, travelling and sharing my life story. But then I do need a creative outlet where I save up all my anger and put together songs." She adds, in a self-mocking jab, "No man would want to hang around with the 'Ain't No Little Girl' personality all the time, it's such an intense fucking person."
Off-stage, Kasey Chambers has battled through a number of troubling eventsin her life beyond a potentially career-killing vocal collapse that might have crippled other artists, but she's only come out stronger, more talented and more fearless as an artist and a single mom, raising two young boys and a girl, now five. These days, the nine-year-old-boy joins her on stage as does her father on guitar, just as she joined her family's traveling country band when she was ten years old. She's not only overcome a painful public divorce with a musical and romantic partner, ex-husband Shane Nicholson, with whom she partnered on the prize-winning Rattlin' Bones and Wreck & Ruin after their marriage in 2005, but she also struggled with anorexia and bulimia at the relatively late age of 30 for an eating disorder, following the commercial and personal pressures she faced in the years after the multiple-platinum-selling in Australia 2001 album, Barricades & Brickwalls. As she told podcaster Mia Freedman, as a recently married wife to Shane Nicholson and a mom with a four-year-old boy from a previous marriage, she said," I just didn't feel myself and I knew that something wasn't right … I just couldn't admit to myself that that is what it was." Her weight went as low as 97 pounds before friends and family convinced her that she needed professional help."It couldn't be that … Everything pointed to 'Nah, that's not me','' she said. Yet it was indeed her.
Her resilience today doubtless stems in part from her rugged upbringing by her musician father, Bill and his then-wife Di as Kasey and her older brother Nash, now her producer, traveled the barren outback of the Nullarbor Plain, supplying themselves from the world's longest train line running through the Nullarbor . For months at a time, he hunted foxes, moving each day to a new location in their car; in the hot summer months, he fished for lobster on the seacoast. He also toured in the family country band, the Dead Ringer Band, in clubs around the vast country. The sheer oddness and beauty of her childhood, powerfully described in this podcast interview with songwriter Joe Pug, until her early teens also shaped her affinity for the best of American country music. There was no TV or radio for the first ten years of her life, and so she heard the tapes that her father played as they drove across the red dirt landscapes or heard their songs that her father sang around the campfire: Hank Williams, Johnny Cash, Merle Haggard, the Amazing Rhythm Aces, Emmylou Harris and Gram Parsons, a bit of Bob Dylan.
But it wasn't until she saw Lucinda Williams on a bill headlined by Roseanne Cash that she realized a new calling in her life. At 14 or so, with a teenage male friend, musician Kim Warner who had introduced her to heavy metal music and their music-loving dads, they went to see Johnny's daughter and two singer-songwriters she never heard of before: Lucinda Williams and Mary Chapin-Carpenter. Williams had already released the stunning major label debut album, Lucinda Williams, in 1988 and was trying out the mournful ballads from her next album, Sweet Old World, when, from the stage, all those songs reached inside the heart and soul of the young Kasey Chambers. "As soon as she started singing, I felt this connection with an artist I never felt," she remembers. "Up until that point, the only female role model I had was Emmylou Harris, but she didn't write her own songs."
"It was like a real lightbulb for me," she says. " I had never heard a woman put her heart on her sleeve for me like Lucinda did. She is my kindred spirit."
The next morning, she wrote her first song. She has never really stopped since then, only getting better with time. Even as she continued to tour with her family band and contributed new songs to their shows and albums, she set aside certain ones, including "The Captain," that she felt would fit better in a solo album she planned to release someday. After the band and her parents' marriage broke up, a trip to Africa with her mother at 20 unleashed more creativity and led her to a crossroads: either she'd embark on a solo career or get a regular job. Fortunately for us, she braved the risks of becoming a solo recording artist. She knew by her late teens that "The Captain" was something so special that it would become the title track of the solo album released at age 22, going double-platinum in Australia and leading to international acclaim. (Her certainty about the song's merits reminded me of a parallel artistic vision: Ellen DeGeneres, then a barely employed part-time MC and waitress living in slum basement apartment whose roommate was just killed in a car accident, thought up her routine about her phone call to God to help manage her grief. "This will get me on the Johnny Carson show," she told herself, and so it came to pass in 1986 as her closing bit, with Johnny so taken by her that he summoned her over to the couch — and launched her into the comedy stratosphere.)
Kasey Chambers early artistic triumphs haven't faded away, either, and it's a rare singer-songwriter — Lucinda Williams being one of them — who sings and writes songs as well or better now than then they did at the beginning of their careers. As Rolling Stone Australia summed up about her latest album, co-produced Australian rock icon Paul Kelly, "A towering songbook, wordy and resigned, Dragonfly is the opus of Australia's foremost progenitor of, and innovator in, the country-roots fold. It's the masterwork of a heart laid bare in song." Now she only has two kinds of American fans: those who know her work and flock to see her whenever she makes one of her rare appearances, and those who are exposed to her songs through albums or her live appearances for the first time — and then join the rest of us in the fold of the Kasey Chambers cult that will only grow larger thanks to her astounding new album.
Popular in the Community