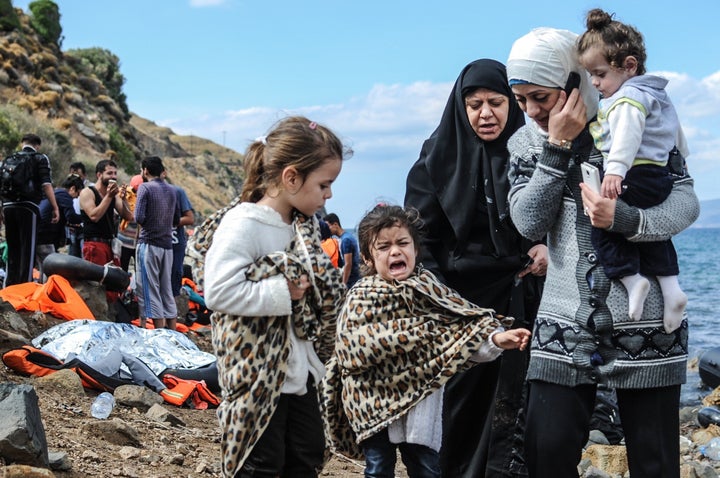 A majority of Americans d0n't want to allow Syrian refugees into the U.S., according to two surveys taken in the aftermath of the Paris terror attacks. 
Fifty-six percent of Americans in an NBC News/SurveyMonkey poll released Wednesday disapprove of allowing refugees escaping violence to continue entering the U.S., whether from Syria or other nations. Forty-one percent of Americans feel that the U.S. should continue to allow in refugees.
A Bloomberg/Selzer poll, also released Wednesday, found similar sentiments when it asked respondents to identify the best way for the U.S. to handle the Syrian refugee crisis. Fifty-three percent of Americans in the survey say the best course of action is for the U.S. to deny Syrian refugees entry into the U.S.
A smaller number of Americans, 28 percent, say the U.S. should continue onward with the plan to resettle 10,000 refugees, without a religious screening process. Eleven percent say that only Christian refugees from Syria should be allowed to resettle in the U.S. 
Sentiments about dealing with the refugee crisis seem to be tied to party allegiance. The NBC/SurveyMonkey poll finds that more than eight in 10 Republicans are against letting in more refugees. Of those Republicans who oppose refugee entry, 64 percent "strongly disapprove." Comparatively, 65 percent of Democrats approve of allowing refugees into the country.
Similarly, 69 percent of Republicans in the Bloomberg/Selzer poll are against accepting refugees, compared to 36 percent of Democrats.
As of Wednesday, 28 governors across the nation have called for the U.S. to halt its plan to admit 10,000 Syrian refugees into the country. Twenty-seven of the 28 governors are Republicans. Republicans have argued that the screening process is not strict enough. Obama administration officials argue that the current screening process, which takes about 18 to 24 months, is already extensive. 
NBC News/SurveyMonkey surveyed 5,755 American adults using an online poll conducted Nov. 15-17. Bloomberg/Selzer surveyed 628 American adults using live interviews conducted Nov. 16-17.
Calling all HuffPost superfans!
Sign up for membership to become a founding member and help shape HuffPost's next chapter