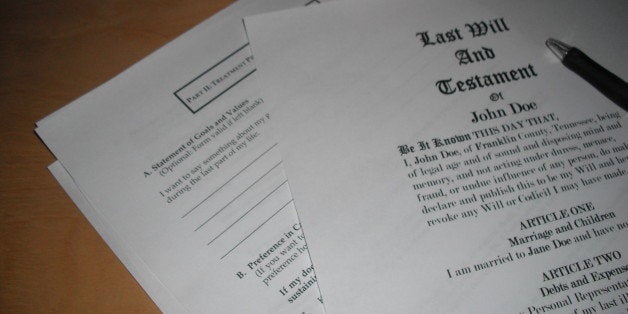 If you're counting on your grandparents or parents to leave you an inheritance, you may be disappointed.
How times have changed in the world of estate planning. A recent HSBC survey shows that 23 percent of working Americans now say it's better to spend all of their cash during their lifetime and let their children create their own wealth. Only 9 percent plan to save as much money as possible to pass to younger generations.
But that doesn't mean the kids and the grandkids are going to get shut out. HSBC officials say the trend for working Americans is a new kind of inheritance planning. "This strategy calls for redistributing their savings over a lifetime as a living inheritance versus accumulating wealth for distribution in a will," says Brian Schwartz, a premier wealth advisor for HSBC.
In fact, the HSBC survey shows that 43 percent of U.S. retirees continue to provide regular financial support to at least one other person. This includes 10 percent who are still supporting at least one adult child. Among working-age Americans, 62 percent report providing regular support to at least one other person.
Yes, it's a new day in the world of inheritance, which could sneak up on you if you're not careful. One problem is that many retirees are relying on a bequest to fund their later years, with 29 percent of those who've received or expect to receive an inheritance believing it will fully or partly fund their retirement. Among working age people, 49 percent expect to receive a legacy that will support them later in life, Schwartz says.
Some 59 percent of working-age Americans expect to leave a financial legacy to their children, but less than a third report actually receiving one.
"Responsible Americans should not look at inheritance as even part of their retirement plan," Schwartz says. "That is the sort of the icing on the cake and not the cake. If that generation relies on inheritance, then maybe they need to have more transparent conversations with the generation that will be passing that."
Schwartz says that doesn't mean people plan on spending the money all by themselves if they don't leave it in their wills. They want to "live and experience the results of their legacy planning, be it with their children, grandchildren or others," he says.
Maybe more Americans are following the lead of titans Bill Gates and Warren Buffett, who have a concern about the social footprint left on a generation who stands to inherit money they didn't earn. Schwartz says there's nothing wrong with that mentality: "I think people have afforded themselves the right to be a bit selfish if they worked and sacrificed all of their lives, and there's a surplus in their retirement planning."
Many are helping children with their debt, or their grandchildren with their educational expenses. One of their concerns in acting now is what's going to happen with estate taxes and how that will eat away at their money when they die. So Schwartz says they would rather give money away now.
What the survey says is that many retirees say they have not achieved any of their hopes and aspirations since retiring. In the US, 59 percent say that's the case, which is lower than the 73 percent who say so globally.
There's some concern about "giving while living," says Andrew Ireland, executive vice president and head of premier banking at HSBC USA. Others have raised concerns about binge spending.
"It's essential that people of all ages adequately prepare for life's later stages," Ireland says. "Even the smallest amount saved today can contribute to the lifestyle you want in retirement and the legacy you hope to leave. Those who fail to plan may find that any kind of inheritance is unlikely and also that a comfortable retirement is beyond reach."
Schwartz says he believes it's more of a social issue than a money issue, that existing generations are familiar with their parent's experience of the Great Depression and save to the extreme, finding comfort in holding onto cash. "I don't always find that older Americans are not realizing their hope and aspirations because of unaffordability," he says.
Another insight of the survey is that semi-retirement is on the rise, with 42 percent of working-age Americans saying they plan to semi-retire before fully retiring. That's nearly double the 22 percent of current retirees who initially semi-retired.
More people are looking at a retirement that comes gradually over 10 to 20 years instead of stopping work one day. "It's the old adage that you can't take it with you," Schwartz says. "I think this is a quality of life issue of people asking if absolute retirement should work like a light switch in an on or off position."
After all, the number-one variable and retirement plan that's the easiest to administer, Schwartz says, is lifestyle.
Share us your thoughts on who didn't make the list (and why) at NowItCounts.com, the new destination for Americans 50+ covering financial, health, beauty, style, travel, news, entertainment and sports.
Calling all HuffPost superfans!
Sign up for membership to become a founding member and help shape HuffPost's next chapter